E-commerce stocks have been flying high in recent months as the coronavirus pandemic prompted consumers to accelerate their shift to online shopping.
Not surprisingly, three of the sector's main exchange-traded funds—the Amplify Online Retail ETF (NASDAQ:IBUY), the Global X E-commerce ETF (NASDAQ:EBIZ), and the ProShares Online Retail Fund (NYSE:ONLN)—are all trading near their respective all-time highs.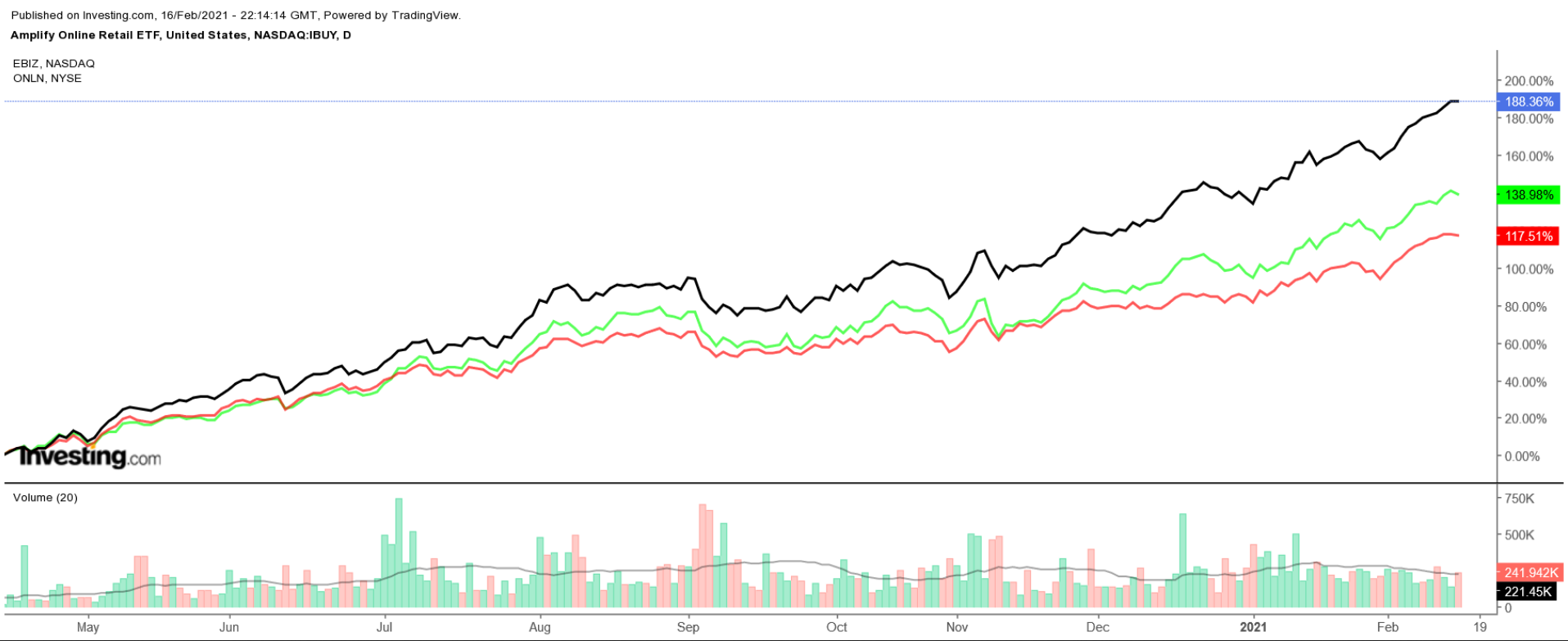 IBUY, EBIZ, ONLN Daily
While most of the focus has been on the mega-cap players such as Amazon (NASDAQ:AMZN), Alibaba (NYSE:BABA), Shopify (NYSE:SHOP), and PayPal (NASDAQ:PYPL), three small-cap stocks could provide some of the best growth potential in the months ahead and are well worth considering given their emerging dominance in their respective e-commerce markets.
1. Pinduoduo: Chinese E-Commerce Platform
Shanghai-based Pinduoduo (NASDAQ:PDD) operates a fast-growing, e-commerce platform which offers a wide variety of low-priced products, from clothing and electronics to furniture and household goods, and even groceries.
It is currently the third-largest e-commerce platform in China by gross merchandise volume, behind Alibaba and JD (NASDAQ:JD).
PDD held its initial public offering in July 2018. In the last 12 months its shares have soared nearly 450%, as Chinese consumers shift their shopping online due to the coronavirus pandemic.
Shares rose to a new all-time high of $212.31 on Tuesday before closing at $202.81, giving the Chinese e-commerce technology company a market cap of around $245 billion.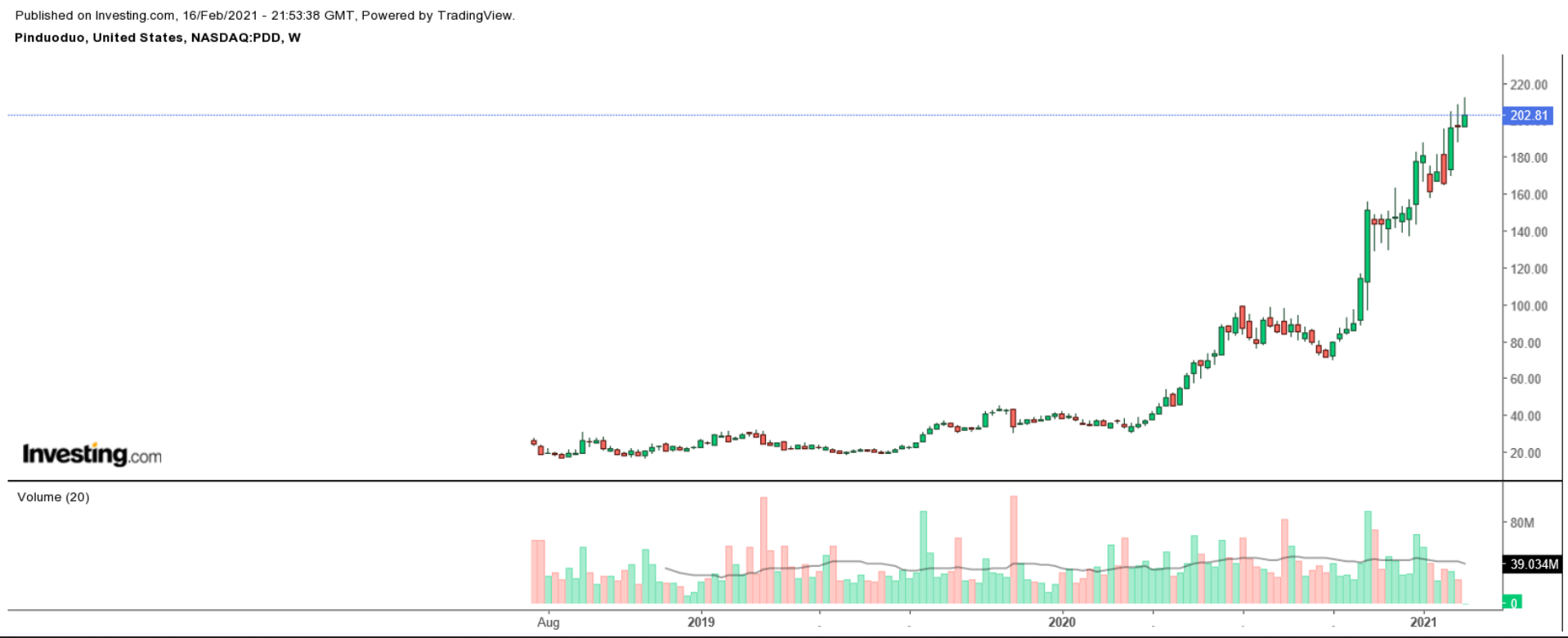 PDD Daily
PDD trades at a price-to-sales ratio of approximately 36 but despite worries over lofty valuations it looks set to continue its march higher, given its emerging status as one of the leading e-commerce operators in China.
Pinduoduo—which blew past expectations for its third quarter earnings and revenue in early November—is next projected to report financial results before the U.S. market opens on Wednesday, Mar. 10. Consensus estimates are for earnings of $0.02 per share, improving significantly from a loss of $0.24 per share a year earlier.
Revenue is forecast to soar almost 77% year-over-year to reach an all-time high of $2.97 billion, driven by strong growth of monthly active users (MAUs) and active buyers.
Investors will be keen for any update on Pinduoduo's user count to see if it can maintain its torrid pace of growth. The e-commerce platform said it had 643.4 million MAUs and 731 million active buyers as of the end of Q3, up 50% and 36% respectively from the year-ago period.
Gross merchandise volume (GMV) on its platform, which climbed 73% year-over-year in Q3 to $214.7 million, will also be in focus.
2. Jumia: Africa's Leading Online Marketplace
Lagos, Nigeria-based Jumia Technologies (NYSE:JMIA) is Africa's leading e-commerce platform, helping millions of consumers and sellers in several countries across the continent connect and transact on a wide range of goods, including fashion apparel, smartphones, and groceries.
Jumia, dubbed by some the 'Amazon or Alibaba of Africa', also offers a logistics service, which enables the shipment and delivery of packages from sellers to consumers, and a payment service, which facilitates the payments of online transactions for Jumia's ecosystem.
JMIA stock made its debut on the New York Stock Exchange in April 2019 and has been one of the sector's best performers over the past year. Shares have skyrocketed 950%, driven by strong growth in e-commerce spending across Africa.
Shares ended at $61.88 yesterday, within sight of their record high of $69.89 touched on Feb. 10, giving the e-tailer a market cap of roughly $5.6 billion.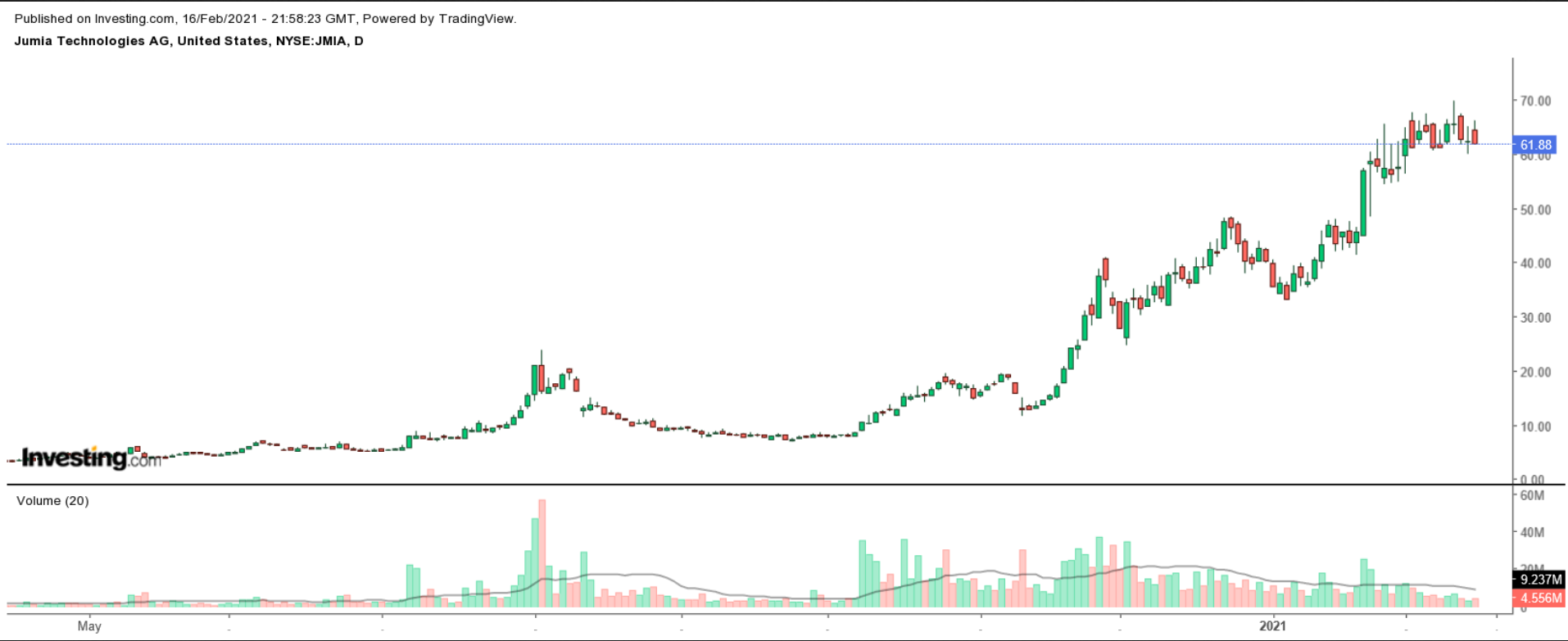 JMIA Daily
The Africa-focused e-commerce company is scheduled to report fourth quarter results before the opening bell on Wednesday, Feb. 24. Consensus calls for a loss per share of $0.36, narrowing from a loss of $0.79 per share a year earlier.
Revenue is forecast to clock in at $41.9 million, down from $49.2 million in the same quarter last year, due to its ongoing transition from a first-party retail business towards more of a third-party marketplace platform.
In the long run, the new strategy will see the company generate increased sales commissions and fulfillment fees and is expected to lead to significant bottom-line improvements and higher user engagement levels.
Beyond the top- and bottom-line numbers, annual active customers, which rose 23% to 6.7 million at the end of Q3, will be closely watched.
Jumia is the leading online marketplace in Africa and despite the run-up in its shares, it remains a great way to bet on the growing e-commerce boom in the African market.
3. Ozon: Main Beneficiary Of Russia's E-Commerce Growth
Established in 1998 as an online bookstore, Moscow-based Ozon (NASDAQ:OZON) was one of Russia's first e-commerce operators. It is the third largest online retail platform in the country and one of the top six most valuable Russian tech companies.
The company's online marketplace platform offers more than 5 million products in over 20 product categories, including clothing, groceries, home goods, toys, and electronics.
Ozon was also the first Russian online retailer to launch consumer loans for various online purchases, as well as its own branded debit card, which saw issuance spike nearly five-fold from 10,000 in 2019 to 260,000 in 2020.
The e-commerce giant went public on the NASDAQ in late November at $30 per share, giving it a valuation of $6.2 billion. It too has benefited from record sales growth during the COVID-19 pandemic.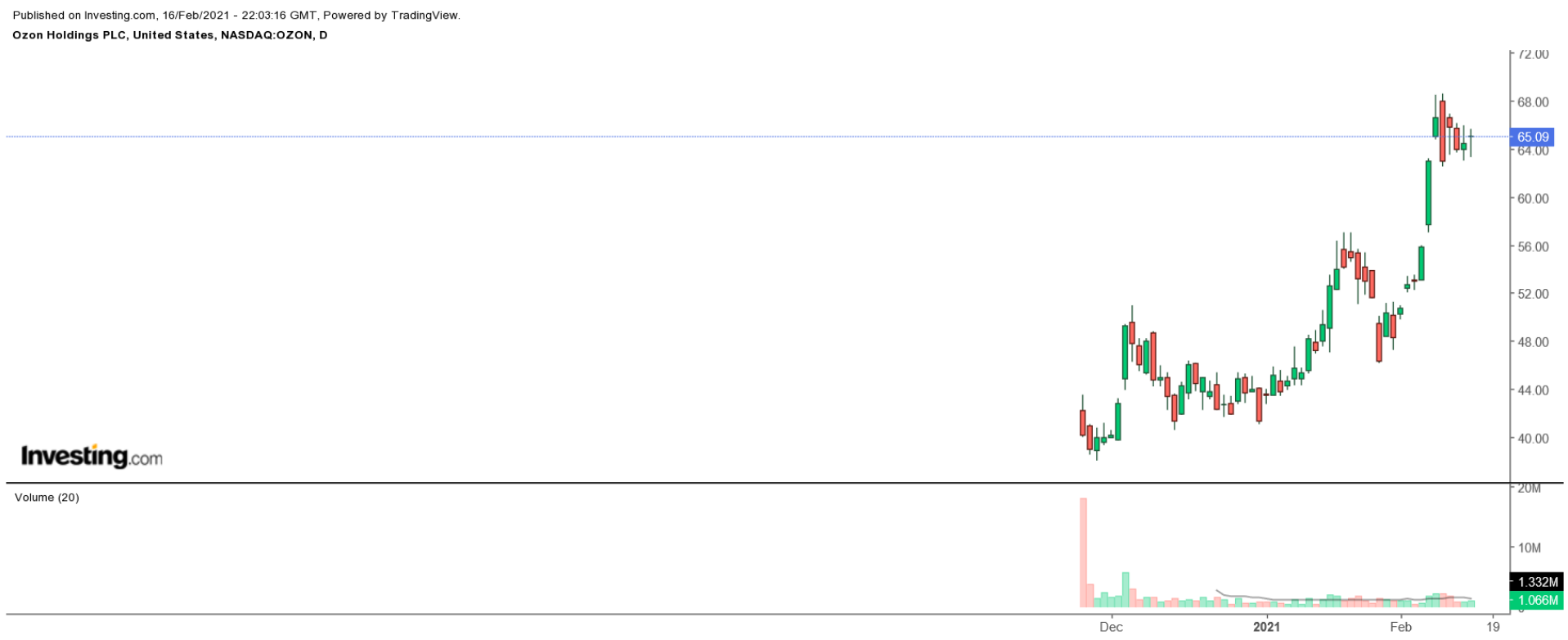 OZON Daily
OZON stock, which has gained 116% since making its trading debut, settled at $65.09 last night, not far from its record peak of $68.60 on Feb. 9. At current levels, it has a market cap of around $13.3 billion.
With a reasonable price-to-sales ratio of 11, Ozon offers investors tremendous opportunity to tap into the under penetrated and fragmented Russian e-commerce market.
Annual sales growth was 93% in 2019 and during the first nine months of 2020 it jumped 70% to $876.5 million.
Even more impressive, gross merchandise value (GMV) more than doubled, rising 142% year-over-year, as Russian consumers flocked to its online marketplace.
Active buyers as of the end of its most recent quarter jumped 138% from the year-ago period to 11.4 million. Meanwhile, more than 51 million people downloaded the company's shopping app, which had 41 million monthly active users in the third quarter.

Leave a comment