Innovation is one of the most important drivers of growth worldwide. Today, we introduce two UK-based chemicals groups that heavily depend on technology in their manufacturing processes. Their successes and growth to date suggest they could offer long-term growth potential and stable dividends in the coming quarters. Hence, they deserve to be on investors' radars.
They are FTSE 100 members Croda International (LON:CRDA) (OTC:COIHY) and Johnson Matthey (LON:JMAT) (OTC:JMPLY).
Croda International

Croda International manufactures specialty chemical products for a range of sectors and products, including adhesives, agrochemicals, alternative energy, automotive and transport, beauty and personal care, construction, dietary supplements, electronics, food ingredients, lubricants, packaging, print and paper, pharmaceuticals, textiles, as well as water treatment. The group's history goes back to 1925.
In November, Croda International agreed to purchase Spanish fragrance manufacturer Iberchem. The company has a history of growth, both organically and through acquisitions.
In 2020, CRDA stock returned over 30%. On Jan. 7, it closed at 6,582p ($45.5 for US-based shares). The current price supports a dividend yield of about 1.5%.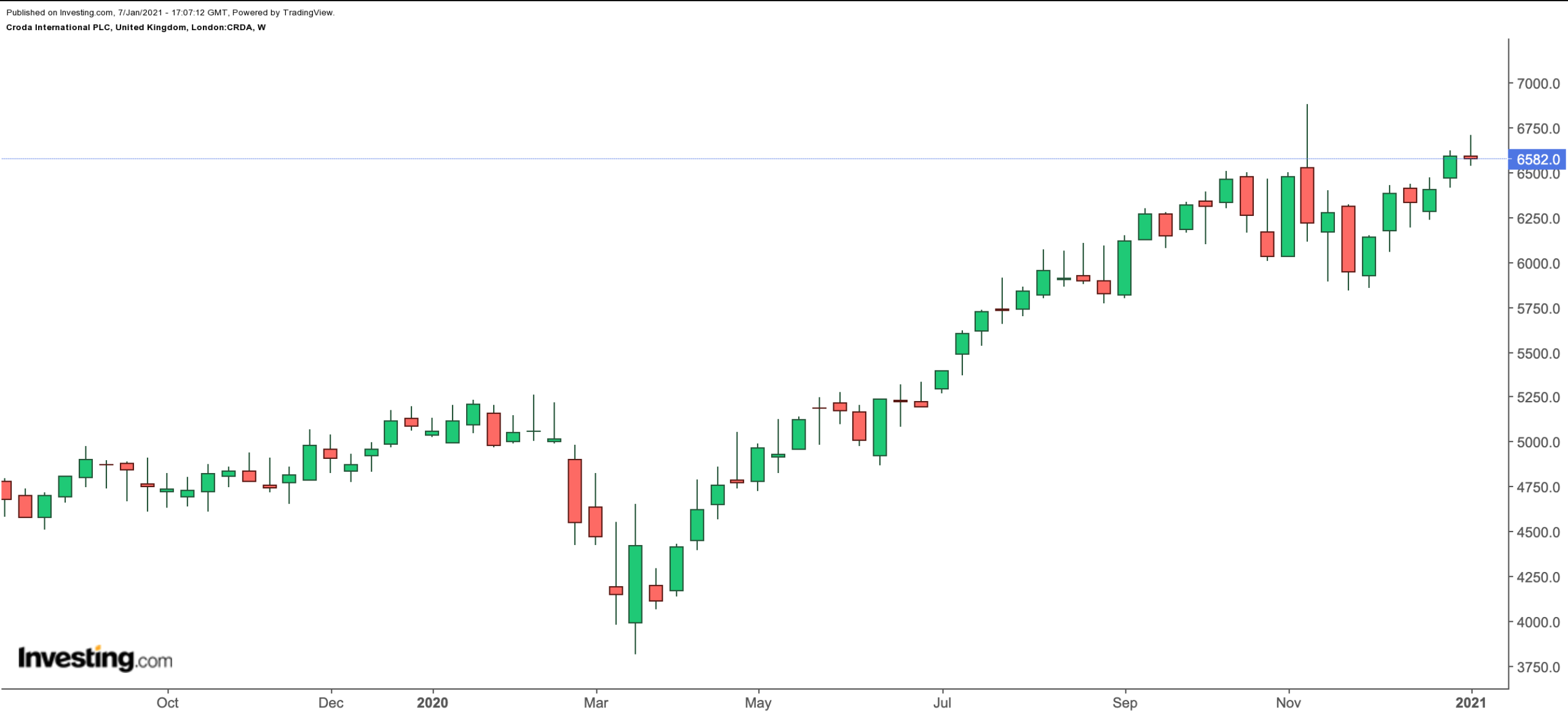 Croda International Weekly Chart.
According to its half-year results for the six-month period that ended June 30, 2020, adjusted revenue was £912.2 million ($1,231 million), down 6% year-on-year (YoY). Profit before tax (PBT) came in at £152.5 million ($205 million) and decreased 10.6% in reported rate, and 10.1% in constant currency. Free cash flow was £80.2 million ($108.3 million), a decline of 15% YoY.
CEO Steve Foots said:
"With a strong balance sheet, low leverage and robust liquidity, we have continued to pay our regular dividends, invest in future organic growth and secure a technology-rich acquisition in our fast-growing Life Sciences business. Despite current trading conditions remaining volatile, our strategy is unchanged and, by focusing on the future during these challenging times, we can accelerate delivery to enhance future growth and profitability."
CRDA stock's forward P/E and P/S ratios are 32.36 and 6.43, respectively, puts its valuation on the frothy side. Although we like the company, we would wait for a potential pullback of about 5%-7% from the current price levels. Meanwhile, we'd like to see the next trading statement that is due in a few weeks.
Johnson Matthey
The London-based group is an important global player in sustainable technologies focusing on air quality, health and resource use. Its products include emission control technologies for the automotive industry, cathode battery materials, platinum group metals refining, glass industry products as well as medical components.
Readers who may be about to shop for a new car, might be interested to know that about one in every three new cars possibly has an emission control catalyst produced by the company. In fact, the company made its first commercial emission control catalysts in 1974. Johnson Matthey is also investing heavily in battery technology.
Over the past 52 weeks, JMAT stock is down about 10%. On Jan. 7 it closed at 2,663p ($73.4 for US-based shares). Long-term shareholders are entitled to a current dividend yield of 1.7%.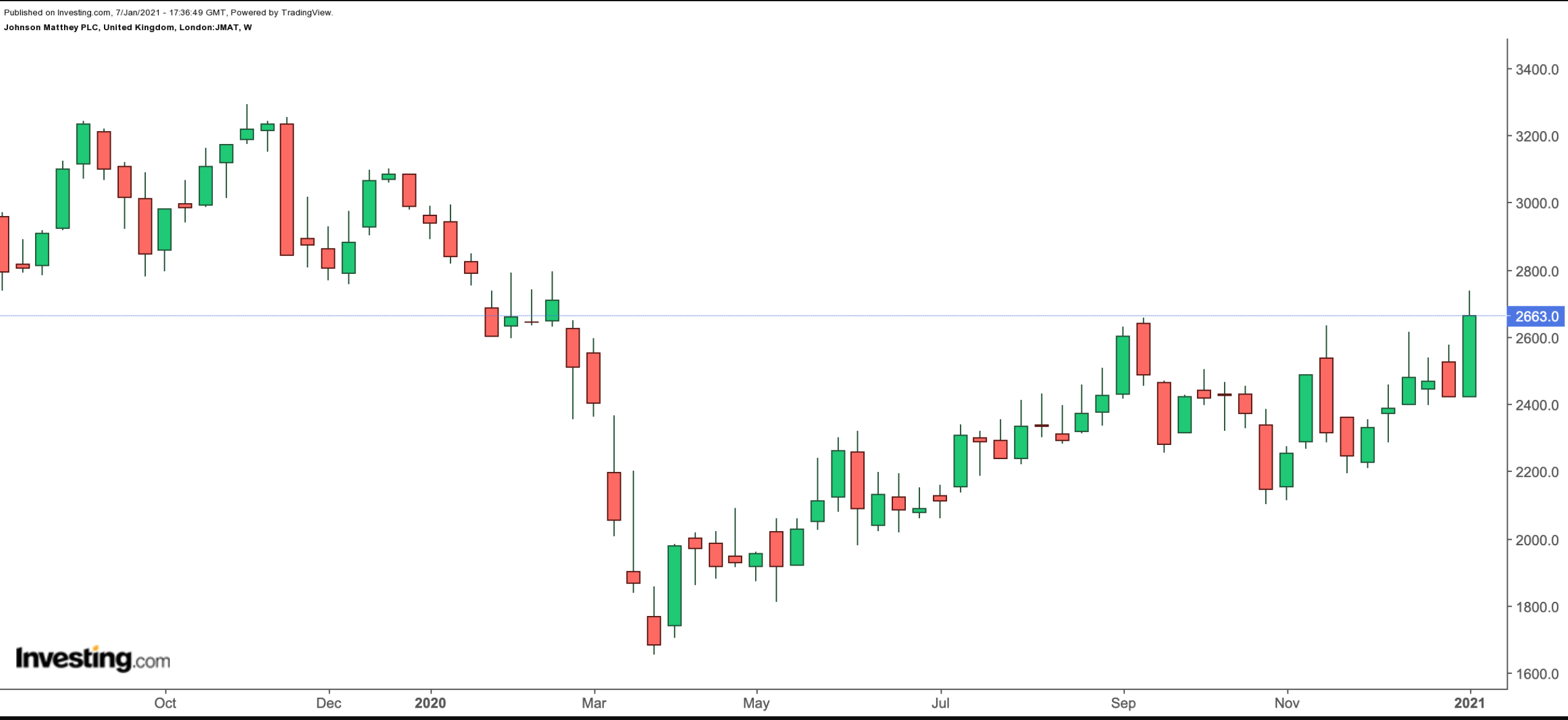 Johnson Matthey Weekly Chart.
In November, the group announced half-year results for the six months ended Sept. 30. Revenue was £6,979 million ($9,421 million), up 2% YoY. However, profit before tax was £26 million ($35.2 million), down by 88% YoY. It is clear, the pandemic has affected its operations significantly.
CEO Robert MacLeod said:
"Activity in autos and other key markets has improved since the beginning of the COVID-19 pandemic and we expect a materially stronger second half in comparison to the first half of this year. However, the path of recovery remains uncertain and we are not providing quantitative guidance for the group overall for the year ending 31st March 2021."
JMAT stock's forward P/E and P/S ratios are 11.44 and 0.33, respectively. The current share price offers potential long-term value. We'd buy the dips in this potentially buy-and-forget stock.
Leave a comment