Stocks fell on Friday to wrap up a losing week, but Wall Street's major indices remained near their recent record highs amid ongoing optimism over COVID-19 vaccine progress.
Both the Dow and S&P 500 posted their first weekly declines in three weeks, losing 0.6% and 1%, respectively. The tech-heavy NASDAQ suffered a loss of 0.7% over that time frame, however the Russell 2000 scored its sixth straight weekly gain, rising 1%.

INDU:SPX:RUT:COMPQ Weekly
Investors will be watching fresh COVID-19 vaccine headlines as well as developments surrounding the pandemic in the week ahead.
Markets will also be paying close attention to the outcome of the Federal Reserve's all-important policy meeting on Wednesday. There is also key November retail sales data, as well as the latest batch of Markit Purchase Manager Indexes and regional Fed surveys due in the week ahead.
Regardless of which direction the market goes, below we highlight one stock likely to be in demand in the coming days and another which could see additional losses.
Stock To Buy: Tesla
The moment Tesla (NASDAQ:TSLA) bulls have been waiting for has finally arrived. The Elon Musk-led electric vehicle company will replace real-estate investment trust Apartment Investment & Management Co. (NYSE:AIV), or AIMCO, in the S&P 500 when it joins the benchmark index after the close on Friday, December 18.
Tesla will also join the S&P 100, replacing Occidental Petroleum (NYSE:OXY), to become the largest stock ever added to the index.
With a market cap of roughly $580 billion, the electric automaker will be the sixth most valuable company in the S&P 500, trailing only Apple (NASDAQ:AAPL), Microsoft (NASDAQ:MSFT), Amazon (NASDAQ:AMZN), Facebook (NASDAQ:FB), and Google-parent Alphabet (NASDAQ:GOOGL).
TSLA shares have skyrocketed this year, soaring 629% to a reach a series of new all-time highs in recent weeks. The stock closed at $609.99 on Friday, not far from its record peak of $653.88 reached on Dec. 9.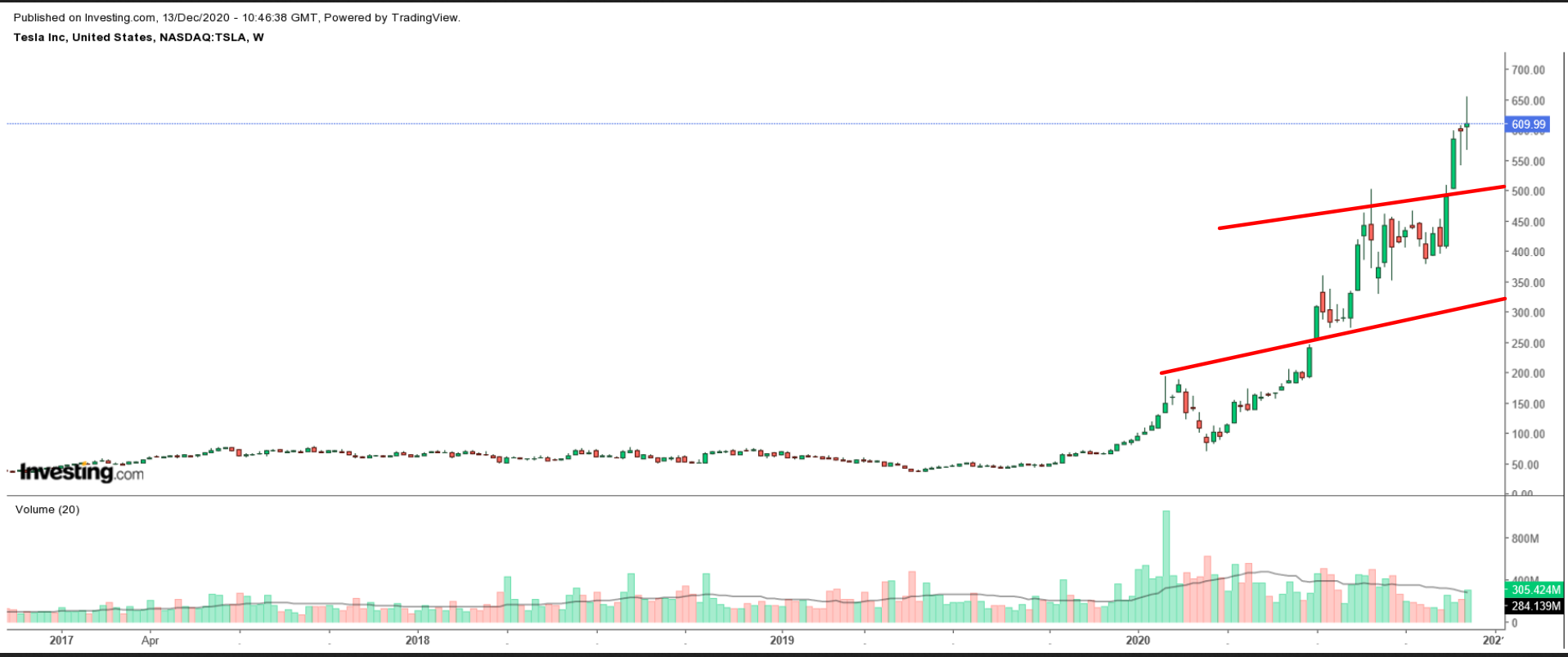 TSLA Weekly
While changes to the benchmark index are usually a non-event, individual and institutional investors pounced on the news, sending Tesla shares up 49.5% since its inclusion in the S&P was first announced on November 16.
And the party could only be getting started. In a sign that bodes well for Tesla, 14 of the 15 stocks that have been added to the S&P 500 so far this year have seen their share price move higher since joining the index, including Paycom (NYSE:PAYC), Etsy (NASDAQ:ETSY), Teradyne (NASDAQ:TER), and Carrier Global (NYSE:CARR).
There are currently over $11.2 trillion in assets benchmarked to the S&P 500, with roughly $4.6 trillion of the total in indexed funds, meaning significant portfolio adjustments will have to be made to accommodate Tesla.
According to Howard Silverblatt, S&P Dow Jones Indices senior index analyst, that could result in $80 billion worth of Tesla shares having to be bought by index investors.
Despite strong gains and lofty valuations, we anticipate the bump in demand resulting from its S&P 500 index inclusion will likely push TSLA stock even higher in the coming week.
Stock To Dump: GameStop
GameStop (NYSE:GME), whose stock ended at $13.31 on Friday, suffered its worst week since late October, tumbling more than 21%, as investors rushed for the exits following the release of disappointing quarterly financial results.The steep weekly decline saw shares trim their strong gains for the year, with GME stock now up 118.9% year-to-date.
At current levels, GameStop shares are now 31.4% below their recent peak of $19.42 reached on Nov. 30, which was their highest since January 2018.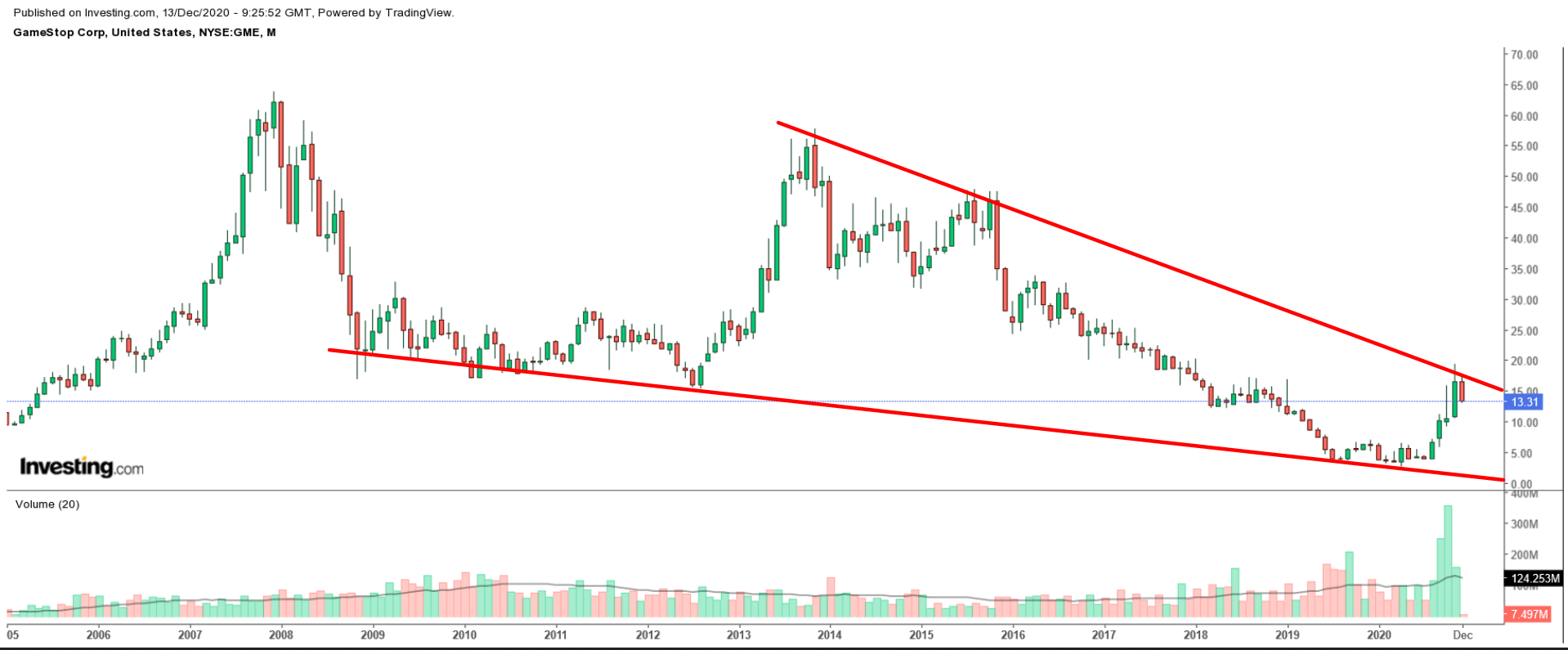 GME Weekly
The Grapevine, Texas-based videogame retailer reported a sharp drop in third quarter net profit last week due to the negative impact of pandemic-led store closures and growing competition from digital-game sellers.
GameStop announced a loss of $0.53 per share, widening from a loss of $0.49 per share in the year-ago period. Revenue meanwhile tumbled 30% year-over-year to $1.0 billion, falling short of estimates for sales of $1.09 billion.
Comparable same-store-sales plunged 24.6% from the same quarter a year earlier, worse than expectations for a decline of 20.5%.
"Our third quarter results were in-line with our muted expectations and reflected operating during the last few months of a seven-year console cycle and a global pandemic, which pressured sales and earnings," GameStop Chief Executive George Sherman said in a statement.
Besides the alarming drop in top-and-bottom line numbers, investors aggressively sold off the stock after the company said it would consider raising capital through a shelf-registration and prospectus supplement, which would allow it to sell stock through at-the-market offerings.
The stock offering—essentially the opposite of the share buyback program called for by some big-name activist investors—is likely to dilute the value of existing shares.
Taking this into consideration, GME shares look set to remain under additional pressure in the coming days as it struggles to cope with the surging popularity of videogame streaming and increasing digital downloads of new PlayStation 5 (NYSE:SNE) and Xbox Series X (NASDAQ:MSFT) console games.
Leave a comment