Stocks rose to new all-time highs last week, wrapping up a banner year for Wall Street's major averages.
The tech-heavy NASDAQ Composite gained 43.6% in 2020, scoring its best one-year performance since 2009. The S&P 500 closed the year with a gain of 16.3%, while the Dow rose 7.3%.

SPX:DJIA:COMPQ in 2020
Investors will be watching fresh COVID-19 headlines in the week ahead amid lingering worries surrounding the pandemic. Markets will also be paying close attention to the outcome of this week's Georgia Senate runoff election.
In addition, there is also key December employment data, as well as the latest batch of ISM Purchasing Manager Indexes due in the week ahead.
Regardless of which direction the market goes, below we highlight one stock likely to be in demand in the coming days and another which could see additional losses.
Stock To Buy: Tesla
After scoring a gain of more than 700% in 2020, Tesla (NASDAQ:TSLA) shares look set to kick off the new year right where they left off.
TSLA stock rose to a new record of $718.72 on Thursday, Dec. 31, before closing the last day of 2020 at $705.67, earning the EV pioneer a market cap of roughly $669 billion.
Tesla is likely to see increased buying activity in the week ahead after the Elon Musk-led electric carmaker reported record fourth quarter vehicle delivery figures over the weekend, despite the impact of the ongoing coronavirus pandemic.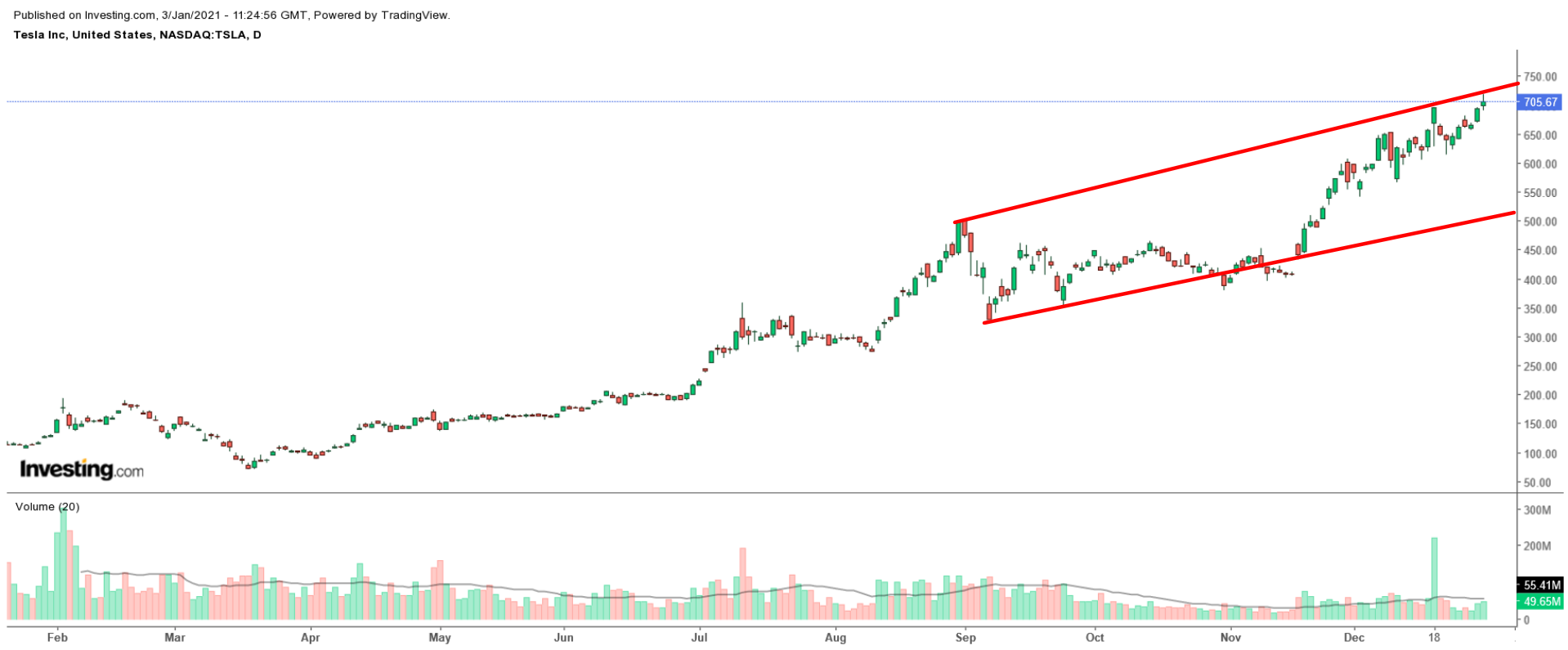 TSLA Daily
The company said on Saturday it shipped 180,570 vehicles over the three months ending in December, up 61% from the same period last year. Consensus estimates called for 174,000 vehicles.
The Q4 numbers represent a new record for the world's most valuable automaker. The previous high was notched in the third quarter of 2020, when Tesla delivered 139,300 vehicles.
For the year, Tesla shipped 499,550 vehicles in 2020, above Wall Street expectations for 481,261 vehicles, but falling just short of its most recent guidance of 500,000 vehicles.
Despite slightly missing its ambitious full-year goal, Tesla was given little chance of even coming close to hitting the 500K-mark earlier in the year, when pandemic-induced lockdowns forced it to shut down its factory in Fremont, California.
Also of note, Tesla said that Model Y production has begun in its Shanghai factory, with deliveries expected to start shortly.
We anticipate the welcome news will push TSLA stock even higher in the coming week, with its market cap continuing to move toward the jaw-dropping $1 trillion level.
Stock To Dump: Alibaba
Investors may want to stay away from shares of China's e-commerce giant Alibaba (NYSE:BABA) this week as they await fresh developments following recent news that it is the subject of increased antitrust scrutiny by the Chinese government.
Last month, authorities in Shanghai announced an anti-monopoly investigation into the company, dubbed the Amazon of Asia, after founder Jack Ma gave a speech criticizing China's regulators and its state-owned banks.
Following the speech, the China Communist Party (CCP) ordered the suspension of the blockbuster $37 billion initial public offering of Ma's fintech company Ant Group.
Once a poster boy for the country's communist regime, Jack Ma has not been seen in public since late October, according to reports. The 56-year-old tech tycoon was also replaced suddenly as a judge on his own reality television contest for entrepreneurs, a program he created.
In addition, there has been no recent activity on his Twitter account—which usually displayed numerous tweets per day up until a few months ago.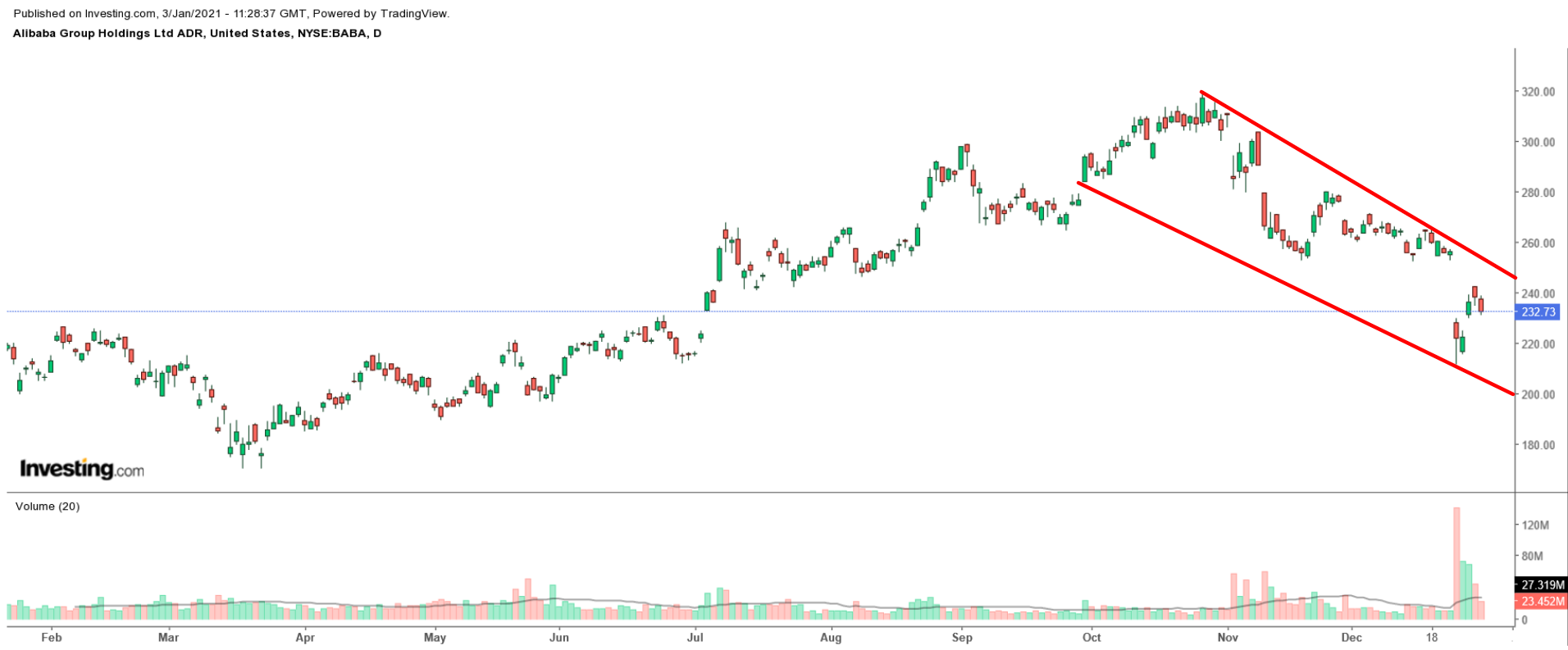 BABA Daily
As such, BABA stock has been on the backfoot recently, with investors becoming increasingly concerned by the Chinese tech behemoth's future prospects. Shares, which ended at $232.73 last week, are now approximately 27% below their recent record of $319.32 reached on Oct. 27.
From a technical standpoint, Alibaba stock has fallen below its 50-day, 100-day, and 200-day moving averages, which usually signals more selling pressure ahead.

BABA Daily with DMAs
Taking this into consideration, BABA shares look set to remain on the defensive in the days ahead as it continues to face tough challenges ahead, with the Chinese government reportedly seeking to take a larger stake in the company.
Leave a comment