Stocks on Wall Street inched up on Friday, with the major averages ending at new all-time highs in anticipation of additional fiscal aid from Washington to help the U.S. economy recover.
The NASDAQ Composite enjoyed a weekly gain of 1.7%, while the S&P 500 and the Dow Jones Industrial Average tacked on 1.2% and 1% respectively over the same timeframe.
Meanwhile, the CBOE VIX Volatility Index, Wall Street's so-called fear gauge, closed below 20 for first time since February 2020.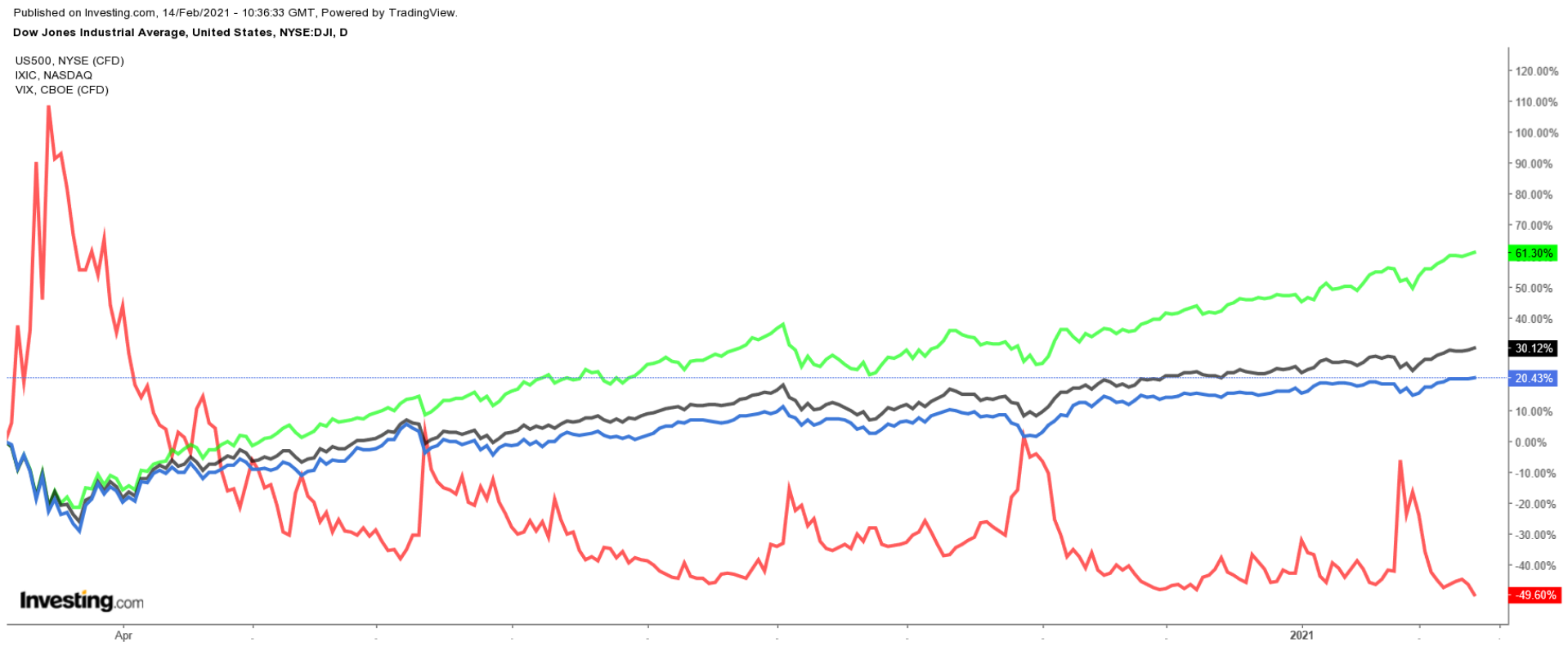 INDU:SPX:COMPQ:VIX Daily
With another batch of high-profile earnings reports ahead, as well as key economic data, the upcoming, holiday-shortened week is expected to be another busy one on Wall Street. U.S. stock markets will be closed on Monday for the Presidents' Day holiday.
Regardless of which direction the market goes, below we highlight one stock likely to be in demand in the coming days and another which could see further downside.
Remember though, our timeframe is just for the upcoming week.
Stock To Buy: Roku
Roku (NASDAQ:ROKU) will be in focus this coming week, as investors await the latest financial results from the high-flying, streaming media platform provider, which is scheduled to report earnings after the closing bell on Thursday, Feb. 18.
It has either beaten or matched Wall Street estimates for 13 consecutive quarters, dating back to Q3 2017, thanks to its rapid user growth, which has translated into higher advertising revenue.
Consensus expectations call for a loss of 6 cents per share in the fourth quarter, improving from a loss per share of 13 cents in the year-ago period. Revenue, meanwhile, is forecast to rise around 49% year-over-year to $613.6 million, reflecting strong growth in its ad-supported video-on-demand (VOD) services.
Beyond the top- and bottom-line numbers, investors will pay close attention to Roku's update regarding its active user accounts as well as average revenue per user (ARPU)—two key metrics for the streaming company.
Roku's active accounts as of the third quarter jumped 43% from the year-ago period to 46 million, while ARPU clocked in with a double-digit percentage gain, increasing 20% year-over-year to a record-high of $27.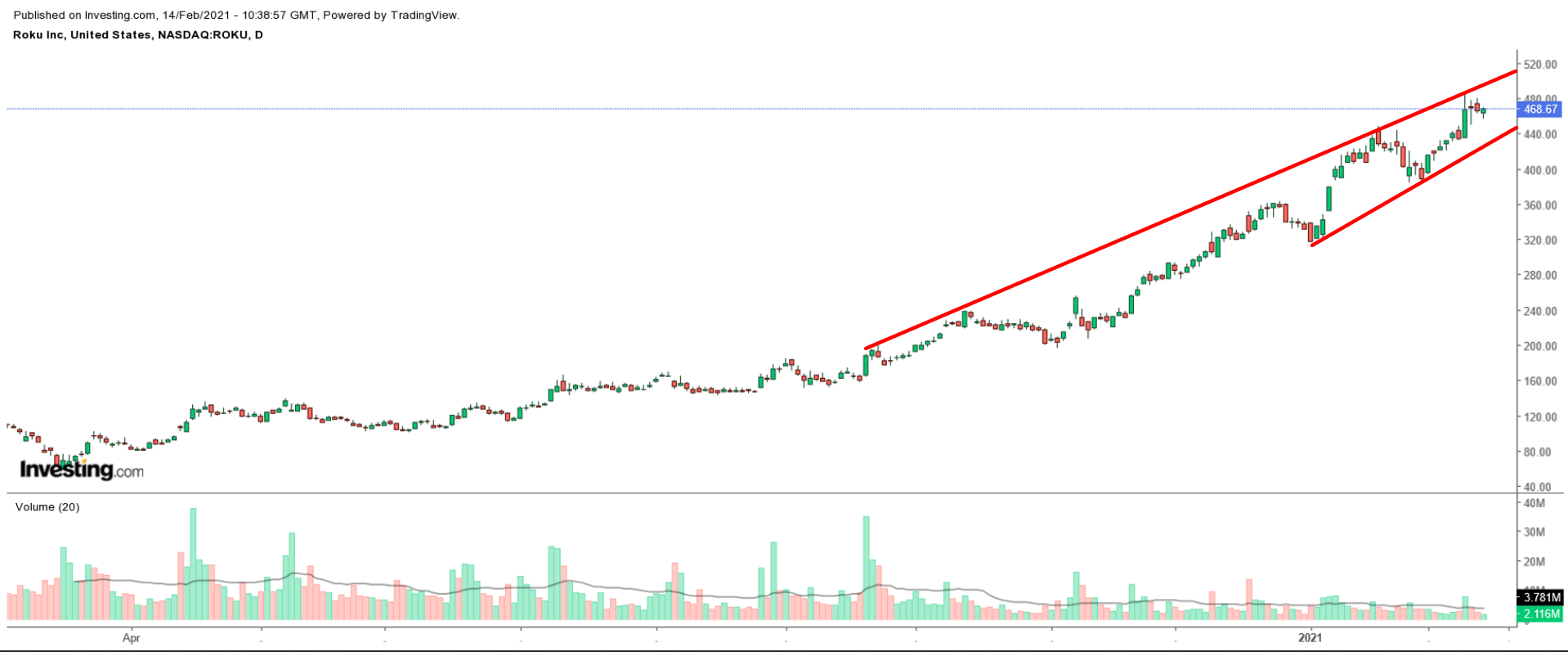 Roku Daily
Roku has been one of the market's top performers in the last 12 months. After scoring a gain of 165% in 2020, ROKU stock is up another 41% through the first six weeks of 2021.
Shares ended at $468.67 on Friday, just below their all-time high of $479.95 reached on Feb. 11, earning the San Jose, California-based streaming video pioneer a valuation of around $58.5 billion.
Despite strong gains and lofty valuation levels, we expect ROKU stock to extend its run higher in months ahead as the current operating environment has created a perfect backdrop for the fast-growing streaming media platform to continue to thrive.
Stock To Dump: Virgin Galactic
Virgin Galactic (NYSE:SPCE) shares look set to come under additional selling pressure in the coming days, due to the ongoing fallout of its decision at the end of last week to delay the highly anticipated test flight of its SpaceShipTwo Unity spacecraft.
If recent history serves as a guide, after it aborted a test flight on Dec. 12, Virgin Galactic shares plunged 27% in the week following the move, which was due to a failure in the rocket motor's ignition sequence. This test, which was planned for Saturday, was scrapped in order to allow more time for technical checks, according to the company's Twitter account, which did not provide additional details.
No new date has been set, though a spokeswoman said there are still opportunities to conduct the test flight throughout February, pending weather conditions.
Investors have been anxiously awaiting this test flight. It's a key step needed before the Federal Aviation Administration (FAA) gives its approval for Virgin Galactic commercial space flights to start.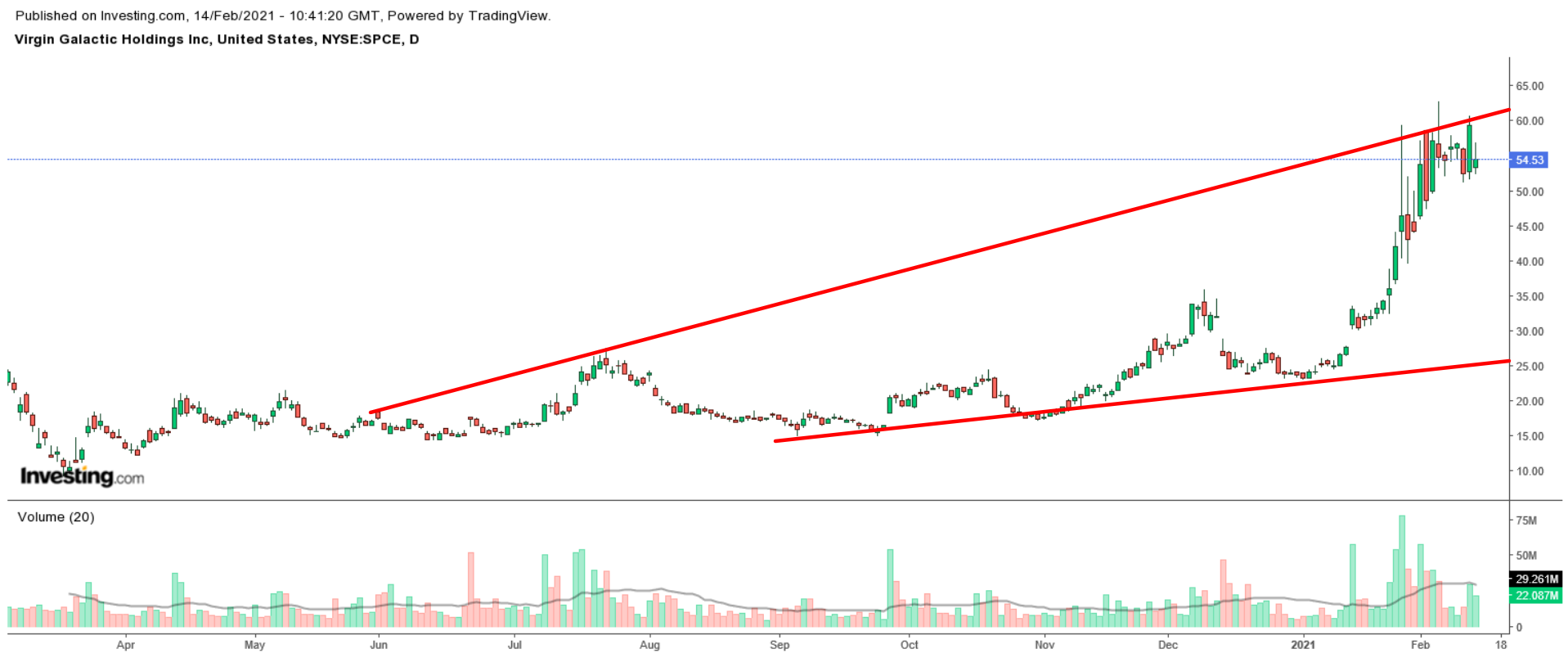 SPCE Daily
SPCE shares tumbled 8% on Friday to close the session at $54.59, pulling back from their all-time high of $62.70 reached on Feb. 4.
At current levels, the Las Cruces, New Mexico-based space tourism company has a market cap of $12.8 billion, despite losing money and generating little to no revenue as yet.
Still, Virgin Galactic shares are up nearly 130% already in 2021, given its emerging status as a leader in the nascent space-travel industry.
However, its nosebleed valuation—SPCE trades at an unprecedented price-to-sales ratio of more than 3,200—leaves it little room for error in its quest to take the first tourists to space by the end of this year.
Leave a comment