Stocks closed at new record levels on Friday. Ongoing optimism over the COVID-19 vaccine's progress and expectations for further stimulus drove Friday's rally in U.S. indexes.
The Dow and S&P 500 posted a second consecutive week of gains, climbing 1% and 1.7% for the week, respectively. The tech-heavy NASDAQ added 2.1% over the same time frame, its third straight week closing in green.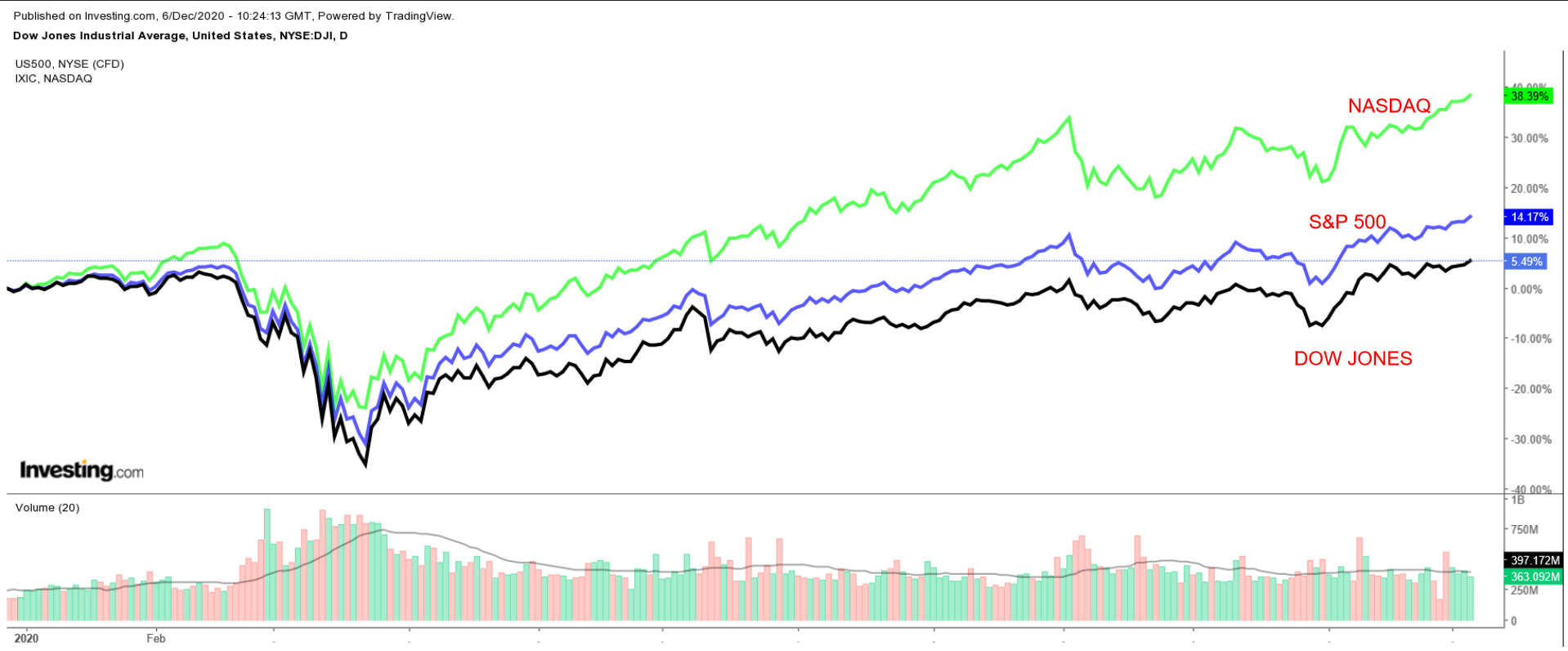 Dow Jones, S&P 500, NASDAQ Daily Chart
Fresh vaccine developments and updates about coronavirus infection rates and social-distancing restrictions will remain in focus in the days ahead.
Below we break down one stock that should see a pop with earnings ahead and another on track for additional losses as delisting fears weigh.
Stock To Buy: MongoDB
MongoDB (NASDAQ:MDB), the most widely used open-source database software platform, is thriving this year.
The New York-headquartered company has seen demand for its cloud-based data platform soar as more people work from home.
MongoDB's website details the wide reach of its product, saying:
"MongoDB has more than 20,200 customers in over 100 countries. The MongoDB database platform has been downloaded over 125 million times and there have been more than one million MongoDB University registrations."
Shares more than doubled in 2020, jumping 111%, outpacing the benchmark S&P 500's 14.5% gain over the same timeframe
MDB stock closed at $277.63 on Friday, not far from an all-time high of $289.79 reached on Nov. 30, valuing the database software company at roughly $16.1 billion.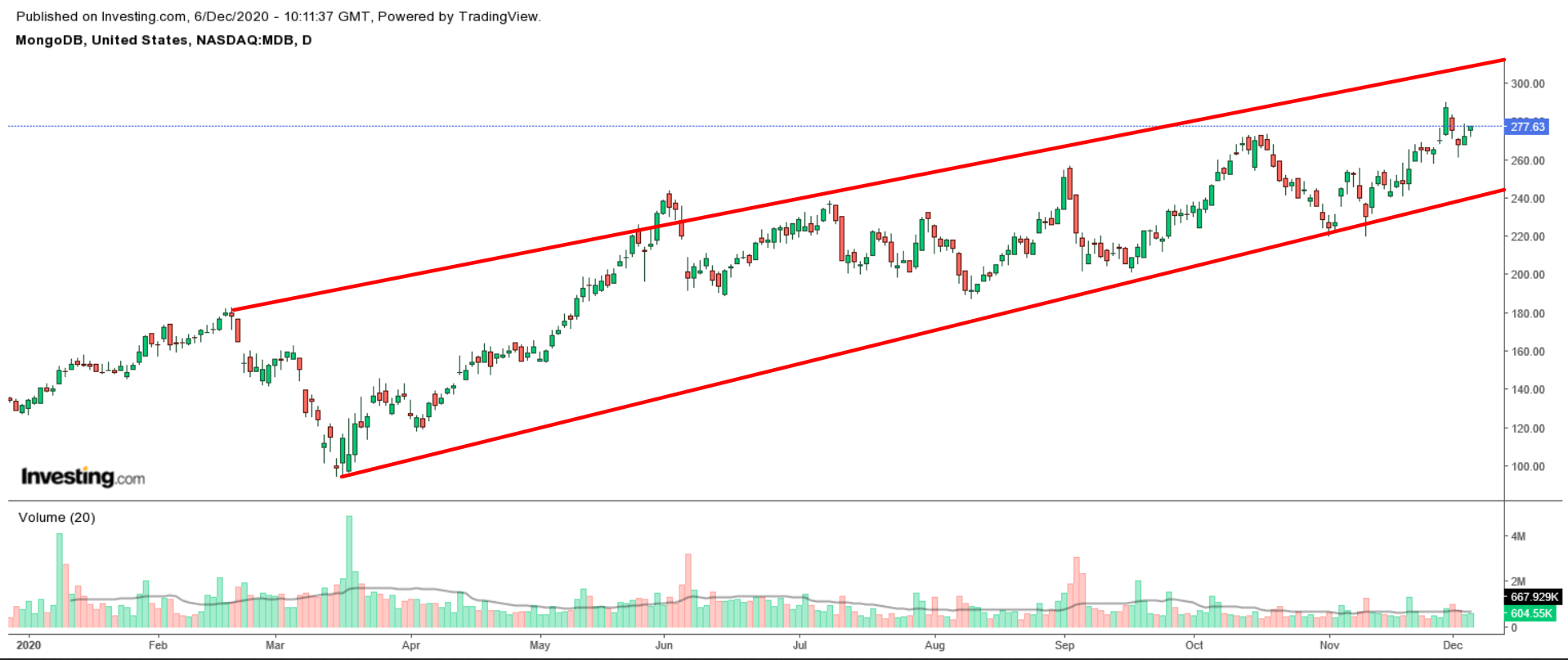 MongoDB Daily Chart
MDB's earnings and revenue easily beat expectations in the second quarter. The company is expected to next report its financial results on Tuesday, Dec. 8 after the close.
Consensus estimates call for the database software specialist to post a loss of $0.45 per share in the third quarter, widening from a loss of $0.26 per share in the same period a year earlier. Revenue, meanwhile, is projected to jump almost 27% year-over-year to a record $138.8 million, thanks to robust subscription demand for its Atlas cloud-based database.
As such, Wall Street will be closely monitoring revenue growth rates for the Atlas platform, which jumped 66% year-over-year in the preceding quarter. The offering now accounts for more than 44% of companywide sales.
Beyond EPS and revenue figures, market players will also focus on MongoDB's update regarding its outlook for the rest of the year and beyond, given the unprecedented nature of the ongoing COVID-19 pandemic.
We expect that MongoDB, which has regularly surpassed Wall Street estimates since going public in October 2017, will post another impressive quarter as its cloud-based, open-source database offering remains in demand.
Stock To Dump: Nio
Investors may want to stay away from Chinese electric vehicle maker Nio (NYSE:NIO) this week as they await further developments after the U.S. House of Representatives passed a bill that could result in China-based companies delisting their shares from U.S. exchanges.
Under the 'Holding Foreign Companies Accountable Act,' which was passed in the House last week, China-based companies listed on U.S. exchanges would have to undergo annual audits reviewed by U.S. regulators or be forced to delist.
The measure, which could quickly get signed into law by President Donald Trump, would require the Public Company Accounting Oversight Board (PCAOB) to oversee audits of Chinese companies' financials.
That does not bode well for Nio, which stated in its 2019 annual report:
"Because our auditors are located in China, a jurisdiction where the PCAOB is currently unable to conduct inspections without the approval of the [People's Republic of China] authorities, our auditors are not currently inspected by the PCAOB."
Taking this into account, the stock of the electric vehicle maker will likely remain vulnerable to sharp swings in the days ahead.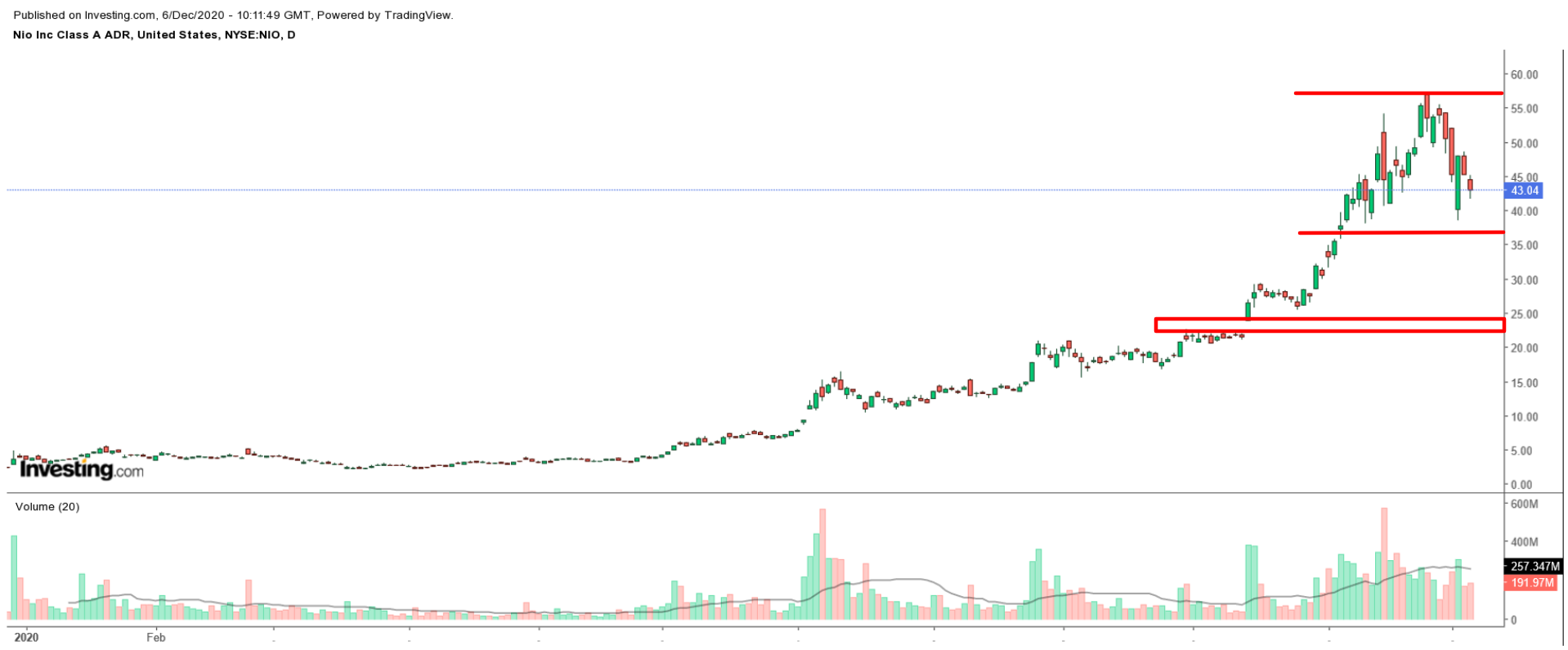 Nio Daily Chart
Shares of the Shanghai, China-based EV company have plunged nearly 25% since rallying to an all-time high of $57.20 on Nov. 24.
NIO, which is still up a whopping 1,023% year-to-date, closed at $43.04 on Friday, giving it a market cap of $51 billion.
The China-based electric vehicle maker has seen strong growth in vehicle deliveries in 2020, with sales more than doubling from 2019. So far this year, the company has delivered 36,721 EVs, which is 111.1% more than the same time last year.
Leave a comment