Stocks on Wall Street ended in positive territory on Friday, with the and NASDAQ closing at new record highs amid ongoing optimism over COVID-19 vaccine progress.
Friday's gains added to the market's surge this month. The Dow is on pace for its biggest monthly gain since January 1987, up 12.9% in November. The S&P 500 and NASDAQ climbed 11.3% and 11.9%, respectively over the same period.
Investors will be watching fresh COVID-19 vaccine headlines as well as developments surrounding the pandemic in the week ahead, amid worries the record surge in cases will lead to further restrictions.
Below we highlight one stock that has proven it can successfully navigate the current market swings and another likely to see additional losses in the coming days:
Stock To Buy: DocuSign
DocuSign (NASDAQ:DOCU)—widely considered the leader in the e-signature market—has thrived this year as the COVID-19 pandemic and the shift to a work-from-home environment created soaring demand for its services.
Shares of the San Francisco, California-based software-as-a-service company have more than doubled in 2020, jumping 206%, easily outpacing the benchmark S&P 500's 12.6% rise over the same timeframe.
DOCU stock closed at $226.87 on Friday, giving the leading provider of electronic signature technology a valuation of roughly $41.6 billion.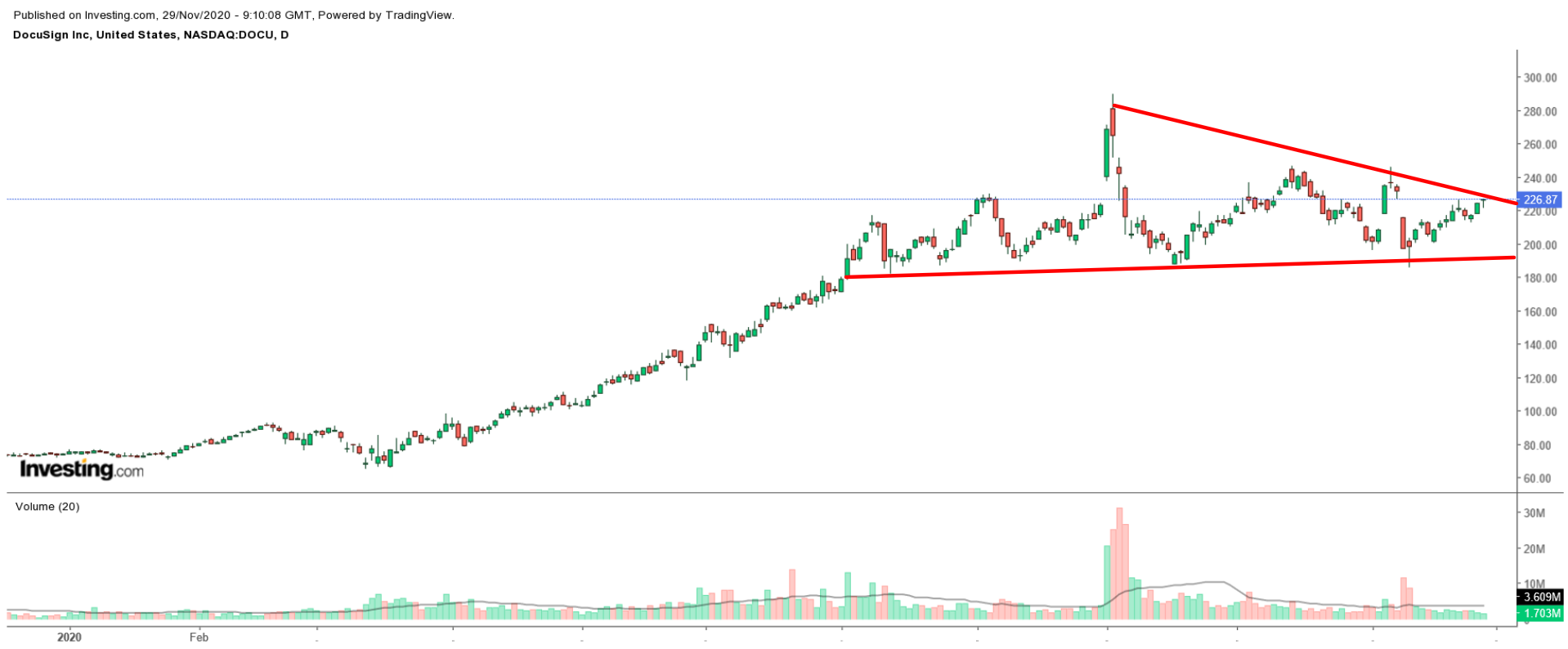 DocuSign Daily
DocuSign, whose second-quarter results—released in early September—easily topped estimates, is scheduled to next report earnings on Thursday, Dec. 3 after the closing bell.
Consensus estimates call for earnings per share (EPS) of $0.13, improving from EPS of $0.11 in the year-ago period. Revenue is forecast to jump 45% compared to the same period a year earlier to $361.1 million, as less business travel during the ongoing pandemic led to more companies signing contracts electronically.
Beyond the top-and bottom-line numbers, market players will also focus on DocuSign's update regarding its customer additions to see if it can maintain its torrid pace of growth.
The company added 166,000 new paying customers in the first half of this fiscal year, already exceeding the total added for all of the previous year (112,000). It now has 749,000 customers in more than 180 countries, up 75% from just two years earlier, when it had 429,000.
Investors will also be keen to hear additional details on the company's efforts to expand its product portfolio, such as adding a notary service that does not require in-person signatures. It is also investing in international expansion.
Despite positive vaccine announcements this month, we expect that DocuSign will remain resilient as the renewed surge in infections across the US fans concerns that a number of states and cities will have to reimpose social distancing restrictions in an effort to slow the rapid spread of the virus.
This would likely result in even more demand for DocuSign's remote-work tools.
Stock To Dump: Nikola
Investors may want to stay away from Nikola (NASDAQ:NKLA) this week, amid mounting concerns that the embattled electric truck maker's all-important $2 billion deal with General Motors (NYSE:GM) will not be finalized ahead of the looming Thursday, Dec. 3 deadline.
The proposed deal would give GM an 11% stake in Nikola to engineer and manufacture the company's hydrogen fuel cell electric pickup truck, called the Badger, while Nikola would get access to GM's Ultrium batteries and Hydrotec fuel cells.
The agreement was initially slated to close on Sept. 30 but was delayed, in part because of a scathing report by a short-selling investment firm that accused the electric vehicle startup of misleading investors.
Chief Executive Mark Russell, who replaced ousted founder Trevor Milton in September following fraud allegations, failed to offer assurances last week that the partnership with GM would still go through.
Shares of the Phoenix, Arizona-based EV startup have plunged nearly 70% since rallying to an all-time high of $93.99 shortly after it went public in June through a reverse merger with VectoIQ, a special purpose acquisition company, or SPAC.
The stock, which is down about 33% since the report was published on Sept.10, closed at $27.93 on Friday, giving it a market cap of roughly $7.4 billion.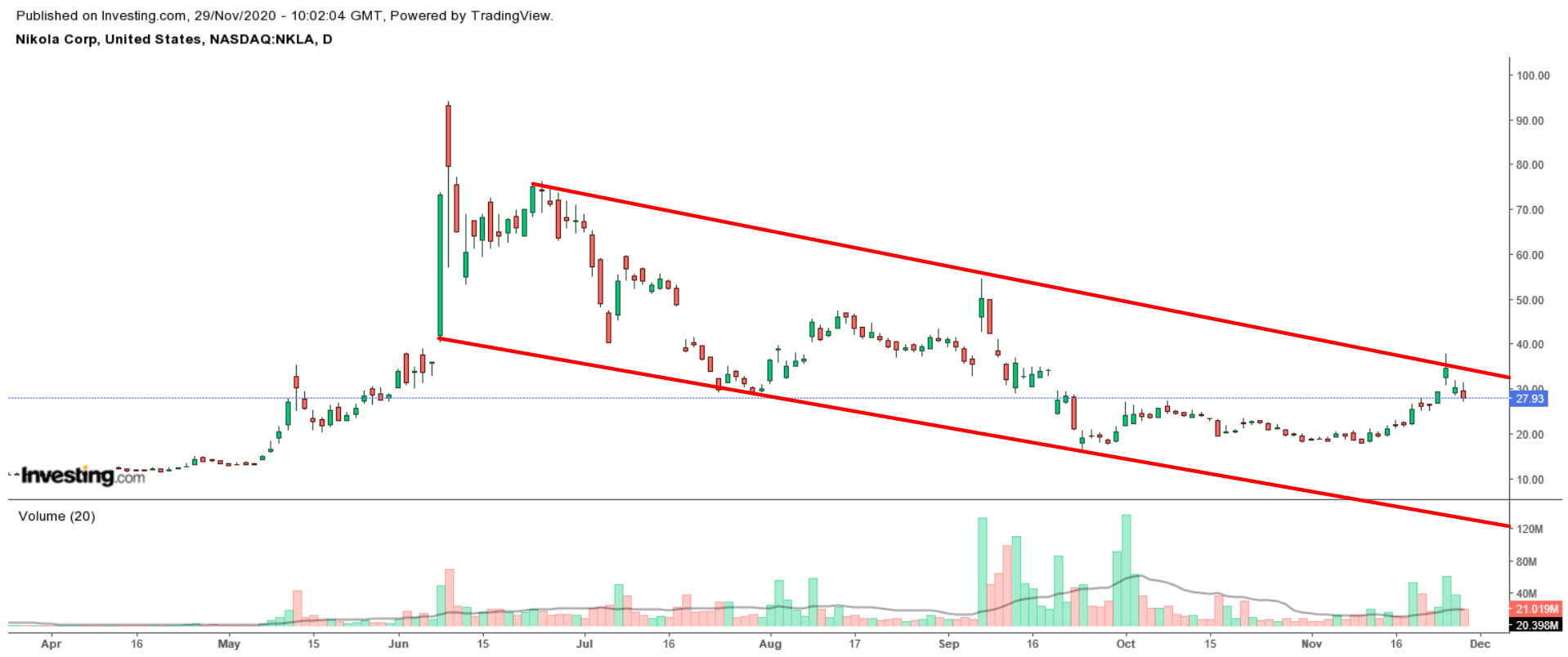 Nikola Daily Chart
Another potential cause for concern is speculation regarding what Milton plans to do with the 92.2 million shares of NKLA common stock he owns after a lock-up period that prevented him from selling his holdings ends on Tuesday, Dec. 1.
There are roughly 360.9 million shares of company stock outstanding, making the former CEO Nikola's largest single shareholder.
If Milton were to sell even a fraction of his NKLA holdings, it could put large technical selling pressure on the stock. Taking this into account, shares of the electric vehicle maker will likely remain vulnerable to sharp swings in the days ahead.
Leave a comment