Stocks on Wall Street closed mixed on Friday, as investors continued to weigh the impact of the recent surge in bond yields.
For the week, the blue-chip Dow Jones Industrial Average and the S&P 500 lost 0.5% and 0.8%, respectively, ending their two-week win streak.
The NASDAQ Composite underperformed, with the tech-heavy index falling 0.8% over the same timeframe to suffer its fourth negative week in five.
The 10-year Treasury yield meanwhile rose to a fresh 14-month high above 1.75% at one point on Thursday, before retreating on Friday to end at around 1.73%. The benchmark rate started 2021 below 1%.

Dow, S&P 500, NASDAQ, 10-y Yield Daily Chart
Between another batch of notable earnings reports and important economic data—as well as key Congressional testimony from Federal Reserve Chair Jerome Powell—the week ahead is expected to be another busy one on Wall Street.
Regardless of which direction the market goes, below we highlight one stock likely to be in demand and another which could see further downside.
Remember though, our timeframe is just for the upcoming week.
Stock To Buy: FedEx
FedEx Corporation (NYSE:FDX) shares—which just scored their third weekly gain in a row—have been on a tear recently, rising about 18% since the start of February as investors piled into cyclical stocks likely to benefit from the economy reopening.
That trend is likely to continue in the week ahead, as more states across the country end lockdowns and ease stay-at-home measures, considering the progress being made on the vaccine front.
FDX shares—which have gained 150% year-over-year—ended at $279.58 on Friday, not far from their record peak of $305.59 reached on Dec. 9.
At current levels, the Memphis, Tennessee-based shipping giant has a market cap of around $69.8 billion.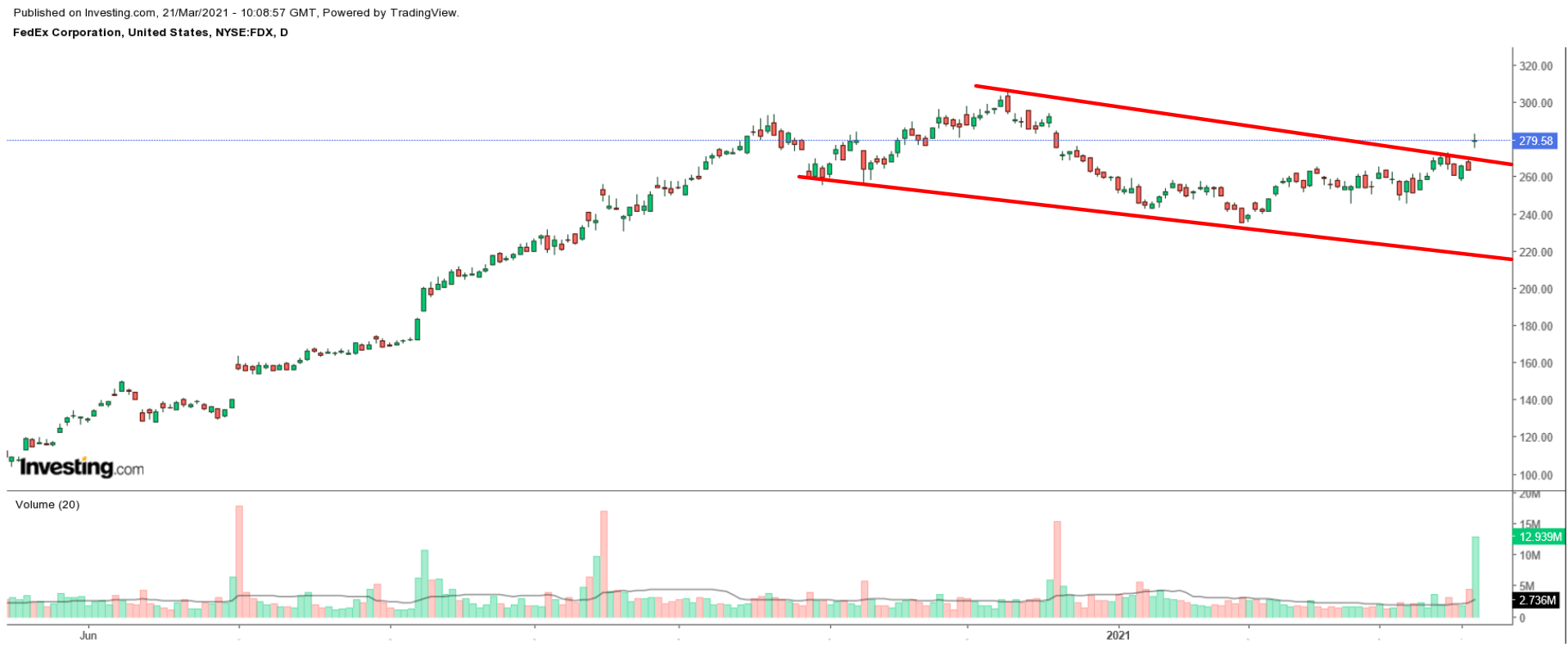 FedEx Daily Chart
Investor sentiment was lifted last week, when FedEx announced fiscal third-quarter earnings and revenue which easily topped views, thanks in large part to strong shipping volumes.
Earnings per share soared 146% from the same period last year to $3.47, much better than expectations for EPS of $3.30. Revenue, meanwhile, climbed 23% year-over-year to $21.5 billon, easily beating estimates for sales of $19.9 billion.
To add to those encouraging numbers, FedEx's management also provided a bullish full-year forecast—the first guidance it has issued since suspending its outlook one year ago due to uncertainty surrounding the COVID-19 pandemic.
Chairman and CEO Fred Smith stated in the company's earnings release:
"We expect demand for our unmatched e-commerce and international express solutions to remain very high for the foreseeable future."
In addition, chart technicals also look promising after FDX shares surged above their 50-day and 100-day moving averages (DMA) on Friday, doing so for the first time since late December.

FedEx 50-DMA, 100-DMA Daily Chart
The last time those key chart levels were reclaimed back in July 2020, FDX went on to rally 125% over a span of five months.
Stock To Dump: Pinduoduo
After plunging almost 12% last week, Pinduoduo (NASDAQ:PDD) stock looks set to remain on the back foot in the days ahead, as investors continue to worry over the negative impact of several factors plaguing the Shanghai-based e-commerce giant.
PDD stock ended Friday's session at $141.80, more than 33% below its all-time high of $212.30 touched on Feb. 16, giving the Chinese e-commerce technology company a market cap of $173.9 billion.
Despite the recent selloff, shares are still up approximately 319% in the last 12 months as Chinese consumers shifted their shopping habits online in the wake of the COVID-19 pandemic.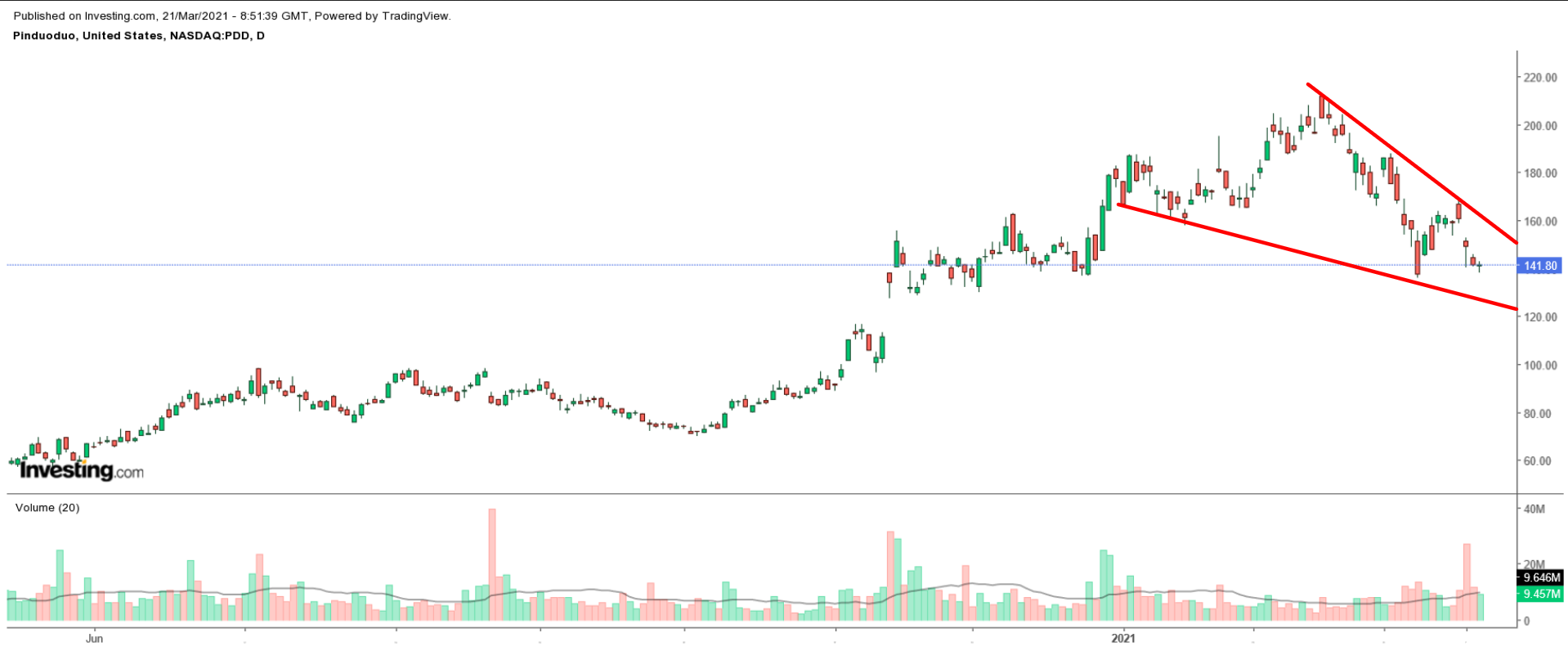 PDD Daily Chart
Sentiment on the fast-growing online marketplace took a hit last week following the shock departure of its founder and chairman, Colin Huang—China's third-richest man with an estimated fortune of approximately $50 billion.
Chen Lei, who replaced Huang as PDD's chief executive officer last July, will now take on the additional role as the company's chairman.
The 41-year-old Huang's surprising resignation comes amid growing scrutiny by Chinese authorities. As part of their scrutiny, authorities are cracking down on the country's internet sector, which has been growing increasingly more powerful. This in an attempt to restrain tech giants that have been successfully developing a dominant force in the consumer sector.
With 788 million annual active users, Pinduoduo recently overtook Alibaba (NYSE:BABA) as China's biggest e-commerce platform.
Meanwhile, a weak technical picture will also likely weigh after PDD shares closed below both their 50DMA and 100DMA for the first time in more than five months on Friday.

PDD 50-DMA, 100-DMA Daily Chart
Many investors often view the 50- and 100-DMAs as effective indicators of the stock's short-term trend, with price above it signaling an upward bias, and action below it pointing to further weakness.
Leave a comment