The year 2020 has been a different and difficult period for many people. It has also been a time of increased volatility in the markets. Yet, hope springs eternal.
As the weather gets cooler and the days grow shorter in the northern hemisphere, most people are ready to celebrate the upcoming new year with holiday cheer and some shopping.
Therefore, today we look at FTSE 100-listed luxury fashion house Burberry Group (LON:BRBY), (OTC:BURBY).
Burberry's Long History
Thomas Burberry established his namesake store in 1856 with the aim of manufacturing "clothing […] designed to protect people from the British weather."
With a market capitalization of about £7 billion (USD $9.4 billion), it is one of the UK's largest retailers. The group is also well-known globally, as sales in the Asia-Pacific region account for more than 40% of revenue.
However, so far in 2020, the shares are down about 18%. On Dec. 1, Burberry closed at 1,792p (US$24.00).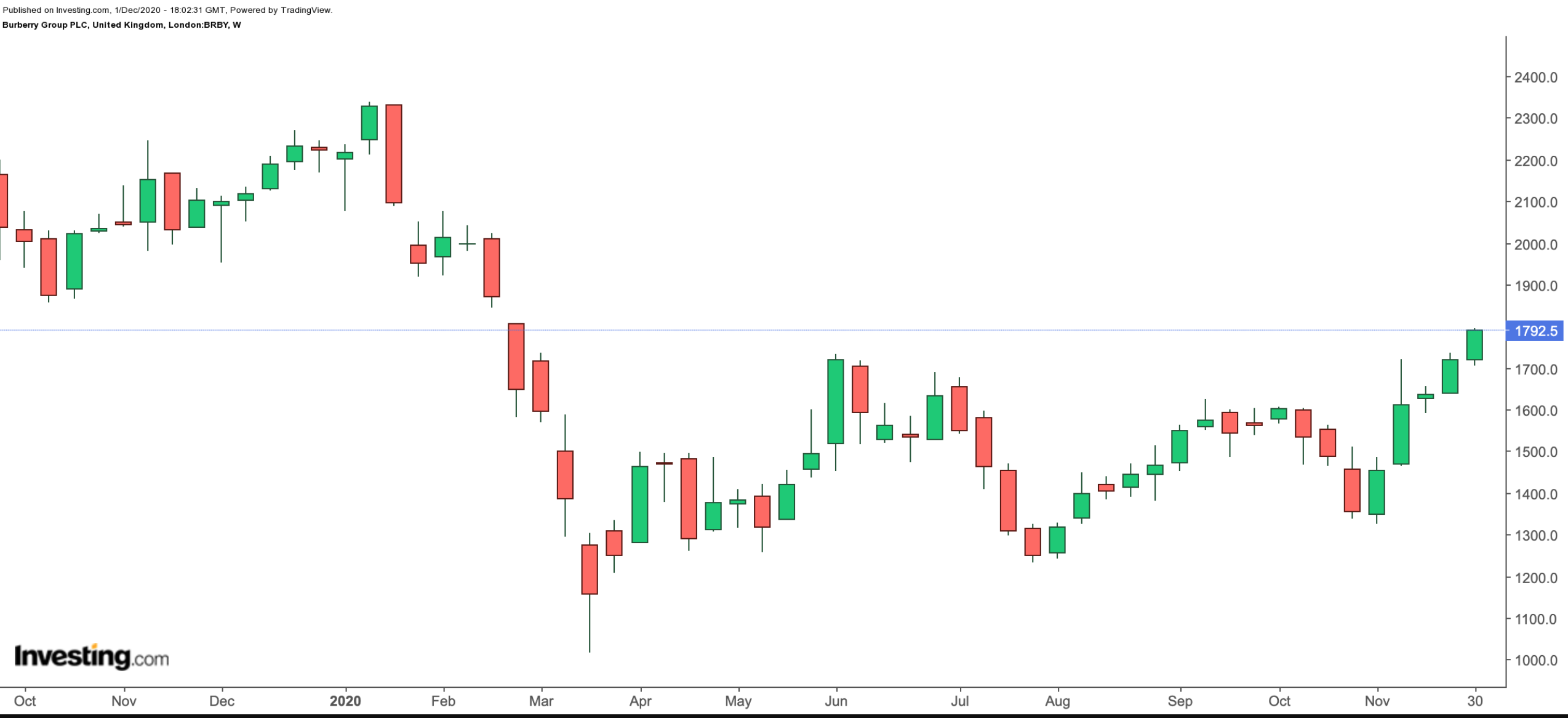 Burberry Group 1-Year Chart.
In mid-November, Burberry released interim results. Revenue came in at £878 million (or $1.18 billion), a decline of 31% year-on-year (YoY). That was a painful top-line drop.
Similarly, adjusted operating profit was down 75% and adjusted diluted EPS declined by 88%.
CEO Marco Gobbetti said:
"While the virus continues to impact sales in (Europe, the Middle East and Africa), Japan and South Asia Pacific, we are encouraged by our overall recovery and the strong response to our brand and product, particularly among new and younger customers."
Would We Buy BRBY Now?
Despite the upbeat tone of the interim results and the news that business has been improving as stores have opened, we would like to remind investors that over the past few weeks store closures in the UK, most of continental Europe and in many other countries have been part of the efforts to curb the spread of the virus. Thus, lockdown 2.0 may mean the next results could be mixed.
It is also important to remember that the group's woes started even before the pandemic affected sales. In the past several years, its shares have been swinging in and out of favor with many investors.
The heritage brand became one of the first FTSE 100 names to be adversely affected by COVID-19 as demand fell significant in the Asia-Pacific region as early as the first few weeks in 2020. By mid-March, the stock was at multi-year lows.
Forward P/E and P/S ratios are 33.67 and 3.13, respectively. Put another way, despite the drop in price, BRBY shares are still richly valued. In fact, for most UK shares that are not in the technology sector, those metrics would mean Burberry is among the most expensive businesses.
We believe a possible decline of around 5%-7% from current levels would offer better value for long-term shareholders.
Potential investors may also want to analyze interim results in several weeks when the group possibly releases a trading update regarding its holiday sales.
Bottom Line
The growth of e-commerce has meant difficulty for many brick-and-mortar retailers. The pandemic's economic uncertainty has meant even further difficulties for luxury brands, such as Burberry.
The fortunes of other UK-based retailers have been mixed so far in 2020. For instance:
If we had to choose among FTSE-listed retailers, we would probably go with strength. We would monitor the price of ASOS shares, with a view to buy the declines.
On the other hand, the retail story is somewhat different in the U.S. For example, the Dow Jones Retailers index is up more than 42%.
Investors interested in retail stocks during the typically busy shopping season may also consider several exchange-traded funds (ETFs) such as the Global X E-commerce ETF (NASDAQ:EBIZ), ProShares Long Online Short Stores (NYSE:CLIX), the SPDR® S&P Retail ETF (NYSE:XRT) or the VanEck Vectors Retail ETF (NYSE:RTH).
Finally, the iShares MSCI United Kingdom ETF (NYSE:EWU) or the iShares MSCI United Kingdom Small-Cap ETF (NYSE:EWUS) could be appropriate for those interested in UK-listed shares.
Leave a comment