Most aerospace and defense (A&D) companies typically get a large part of their revenues from governments that are allies of the U.S.
Investing in the industry can usually bring up heated debates on ethical issues. Many exchange-traded funds (ETFs) that focus on environmental, social and governance (ESG) criteria tend to completely avoid stocks in the sector.
Today, we will discuss two UK-based global A&D groups for investors who could be interested in the industry, especially for diversification. The two names are BAE Systems PLC (LON:BAES), (OTC:BAESF), a member of the FTSE 100 and Meggitt (LON:MGGT), (OTC:MEGGY), a member of the FTSE 250.
1. BAE Systems
London-based BAE Systems provides aerospace, defense and security solutions globally. With close to 90,000 employees, its reach extends to 40 countries.
Year-to-date (YTD), BAES shares are down about 10%. On Dec. 29, they closed at 503.2p ($27.53 for U.S.-based stock). The current stock price supports a dividend yield of 4.5%.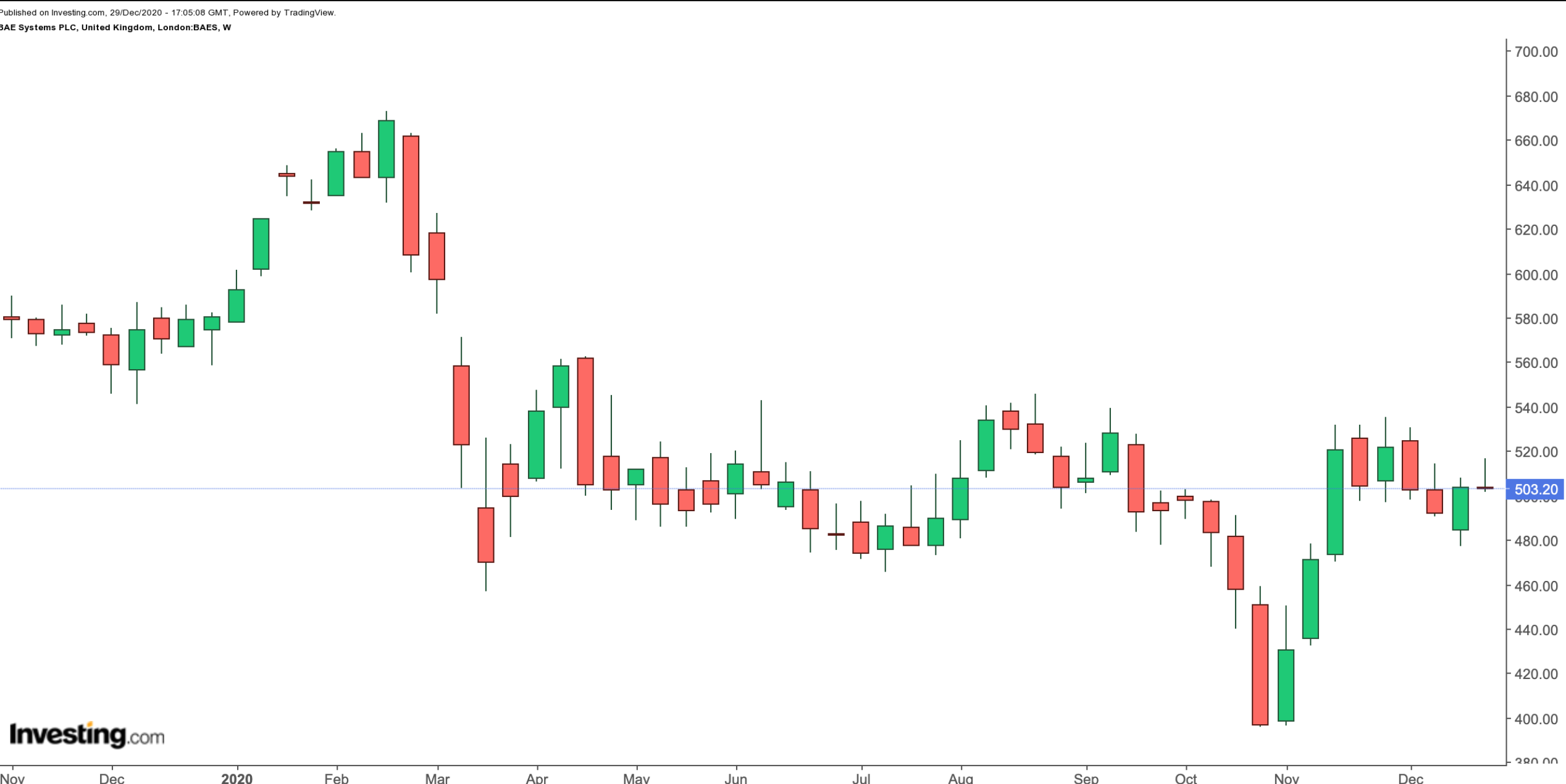 BAE Systems Weekly Chart.
The group released half-year results in late July, followed by a trading update in November. Some of the most important customers are the U.S., UK, Australia, continental European countries, Qatar and Saudi Arabia.
Half-year revenue was £9.2 billion (or $12.4 billion), an increase of 6% year-on-year (YoY). Operating profit was £808 million (or $1.09 billion), a decrease of 10%. Management's free cash flow guidance for the full year was £800 million (or $1.08 billion).
The most recent trading update highlighted the importance of the U.S. operations and said:
"In the U.S., the Group's U.S.-based portfolio remains well aligned to customer priorities and growth areas, which we expect to continue under the next administration… [The] backlog provides good visibility of growth in the U.S. business. The two-year budget deal enacted in 2019 established a defense spending level of c.$740 billion for fiscal year 2021."
BAES stock's forward P/E and P/S ratios are 10.67 and 0.89, respectively. Buy-and-hold investors could find value at the current price level.
2. Meggitt
Meggitt specializes in components and sub-systems for the aerospace, defense and energy markets. It employs more than 9,000 people in 16 countries.
So far in the year, MGGT stock is down about 29%. On Dec. 29, it closed at 474.3p ($13.10 for U.S.-based shares). Earlier in March, the group axed its dividend in an effort to strengthen its balance sheet.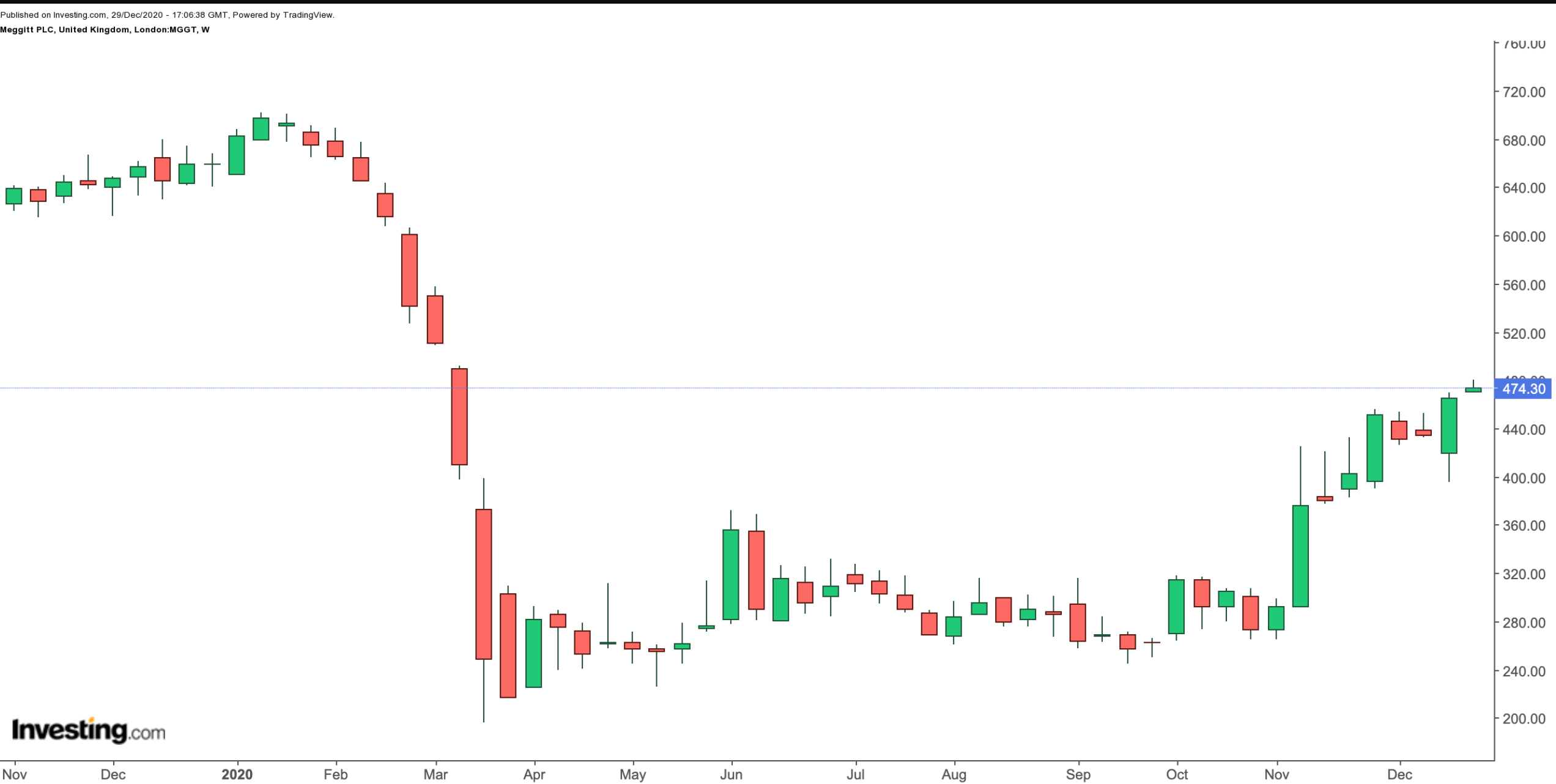 Meggitt Weekly Chart.
The pandemic has had a more profound effect on Meggitt than on BAE Systems, as the aerospace division brings in over half of Meggitt's revenue. The segment – which includes civil aircraft, business jets, helicopters, engines and parts – has come under significant pressure due to lockdowns and various restrictions affecting aviation.
Meggitt released half-year results in September, followed by a trading updates in November.
Half-year (H1) revenue was £384 million (or $519 million), down 25% YoY. Group loss before tax was £368.4 million (or $498 million). In H1 2019 it had posted a profit of £72.6m (or $98.1 million).
CEO Tony Wood commented:
"For the full year, we expect to deliver underlying operating profit between £180m and £200m, to be free cash flow positive in the second half, and cash flow neutral for the full year at the top end of the operating profit guidance range."
MGGT stock's forward P/E and P/S ratios are 19.12 and 1.75, respectively. Although we like the long-term prospects for the Meggitt, we find the shares to be still on the frothy side. Thus, we would wait and observe developments in the first quarter of 2021 before buying into the shares. A potential decline of about 5%-7% would improve the margin of safety for buy-and-hold investors.
Bottom Line
Potential investors who are not ready to commit capital into individual stocks in the industry could also consider buying ETFs. Examples would include:
Several aerospace and defense stocks that may also be of interest and that these funds currently hold are:
Leave a comment