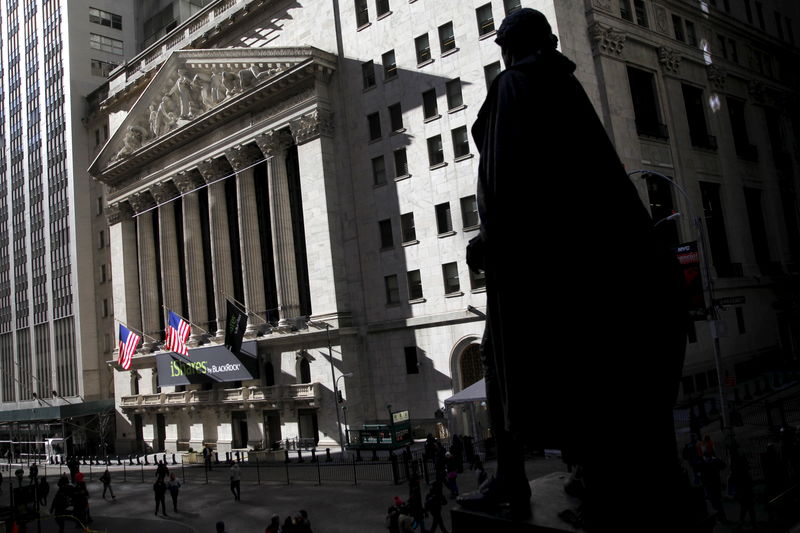 © Reuters.
By Geoffrey Smith
Investing.com — U.S. stock markets opened higher on Tuesday, as investors appeared largely content to adopt a wait-and-see policy ahead of the runoff elections for Georgia's two Senate seats.
The outcome of those elections – which is only expected to be clear on Wednesday morning according to state officials – will determine who has control of the Senate for the next two years. A single Republican victory would be enough to keep the upper chamber in the hands of the GOP, and defend its leverage over fiscal policy. If, however, both seats fall to the Democratic Party candidates, then the Democrats will have control of the presidency and both chambers, potentially paving the way for some sharp increases both in federal spending and taxes.
By 9:40 AM ET (1440 GMT), the Dow Jones Industrial Average was up 159 points, or 0.5%, at 30,383 points. The S&P 500 and the Nasdaq Composite were also up in parallel by 0.5%. All three cash indices had lost over 1% on Monday, the first time they had opened the year with a down day since 2016.
The mood was supported by signs of strength in U.S. manufacturing, with the Institute of Supply Management's activity index rising to its highest in 2 1/2 years at 60.7, defying expectations for a slight decline.
Among the conspicuous early movers was sports streaming service Fubotv (NYSE:FUBO), which rose 17% after issuing preliminary fourth-quarter numbers. The company said it had 545,000 subscribers as of year-end. After that bounce, the stock is now roughly where it was before being caught up in a speculative bubble in the middle of last month, which led to the stock doubling, then falling as much as 70%. Even before this morning's numbers, brokerages had started to say that the rout had gone too far.
Oil and gas stocks were lifted by reports suggesting that Russia and OPEC are set to abandon plans to raise their collective output by 500,000 barrels a day as of February. Occidental Petroleum (NYSE:OXY) stock rose by 5.7%, while Exxon Mobil (NYSE:XOM) stock rose by 2.2% and Chevron (NYSE:CVX) stock rose by 1.8%.
Tesla (NASDAQ:TSLA) stock fell by 1.2% after figures that showed it losing market share in what is proportionally the most developed electric vehicle market in the world. The company was comfortably outsold last year by the likes of Volkswagen (DE:VOWG_p), Nissan (OTC:NSANY) and Hyundai in Norway, where EVs accounted for over half of all new car registrations. That contrasts with its ongoing pre-eminence in the U.S. and Chinese markets for EVs.
Elsewhere, China Unicom (NYSE:CHU) ADRs rose 14% and China Mobile (NYSE:CHL) and China Telecom (NYSE:CHA) ADRs both rose 9.1% after the New York Stock Exchange reversed the decision, which it announced only last week, to delist the securities in line with an executive order from the Trump administration.
Leave a comment