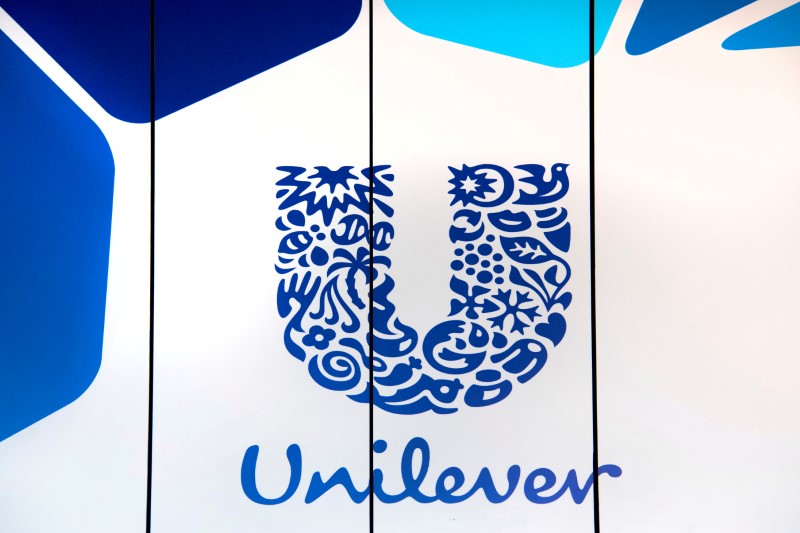 © Reuters. FILE PHOTO: The logo of Unilever is seen at the headquarters in Rotterdam
(Reuters) – Consumer goods giant Unilever (NYSE:UL) on Thursday reported underlying sales growth for the fourth quarter that was in line with estimates, buoyed by strong demand in emerging markets.
Underlying sales rose 3.5%, for the Anglo-Dutch maker of Dove soap, Hellmann's mayonnaise and Tresemme shampoo, in line with what analysts on average were expecting, based on a company-supplied consensus.
Chief Executive Alan Jope said: "In a volatile and unpredictable year, we have demonstrated Unilever's resilience and agility through the Covid-19 pandemic."
Jope said the company was winning market share in over 60% of its business in the last quarter, on the basis of measurable markets.
Setting out its longer-term targets, Unilever said it would aim for underlying sales growth ahead of its markets, delivering growth in the range of 3% to 5%, as well as profit growth ahead of sales growth.
The coronavirus pandemic has boosted sales of packaged food companies like Unilever, Nestle and Kraft Heinz (NASDAQ:KHC), though Unilever continued to be hurt by sharp declines in foods served in public places such as on beaches and at restaurants.
In November, the company ditched its Anglo-Dutch dual-headed structure in favor of a single corporate entity based in London.
Leave a comment