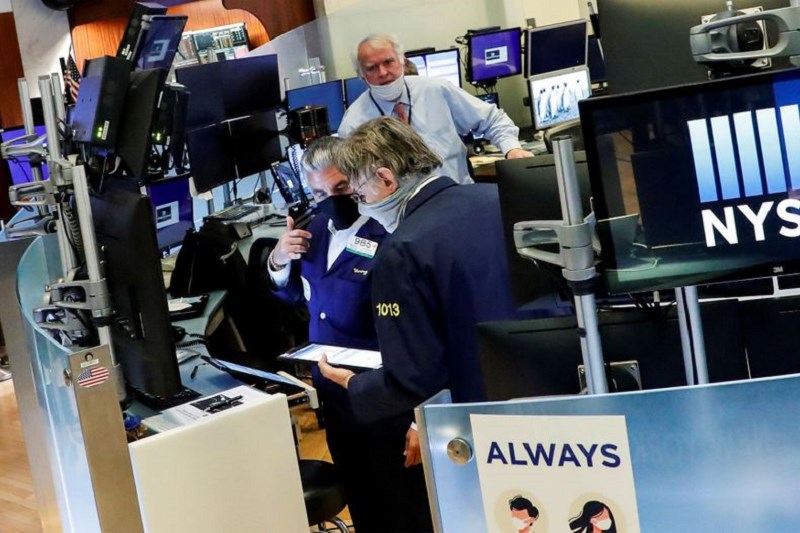 © Reuters
By Peter Nurse
Investing.com – U.S. stocks are seen opening lower Tuesday, as investors weigh up rising numbers of Covid-19 cases and the associated lockdowns with a vaccine rollout and potential fiscal stimulus.
At 7:15 AM ET (1205 GMT), the Dow Futures contract fell 150 points, or 0.5%, S&P 500 Futures traded 20 points, or 0.6%, lower, and Nasdaq 100 Futures dropped 46 points, or 0.4%.
Investors have been buoyed over the last month by the rapid progress towards the global rollout of Covid-19 vaccines.
However, the number of U.S. coronavirus cases is rapidly approaching 15 million, with record infections sweeping across many states and hospitalizations rising by over 1,000 a day. This has led to a string of renewed lockdowns, including strict measures in California, the most populous U.S. state.
The U.K. started vaccinating its public earlier Tuesday with the Pfizer/BioNTech Covid-19 injection, while the U.S. Food and Drug Administration is to vote on emergency-use authorization for this vaccine on Thursday and initial vaccinations could get underway as early as Friday.
The White House is holding a summit on Tuesday to explain plans for vaccine distribution, with President Donald Trump set to sign an executive order to ensure that priority access is given to the American people. This follows the New York Times reporting the government declined when Pfizer (NYSE:PFE) offered in late summer to sell more vaccine doses to the United States.
Meanwhile, U.S. lawmakers are expected to pass a one-week spending bill to keep the government running, providing more time for them to come to consensus over a Covid-19 relief package.
Elsewhere, there are earnings figures due from the likes of AutoZone (NYSE:AZO), Chewy (NYSE:CHWY) and GameStop (NYSE:GME), while Tesla's (NASDAQ:TSLA) stock sold off premarket after the electric carmaker announced plans to sell an additional 5 million shares from "time to time".
Economic data will be in the form of nonfarm productivity, which is expected to rise 4.9% for the third quarter, in line with the gain in the second quarter.
Oil prices slipped Tuesday as traders looked to balance positions after recent gains as lockdown fears translated directly into fears about demand.
Data due from the American Petroleum Institute later Tuesday and from the U.S. government on Wednesday are expected to show that U.S. crude stocks fell last week.
U.S. crude futures traded 0.4% lower at $45.55 a barrel, while the international benchmark Brent contract fell 0.3% to $48.63. Both benchmarks lost around 1% Monday, but this followed five consecutive weeks of gains.
Elsewhere, gold futures rose 0.1% to $1,867.70/oz, while EUR/USD traded 0.1% higher at 1.2121.
Leave a comment