Reports Q4 2020 results on Tuesday, Feb. 9, after the close

Revenue expectation: $1.18 billion

EPS expectation: $0.2926
Despite all the wild ups and downs of the past year, Twitter (NYSE:TWTR) remains one of the most favored social media stocks for investors, due to its surging user base and improving monetization opportunities.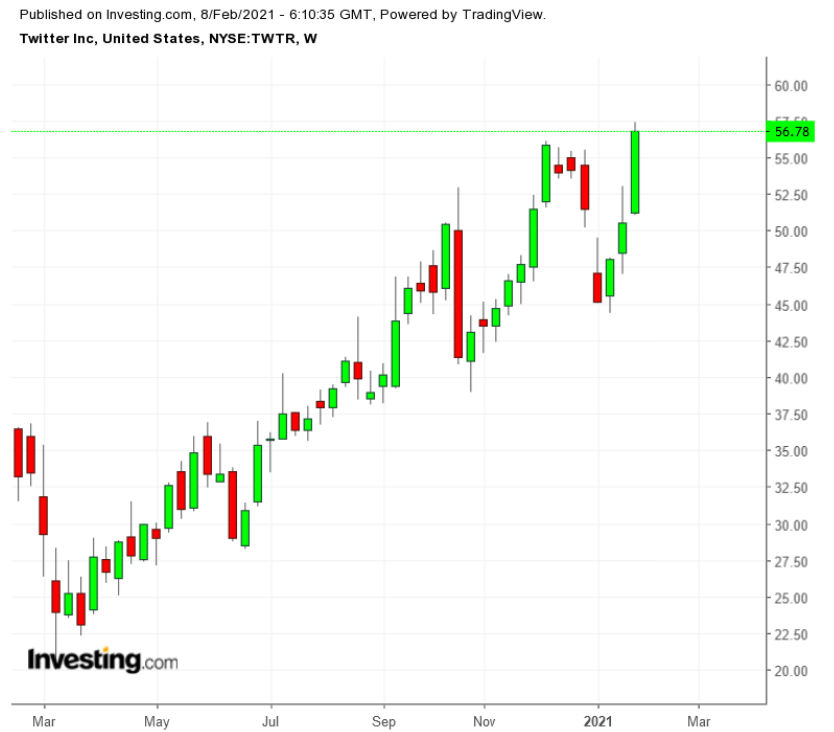 TWTR Weekly TTM
Shares of Twitter, trading at $56.78 as of Friday's close, have more than doubled since the March dip, adding 30% in value in just the past three months. During that period, Facebook (NASDAQ:FB) shares have hardly budged.
Behind this resilience are analyst expectations that the micro-blogging app is well positioned to add more subscribers, grow its sales, and improve its bottom line. When Twitter releases its fourth-quarter earnings report on Tuesday after the market close, analysts expect it will show sales grew 20% to $1.18 billion and profit per share to $0.29 from $0.19 a year ago.
In a Jan. 28 research note to clients, analysts at KeyBanc upgraded Twitter's rating to overweight as they expect both revenue and user expansion will continue to improve. They wrote:
"Our view is that execution is improving, and the combination of a cyclical ad recovery and new products creates potential for revenue to outpace our above-consensus revenue estimates in 2021 and 2022."
KeyBank expects Twitter revenue to rise by more than 20% annually.
Banning Trump
Earlier, J.P. Morgan analyst Doug Anmuth also released a bullish call on Twitter, raising his price target to $65 from $52 a share, saying he believes Twitter's business momentum is improving beyond 2020.
"We believe Twitter is uniquely positioned as the real-time broadcast and communications network, making it complementary to all other forms of media, including TV," Anmuth said. Additionally, Twitter is likely to benefit from the shift toward mobile and video given that the ad product and platform are continuing to improve, he added.
Still, even with these bullish calls, it's also a challenging time for the San Francisco-based company, after it permanently banned former U.S. President Donald Trump from its platform, after he allegedly incited a deadly Capitol Hill attack to protest the election results.
The controversial move made millions of Trump supporters angry, creating some business implications for Twitter due to its relatively small user-base when compared with other social media giants. Trump's account had roughly 90 million followers. That compares with the 187 million monetizable average daily active users Twitter reported in its most recent quarter.
Bottom Line
Twitter's stock is highly vulnerable to any negative earnings surprise. Shares plunged 21% after the company reported fewer subscriber additions in November than what analysts were expecting. That said, the stock is performing well since the pandemic outbreak and is in a good position to attract digital ad dollars.
We think Twitter has achieved solid momentum in turning its platform into one that advertisers increasingly value. Any post-earnings weakness should be a buying opportunity for those looking for a good entry point.
Leave a comment