"Don't tell me what you think, tell me what you have in your portfolio." – Nassim Nicholas Taleb
After spending most of the weekend (jokingly?) extolling the virtues of the meme currency Dogecoin on twitter, the planet's richest man made more significant crypto-related news yesterday when an SEC filing showed that Elon Musk's Tesla Motors (NASDAQ:TSLA) purchased $1.5B in Bitcoin in January. Moreover, the filing went on to note that the company expects "to begin accepting bitcoin as a form of payment for our products in the near future…which we may or may not liquidate upon receipt."
The news served as rocket fuel for the entire cryptoasset asset class, with Bitcoin surging to a record high above $44,000 as of writing (Ed. note: later trading close to $47K), but the bigger implications may be for Tesla itself.
Previous companies that have added Bitcoin to their corporate treasuries have surged in recent months (MicroStrategy's (NASDAQ:MSTR) 600% rally in the last six months being the most prominent example), though it will take far more than the current allocation for Bitcoin's price to be a meaningful contribution to TSLA's stock movements.
At a minimum, the firm's foray into accepting the digital currency as payment for its vehicles will be attractive to a new subgroup of increasingly wealthy potential customers (crypto investors) and shows that Musk and company remain on the cutting edge of innovation.
TSLA technical analysis
As noted earlier, TSLA is back testing its record highs from last month near $900 following yesterday's news. The five-week consolidation below $900 has alleviated the overbought condition in the RSI indicator, potentially clearing the way for another leg higher as we move through February. As long as TSLA is holding above its short-term 21- and 50-day exponential moving averages, traders will continue to give the bullish trend in Elon Musk's behemoth the benefit of the doubt: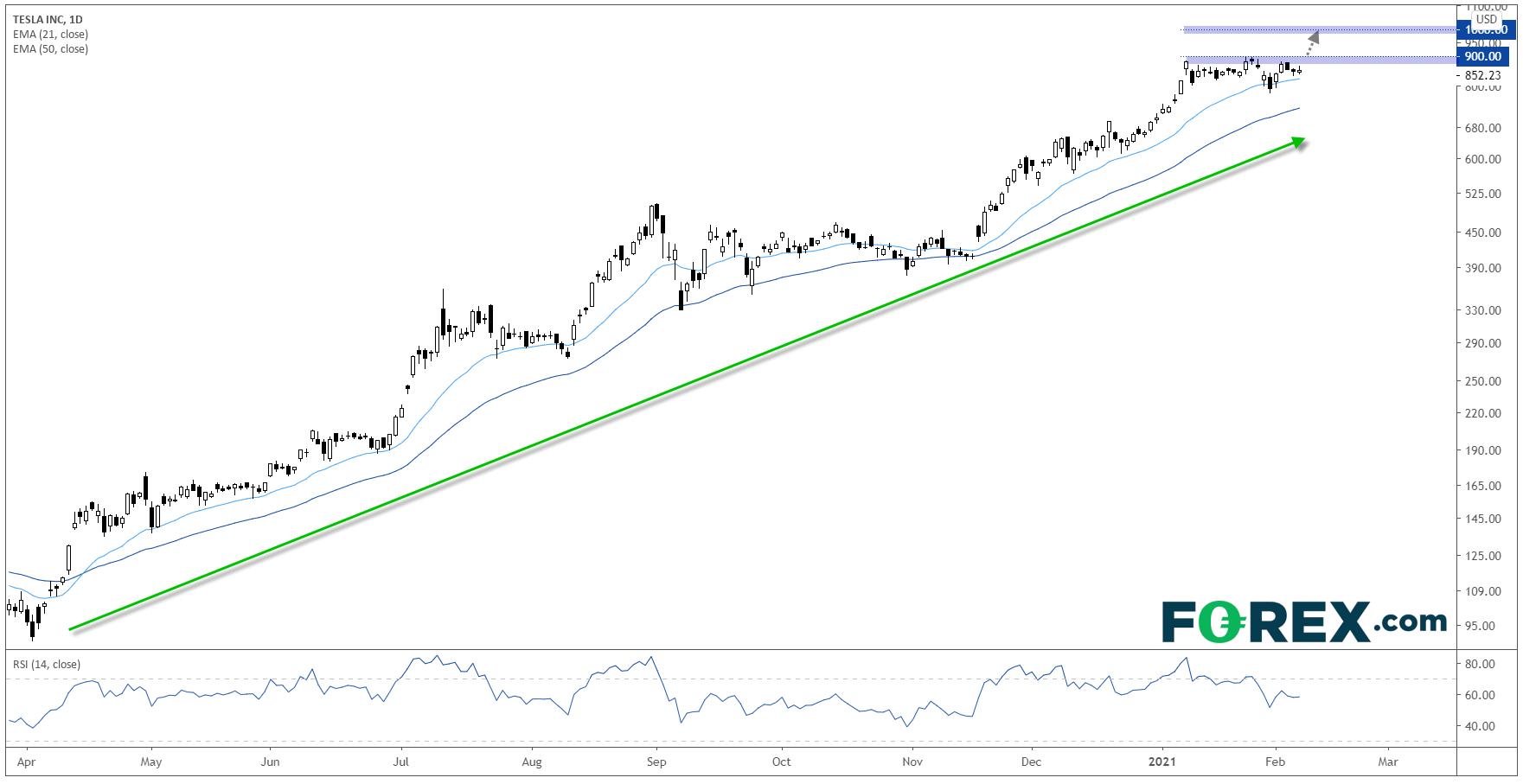 Tesla Inc Daily Chart
As a final note, if TSLA is able to break out above $900 in the current narrative- and meme-driven environment, traders could quickly set their eyes on the psychologically-significant $1,000 level as a logical target. For a company that was trading in two-digit territory ($1,000) would quite impressive indeed!
Leave a comment