Reports Q4 2020 results on Thursday, Feb. 4, after the close
Revenue expectation: $849 million
EPS expectation: $0.0687
Snap Inc's (NYSE:SNAP) more than 200% surge during the past 12 months shows a great rebound for this social media platform operator, given that until 2018 it was struggling to survive. When the company releases its fourth-quarter earnings today, investors will be keen to see if the company can sustain a drastic improvement in its user engagement and sales.
The California-based Snap, which runs the popular Snapchat mobile app for sending photos and videos that quickly disappear, has been one of the major beneficiaries of the pandemic, when more and more people are interacting digitally. That trend has forced advertisers to spend their money on social media apps. Snap saw sales rise 52% in Q3, with 249 million daily active users in that quarter.
Judged by the recent performance of social media giants, like Facebook (NASDAQ:FB) and Alphabet's Google (NASDAQ:GOOGL), there is a good possibility that Snap will report another strong quarter.
Google's parent reported on Tuesday that heavy digital advertising spending during the holiday shopping quarter boosted its sales, with YouTube sales jumping 46%. Earlier, Facebook reported sales in the holiday quarter had jumped 33%, with online shopping during the pandemic fuelling demand for digital ads on its social networks. Snapchat competes with FB-owned Instagram, mostly for young users.
Snap told investors in October that Q4 revenue could jump 47% to 50% from the same period a year earlier if the positive advertising trends continue. Investors have shown great faith in Snap's turnaround, sending its shares soaring 200% in the past one year. They closed Wednesday at $59.20.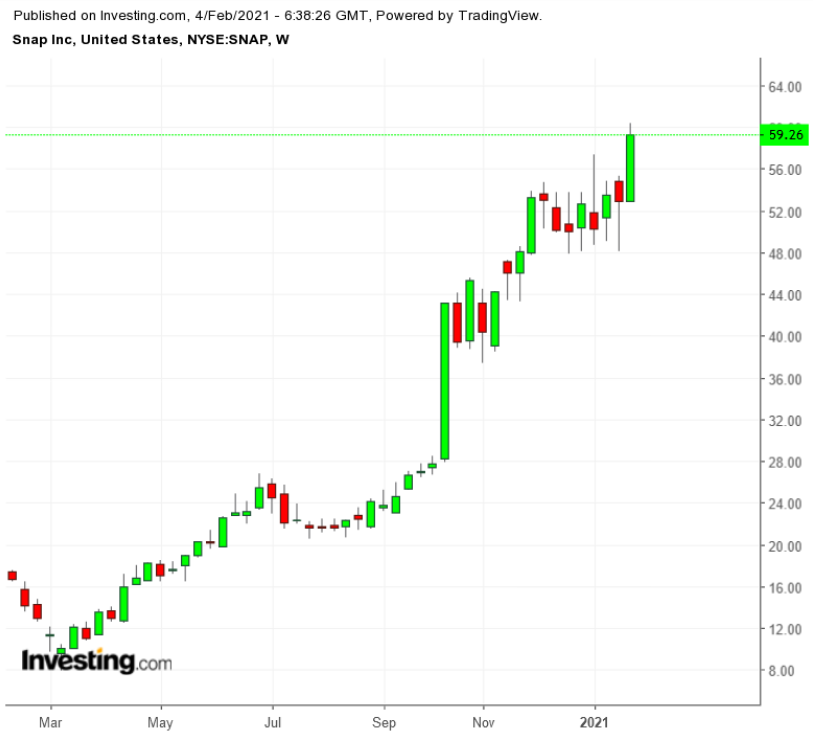 SNAP Weekly TTM
Further Upside Potential
In a recent note, MoffettNathanson analysts said Snap results will surprise on the upside due to very supportive macroeconomic conditions that elevate valuations for high growth stocks:
"There is further upside potential for Snap to benefit from e-commerce and [small- and medium-sized business] marketer tailwinds driving the broader online advertising sector."

"With an expected cyclical recovery in advertising spending in 2021, we estimate Snap's revenue will rise by 54% next year and continue to increase in the 30% range annually through 2024."
In addition, analysts have been impressed by Snap's ability to generate strong top-line results while keeping expenses growing "at a relatively modest 20% rate."
Snap's improving financial and user metrics have no doubt played a big role in its stock's outperformance last year, but the regulatory oversight that the large social media companies are facing is another big positive for Snap.
An app with a clear and defined audience and with little room for misuse is in a much better position to withstand potential regulatory changes globally than behemoths like Facebook and Alphabet's Google — the social media heavyweights that some politicians want to break up.
Bottom Line
Snap is in a great position to benefit from the growing use of social media apps for both communication and entertainment during the pandemic. That shift should continue to help bring more users and higher sales going forward.
Leave a comment