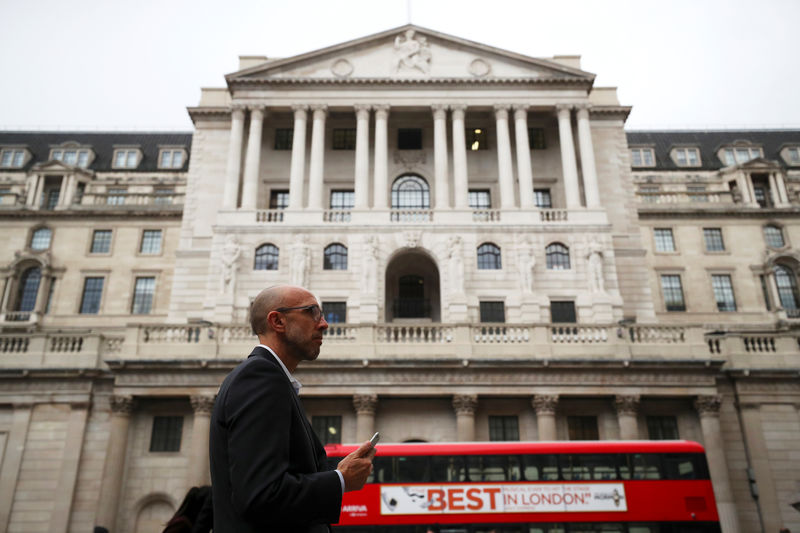 © Reuters.
By Yasin Ebrahim
Investing.com – The pound drifted lower against the dollar on Monday, with just days to go until the Bank of England delivers its monetary policy decision and its eagerly anticipated report on the feasibility of negative rates.
GBP/USD fell 0.16% to $1.3878.
The Bank of England is expected to keep rates and its pace of bond purchases on hold on Thursday, but the central bank will provide clues on whether negative rates are likely to form part of its policy tool kit.
The BoE will also release its feasibility report concerning the impact of negative rates on banks.
BoE Governor Andrew Bailey has previously downplayed the prospect of negative rates, citing concerns about the impact on the banking system.
The odds of negative rates has suffered a setback recently as a Brexit deal was eventually agreed upon, easing U.K.-EU trade uncertainty, while the speedy roll out of vaccines across the U.K. has also brightened the economic outlook.
"Apart from operational challenges and the overall readiness of the financial system, it is unlikely that the BoE will believe there to be a fundamentals-based case for negative rates given a) a Brexit deal was achieved, b) the economic outlook over the monetary policy horizon should be buoyed by vaccines, and c) the BoE is likely to anticipate a powerful rebound in economic activity,"
The U.K. remains on track to reaching its goal of vaccinating 15 million of its most vulnerable people by mid-February, with over 9 million having received the vaccine already.
"As pressure on the healthcare system abates there may be room for a faster relaxation in social restrictions thereby allowing some of the worst areas of the economy and UK market to rebound – investment, employment and consumer & financial services," Jefferies (NYSE:JEF) said in a research note.
Still, the boost to the economy from the rapid vaccine deployment is unlikely to be reflected in U.K. growth until 2022, according to the International Monetary Fund.
In its latest forecast, the IMF forecast U.K. GDP would expand by 4.5% this year, down 1.4% points from the 5.9% previously estimated in October last year.
Ahead of the BoE decision, experts are calling on investors to buy sterling against the dollar. "We are recommending a long cable trade idea. The GBP currently has strong upward momentum against both the EUR and USD. We expect the GBP's bullish momentum to extend further in the near-term," MUFG said.
Leave a comment