Poshmark, the online marketplace for secondhand clothing, filed its S-1 registration form with the SEC as part of its listing process.
Like many recent IPOs, Poshmark operates a two-sided market that matches buyers and sellers on its economic platform. As is typical with two-sided markets, buyers and sellers experience network effects. Marginal users bring incremental listings, social engagement, and transactions to all users, creating network effects: the more active users, the stronger and more valuable the network effects. Poshmark works to grow the size and diversity of its community of users in order to increase the diversity of its offerings. Marginal users help spur current users to be more active, thus increasing their lifetime value.
Poshmark invests heavily in growing its user community, and brand recognition. Marketing expenses accounted for 60% of revenues in 2018 and 65% in 2019. The company has succeeded wildly in growing its GMV and revenue. In the second quarter of 2020, revenue grew 41% even as the company reduced marketing expenses to 17% of revenue. The company has adopted a balanced approach to marketing, in which it tries to achieve growth with profitability.
The growth of the network is evident from the social interactions on the platform. In 2019, there were 56 million social interactions on average, with 38 million shares. Social interactions grew by 34% in 2019. Because of the nature of the products on offer, buyers often become sellers because of the quality of the experience they have on the platform. Many times, users are both buyers and sellers. Between 2012 and 2018, 34% of buyers who activated during that period became sellers as well by the end of 2019. In that same period, 39% of sellers who activated in that time became buyers by the end of 2019. Furthermore, 48% of sellers in 2019 used a portion of their earnings within the Poshmark ecosystem. Clearly there is a strong flywheel of network effects with a huge monetization potential.
The density of Poshmark's network of users creates network effects which are at the heart of the company's economic value.
Three attributes drive the value of network effects in digital platforms such as Poshmark's. Firstly, the threshold that must be achieved in terms of market share, in order for a rival to breakeven. Secondly, customer experience and the stickiness of the relationships developed through the platform. Finally, the quality of the insights gained from the data that the platform generates, as this helps sellers optimize their pricing and product offerings. Poshmark is Thriving in a Tough Competitive Landscape
The addressable marketplace of the re-commerce sector is large and growing and driven by three trends: digital transformation, the shift to social and the shift toward secondhand goods. The company cites studies that 16% of Gen Z consumer expenditure goes towards secondhand goods. Furthermore, 72% of buyers consider a good's resale value before buying it and, if unable to return a good, 93% would opt to sell it online. Of the many market segments involved, the foot and apparel resale market is striking. It is valued at $7 billion at present and set to grow to $26 billion by 2023. Estimates suggest that by 2025, the market will have exploded to $65 billion. The re-commerce market has blossomed even as retail has slumped.
Covid-19 has only accelerated the shift to digital, social and secondhand. As businesses have shifted to remote work, concerns over inequality and climate change have risen, and the harsh economics of the pandemic era have hurt pockets, the re-commerce market has exploded. This makes sense considering that the re-commerce market provides a subsidiary income for many people in this era of pandemic economics.
We are not even in the first innings of the game, we are around the singing-of-the-national-anthem stage. For example, only 5% of online users have ever used Poshmark and 50% have never even heard of it. If you were wondering why marketing expenses are so high, this is why. To start a company in this phase of the market implies a commitment to a near-permanent war-footing.
With a market this large and this appetizing, it is obvious that there would be a lot of competition for the economic profits on offer. This intuition is right. Poshmark counts traditional ecommerce sites Amazon (NASDAQ:AMZN), eBay (NASDAQ:EBAY), Etsy (NASDAQ:ETSY), Facebook (NASDAQ:FB), Mercari, Shopify (NYSE:SHOP), T.J.Maxx, and Walmart (NYSE:WMT) as rivals. This in addition to pure re-commerce plays like Stadium Goods, thredUP, and The RealReal (NASDAQ:REAL). Levi Strauss (NYSE:LEVI) has even jumped on the bandwagon with its own resale program.
Yet, as this chart from Second Measure shows, not everyone in the market is growing, and this points to what a great job Poshmark is doing and the extent of their product-market fit.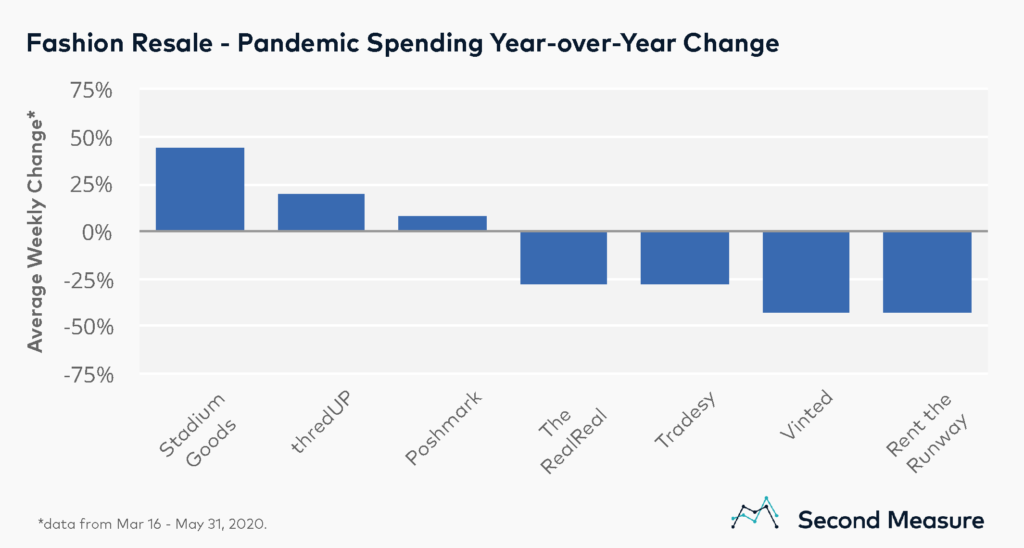 Poshmark only achieved profitability in 2020, of $21.8 million, which is really a testament to how Covid-19 has helped them, and how the intensity of competition and the youthfulness of the market has forced them to spend large portions of their revenue on building its user base and brand awareness.
The company's filings do not yet give details as to price or the scale of the offering, but what is clear is that this is a very high quality company.Original Article
Leave a comment