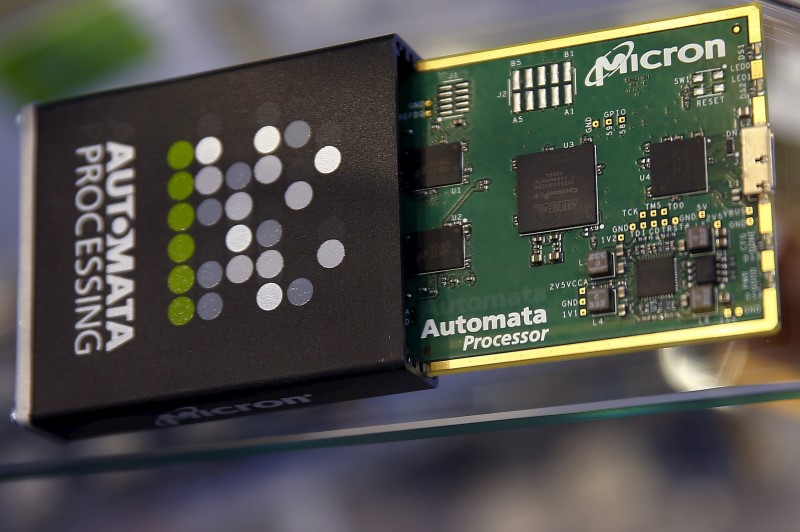 © Reuters.
By Christiana Sciaudone
Investing.com –Micron Technology Inc (NASDAQ:MU)'s got plenty of upside, Citi said, prompting shares to rise more than 5%. Other analysts also bumped price targets higher for the company.
Citi analyst Christopher Danely upgraded the memory and storage company to buy from sell with a price target of $100, up from $35, according to StreetInsider. On Tuesday, it was trading around $78.
The DRAM downturn is finally over and a "real," prolonged upturn is ahead, according to Danely. It's "time to go long the 'Cron."
DRAM represented about 68% of 2020 revenue. Shares have about doubled since March, boosting Micron's valuation. The stock is trading at a forward price to earnings ratio of 18 times, according to Yahoo Finance.
Despite the increased valuation, Danely sees "plenty of upside as DRAM upturns usually last two years and supply/demand looks favorable over at least the next year."
Susquehanna maintained a buy and increased the price target on Micron to $90 from $85.
"With key customers like Kingston (~12%) starting to refresh inventories while MU is benefiting from a richer mix of higher-margin products (GDDR6, HBM2E), consensus earnings estimates are expected to continue to go higher towards the (updated) peak EPS power of $9.00," analyst Mehdi Hosseini said in a note, according to StreetInsider.
Deutsche Bank (DE:DBKGn) and RBC Capital also upped their price targets for the company.
Leave a comment