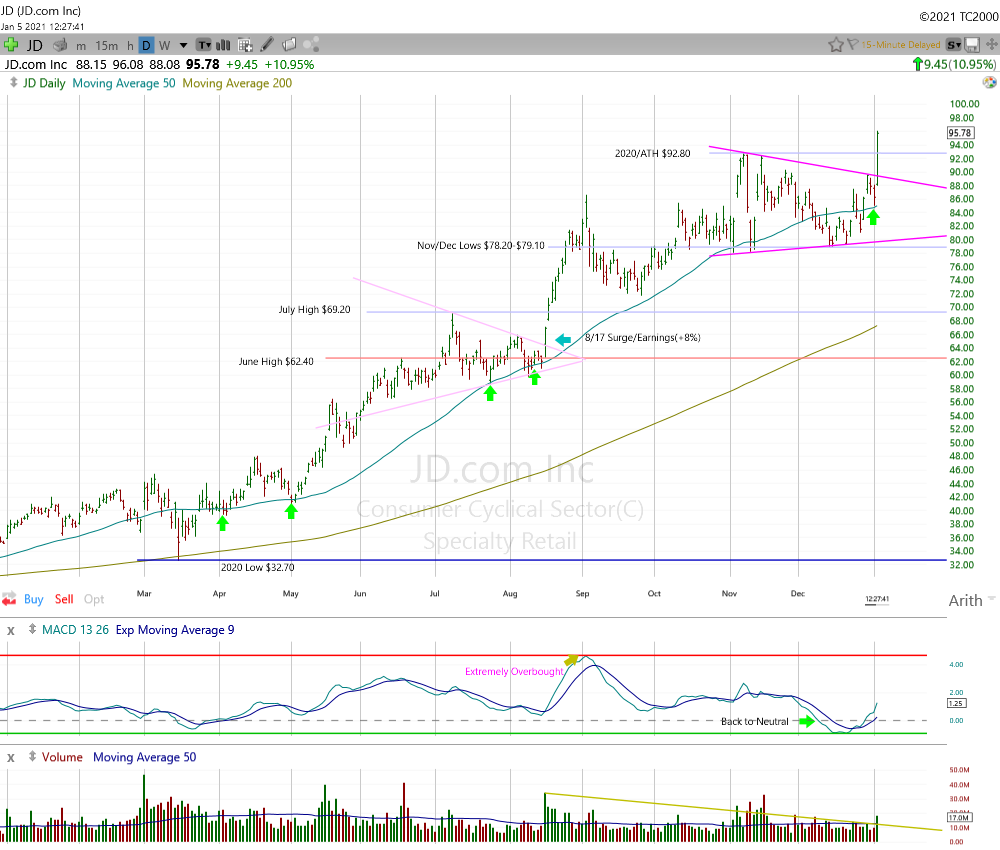 JD.com Daily Chart.
Shares of JD.com (NASDAQ:JD) are surging today. Positive comments from Stifel are attracting quite a bit of attention. At midday, JD was up more than 10% on very heavy trade. This powerful breakout move is driving the stock into new all-time high territory as the gain off the March lows extends to 187%. We believe there is much more in the tank.
JD has been working off an extremely high overbought reading (daily MACD) since early September. Without giving back much of the 2020 gains, the stock's MACD dipped below neutral two weeks ago. The result: JD.com has a ton of upside potential.
Today's breakout move is piercing a key overhead trendline that links the Nov-Dec highs. JD spent the entire month of December consolidating inside the November range.
The 50-day moving average, which held multiple monthly lows last year (April, March, July, August, November), is back in a supportive position as the new month begins.
We highlighted JD.com back in late October: http://thisweekonwallstreet.com/jd-jumping/
Of note, JD.com is an ADR (American Depositary Receipt). An American depositary receipt (ADR) is a certificate issued by a U.S. bank that represents shares in foreign stock. ADRs trade on American stock exchanges. ADRs and their dividends are priced in U.S. dollars. ADRs represent an easy, liquid way for U.S. investors to own foreign stocks.
Note: We are long JD.com in some managed accounts.
You can read Gary S. Morrow's original post here.
Leave a comment