In a mad dash (no pun intended) to issue shares before the end of the 2020, three major firms will go public this week, presenting new opportunities to nimble traders. The show of strength comes during a euphoric time for the Initial Public Offering (IPO) market. Per Dealogic, 397 companies have issued IPOs 2020, raising nearly $145 billion as of Dec. 7. This figure is nearly double the 200 new issues that collected $58.8 billion for the same period in 2019, the research firm said.
As the chart below, of the Renaissance IPO ETF (NYSE:IPO) shows, investor demand for IPOs has been near-insatiable since the depths of the pandemic bear market in March: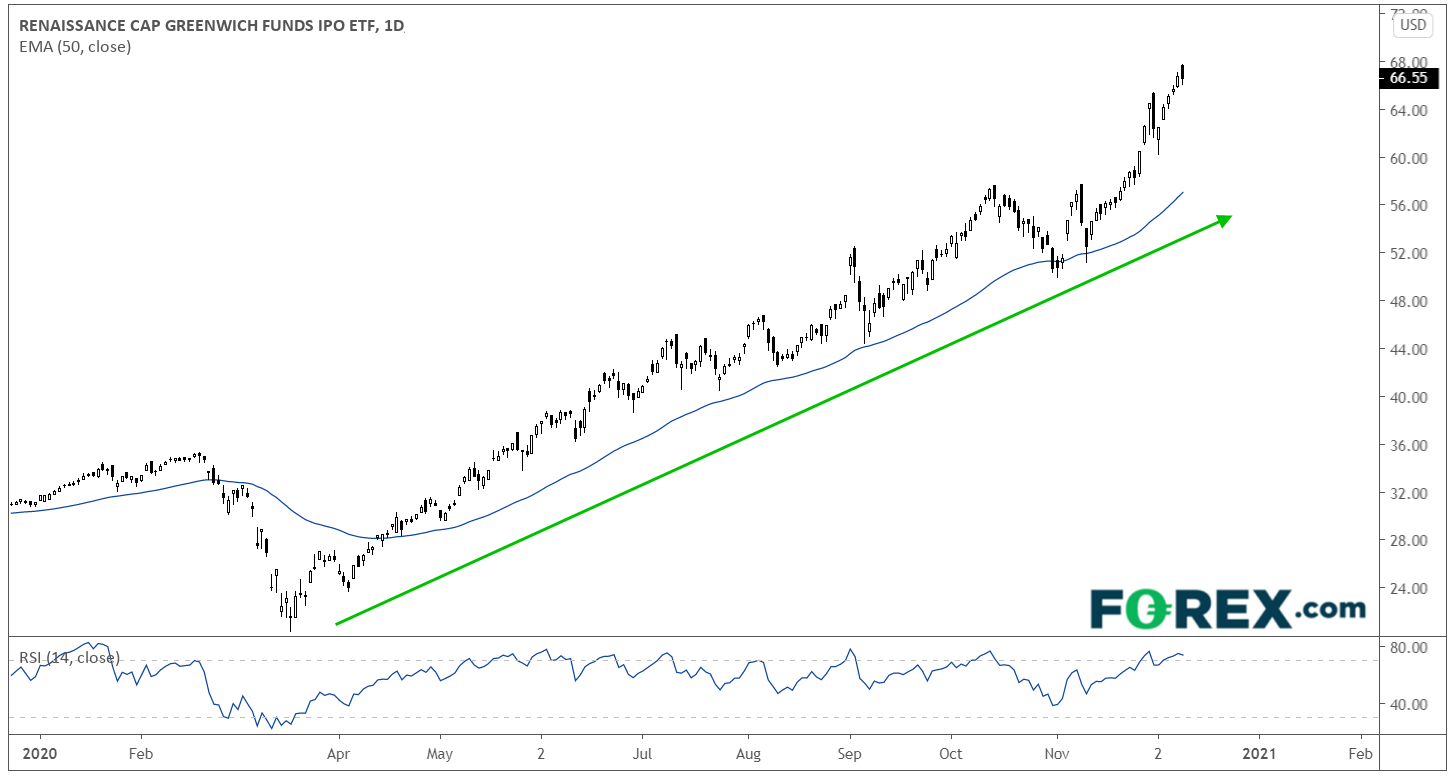 Renaissance Cap Greenwich Funds IPO ETF Daily Chart
As we go to press, C3.ai (NYSE:AI) began trading. The firm, a major provider of artificial intelligence software to large enterprises, has already secured $150 million in funding from Microsoft (NASDAQ:MSFT) and Spring Creek Capital, an affiliate of Koch industries. The offering, which is set to raise nearly $600M, straddles both the artificial intelligence and enterprise software industries, so demand for shares is expected to be heavy.
Moving to a more familiar name for most readers, DoorDash (NYSE:DASH) just also debuted. The food-delivery company raised nearly $3.4B by selling 33M shares at $102 each, a 25%+ premium from the firm's initial price range of $75-$85. Shares surged yesterday during the stock's first day of trade, closing at $189.51. Needless to say, the company has been a major beneficiary of the global pandemic and consumers' desire to avoid dining in restaurants, but the firm's longer-term prospects are more questionable as a low-margin, low-barrier business, so traders may be quick to jump ship if shares start to roll over after the initial pop.
Finally, we'd be remiss if we didn't mention today's Airbnb (NASDAQ:ABNB) IPO. As we noted last week, this may actually be a perfect time for a travel/lodging firm to go public as demand for longer stays in more remote locations has surged amidst the COVID-19 pandemic and Airbnb recently cut costs dramatically by reducing its labor force. From this perspective, it's not surprising that the company has hiked its expected pricing range to $56-60, up from an initial estimate of $44-50 earlier this month. This would value the company near $40B, up from just $18B in the depths of the pandemic shutdowns in March and April; it would also be the fourth-biggest IPO of the year.
With shares of three exciting firms now available, intraday trading opportunities abound.
Leave a comment