Geberit Group is one of the largest sanitary technology and bathroom ceramics providers in the world. Headquartered in Switzerland, the company operates through the Bathroom, Piping, Installation and Flushing Systems segments.
Founded in 1874, its stock trades on the SIX Swiss Exchange under the symbol GEBN. Less than two years after its early-2000 IPO, the stock price fell to CHF 29 in September 2001. In the twenty years that followed, however, Geberit's market value rose by almost 1900%. The stock closed at CHF 540 two days ago.
And while Geberit's financials and business performance are nothing short of stellar, we think this is not a good time to join the bulls. The company's price to earnings ratio stands at 32, which is quite expensive. This is not the only reason to abstain from buying, though. One can even argue that in a zero-rate world quality companies deserve to trade at a premium. Instead, what really bothers us is the chart below and the Elliott Wave pattern it reveals.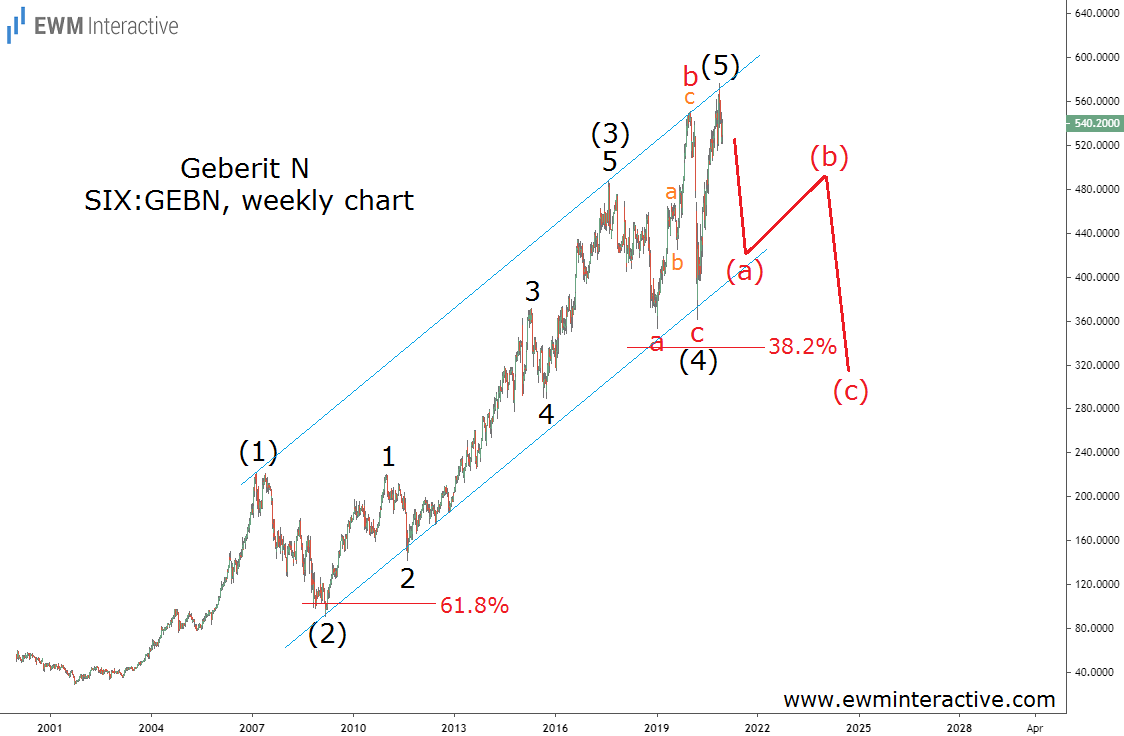 Geberit-Stock Weekly Chart
GEBN's weekly chart shows that the uptrend from its 2001 bottom is a textbook five-wave impulse. The pattern is labeled (1)-(2)-(3)-(4)-(5) and has been developing within the parallel lines of a trend channel. The impulsive structure of wave (3) is also visible and marked 1-2-3-4-5.
Geberit Can Lose as Much as 40% in Elliott Wave Correction
The market has apparently taken the guideline of alternation into account, as well. Wave (2) was a sharp and steady decline to the 61.8% Fibonacci support during the Financial crisis. Wave (4), on the other hand, was a sideways-moving running flat correction which culminated in the COVID-19 crash earlier this year.
If the analysis so far is correct, the recovery Geberit shareholders have been enjoying over the past nine months must be wave (5). It helped the stock reach a new all-time high of CHF 576 in November. The problem is that according to the Elliott Wave theory, a three-wave correction follows every impulse.
So it turns out Geberit is not only fundamentally overvalued, but vulnerable from a technical standpoint, as well. Corrections usually erase the entire fifth wave. In GEBN's case, a ~40% drop to roughly CHF 330 can be expected over the next couple of years.
Leave a comment