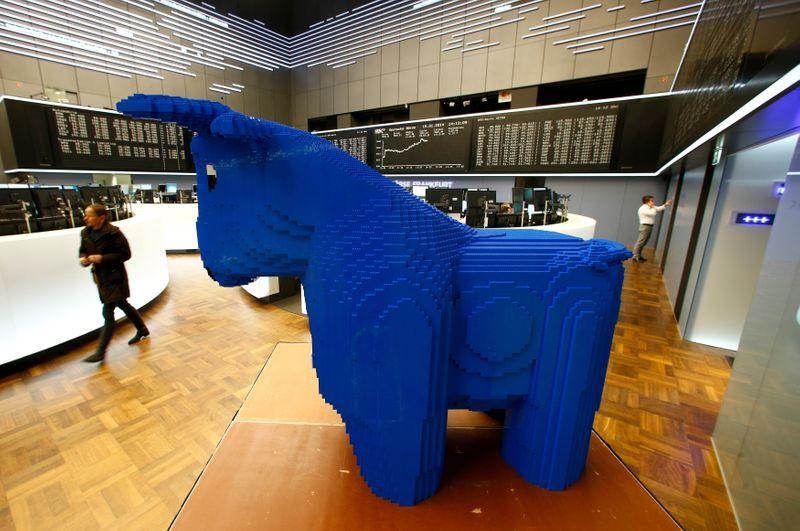 © Reuters
By Peter Nurse
Investing.com – European stock markets traded higher Tuesday, helped by signs of progress towards further U.S. stimulus, while concerns over volatile retail-led trading receded.
At 3:40 AM ET (0840 GMT), the DAX in Germany traded 1.1% higher, the CAC 40 in France rose 1.4% and the U.K.'s FTSE index climbed 0.5%.
U.S. President Joe Biden sat down late Monday with a group of ten Republican senators to discuss their proposal of a scaled-back Covid-19 stimulus package, in a welcome sign of bipartisan co-operation in Washington.
That said, Biden insisted on keeping the $1.9 trillion price tag that he proposed in January, and senior Democrats later filed a joint budget measure of the same size in a step toward aimed at bypassing Republicans.
Indications that this package may be delivered reasonably quickly buoyed global markets, as well as hopes that economic recovery may not be too far away: vaccination rollouts continue, despite the slow start in continental Europe, and new infections and fatalities are starting to decline slowly in response to lockdowns.
Adding to the optimism were signs that the recent market turmoil caused by retail traders taking on hedge funds over heavily-shorted stocks may be settling down.
GameStop (NYSE:GME), the stock at the heart of last week's protest, saw its shares slide 30% on Monday, and they have continued to fall in premarket trading Tuesday. Similarly, silver, which saw heavy buying on Monday, has dropped over 2% so far Tuesday.
In corporate news, Atos (PA:ATOS) stock gained 3.8% after the French IT consulting group ended talks of a potential takeover of U.S. rival DXC Technology. British pub group Marston's (LON:MARS) also continued to rise in the wake of rejecting a bid from private equity, gaining 0.3% to an 11-month high.
Fresenius Medical Care (NYSE:FMS) stock slumped 13% after the health care firm warned its adjusted net profit would likely drop this year, due to more of its long-term patients dying of Covid-19, while BP (NYSE:BP) stock fell 3.3% after the oil major reported a full year loss of $5.7 billion, its first in a decade.
On the data front, the eurozone will publish preliminary fourth-quarter growth numbers later Tuesday, which are expected to confirm that the region's economy shrunk in the year.
Oil prices pushed higher Tuesday, helped by newswire reports that the major oil producers have shown restraint in terms of production levels in January even as prices rose.
U.S. crude oil supply data from the American Petroleum Institute, due later Tuesday, will be keenly awaited, especially after last week's hefty draw, while OPEC+'s Joint Technical Committee is also due to discuss the state of the market.
U.S. crude futures traded 1.2% higher at $54.20 a barrel, while the international benchmark Brent contract rose 1.1% to $56.98.
Elsewhere, gold futures fell 0.7% to $1,851.80/oz, while silver futures were down 5.5% after their spike on Monday at $27.77/oz. EUR/USD traded 0.2% higher at 1.2077.
Leave a comment