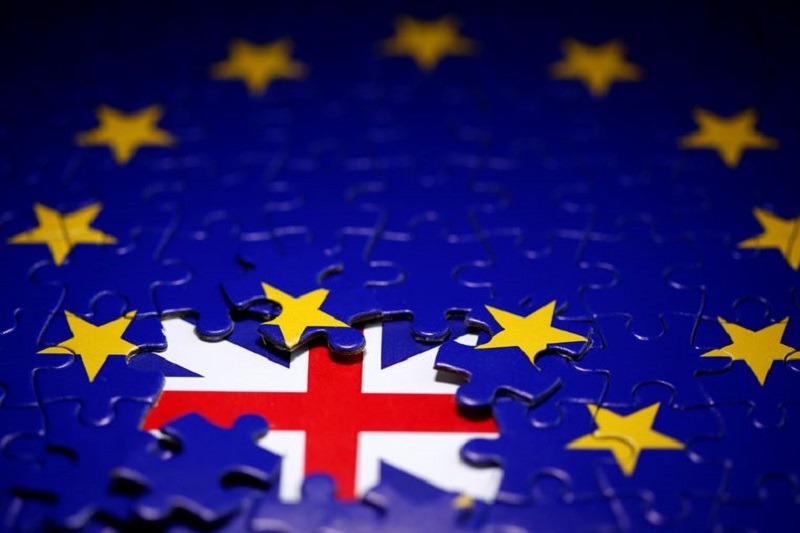 © Reuters
By Peter Nurse
Investing.com – European stock markets traded higher Monday, adopting a cautiously optimistic stance after Brexit negotiations were extended past the Sunday deadline.
At 3:35 AM ET (0835 GMT), the DAX in Germany traded 0.8% higher, the CAC 40 in France rose 0.8%, and the U.K.'s FTSE index climbed 0.1%.
U.K. Prime Minister Boris Johnson and European Commission President Ursula von der Leyen agreed over the weekend to go the "extra mile," ignoring a self-imposed Sunday deadline and giving negotiators another shot at closing a trade deal.
The talks looked doomed to failure at the end of last week, with Johnson stating that there was "a strong possibility" the two sides would fail to strike a trade deal. However, a weekend of intense diplomacy appears to have injected fresh momentum into the long-running process, increasing hopes a deal can be done this week.
At stake is around $1 trillion in annual trade at risk of facing tariffs and quotas if a deal cannot be reached before transition arrangements end on Dec. 31.
Elsewhere, the U.S. Food and Drug Administration granted authorization of the Pfizer/BioNTech Covid-19 vaccine late last week. The U.S. will see its first deliveries of the drug starting this week.
There is also the possibility of additional fiscal stimulus in the U.S. with a bipartisan bill for a $908 billion Covid-19 relief package set to be introduced in Congress later in the day.
On Sunday, German federal and state officials agree to put the country into a much tighter lockdown from Wednesday that will see the closure of non-essential stores as coronavirus cases surge during the winter period.
In corporate news, AstraZeneca (NASDAQ:AZN) stock dropped 5.9% after the pharma giant said over the weekend it would buy U.S. drugmaker Alexion Pharmaceuticals (NASDAQ:ALXN) for $39 billion in its largest ever deal.
Eurozone industrial production data for October are due Monday, and are expected to show a rebound of 2.0% on the month, from a drop of 0.4% the previous month.
Oil prices pushed higher Monday, continuing recent gains amid confidence the start of the rollout of the Covid-19 vaccine in the U.S., the world's largest oil consumer, will result in a rebound in demand next year.
Jitters surrounding an oil tanker exploding after being hit by an as-yet unidentified external source while discharging at Jeddah port in Saudi Arabia also resulted in prices rising.
U.S. crude futures traded 1.3% higher at $47.15 a barrel, while the international benchmark Brent contract rose 1.2% to $50.55. Both benchmarks have posted gains for six consecutive weeks, their longest stretch since June.
Elsewhere, gold futures fell 0.7% to $1,830.25/oz, while EUR/USD traded 0.3% higher at 1.2144.
Leave a comment