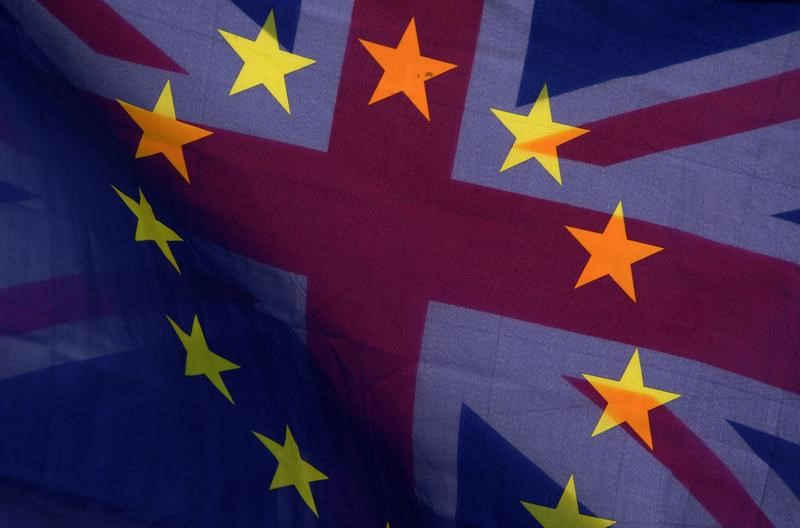 © Reuters.
By Peter Nurse
Investing.com – European stock markets are seen opening mixed Monday, with investors adopting a cautiously optimistic stance after Brexit negotiations were extended past the Sunday deadline.
At 2:05 AM ET (0705 GMT), the DAX futures contract in Germany traded 0.3% higher, CAC 40 futures in France climbed 0.6%, while the FTSE 100 futures contract in the U.K. fell 0.1%.
U.K. Prime Minister Boris Johnson and European Commission President Ursula von der Leyen agreed over the weekend to go the "extra mile," ignoring a self-imposed Sunday deadline and giving negotiators another shot at closing a trade deal.
The talks looked doomed to failure at the end of last week, with Johnson stating that there was "a strong possibility" the two sides would fail to strike a trade deal. However, a weekend of intense diplomacy appears to have injected fresh momentum into the long-running process, increasing hopes a deal can be done this week.
At stake is around $1 trillion in annual trade at risk of facing tariffs and quotas if a deal cannot be reached before transition arrangements end on Dec. 31.
Elsewhere, the U.S. Food and Drug Administration granted authorization of the Pfizer/BioNTech Covid-19 vaccine late last week. The U.S. will see its first deliveries of the drug starting this week.
There is also the possibility of additional fiscal stimulus in the U.S. with a bipartisan bill for a $908 billion Covid-19 relief package set to be introduced in Congress later in the day.
Reuters reported that it could possibly be split into two separate packages as the lawmakers who prepared the bill seek to win approval from both Republicans and Democrats.
Back in Europe, Germany will enter a lockdown from Wednesday that will see the closure of non-essential stores as coronavirus cases surge during the winter period.
Eurozone industrial production data for October are due Monday, and are expected to show a rebound of 2.0% on the month, from a drop of 0.4% the previous month.
Oil prices pushed higher Monday, continuing recent gains amid confidence the start of the rollout of the Covid-19 vaccine in the U.S., the world's largest oil consumer, will result in a rebound in demand next year.
Jitters surrounding an oil tanker exploding after being hit by an as-yet unidentified external source while discharging at Jeddah port in Saudi Arabia also resulted in prices rising.
U.S. crude futures traded 1.1% higher at $47.09 a barrel, while the international benchmark contract rose 1.1% to $50.53. Both benchmarks have posted gains for six consecutive weeks, their longest stretch since June.
Elsewhere, gold futures fell 0.4% to $1,837.05/oz, while EUR/USD traded 0.2% higher at 1.2140.
Leave a comment