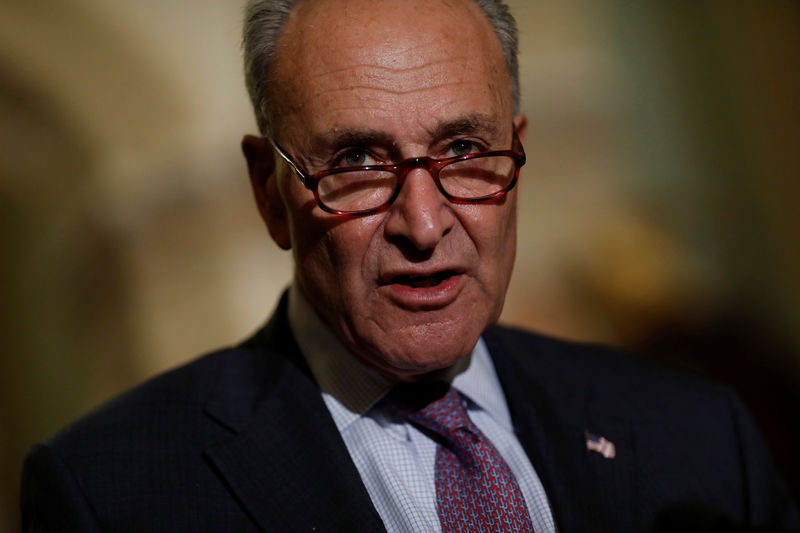 © Reuters.
By Yasin Ebrahim
Investing.com – The Dow rose Thursday, as expectations that Democrats will target further fiscal relief overshadowed rising political tensions as pressure mounts on lawmakers to remove President Donald Trump from office in the wake of Wednesday's riot on Capitol Hill.
The Dow Jones Industrial Average rose 0.86%, or 266 points. The S&P 500 was up 1.64%, while the Nasdaq Composite added 2.67%.
Lawmakers including U.S. Senate Democratic leader Chuck Schumer on Thursday called on Vice President Mike Pence to remove Trump from office by invoking the 25th Amendment to the U.S. Constitution.
"If the Vice President and the Cabinet refuse to stand up, Congress should reconvene to impeach the president," Schumer added.
Technology companies also railed against Trump, who had encouraged demonstrators to protest the confirmation of President-elect Joe Biden's victory, with Facebook blocking a ban on the president's account until his transition.
Twitter locked Trump out of his account for at least 12 hours, while Shopify Inc (NYSE:SHOP) said it would halt the operations of Trump-affiliated online stores on its platform.
Tech led the record-setting day on Wall Street as big tech clawed back losses from a day earlier, while a rally in chip stocks also supported sentiment on risk.
Apple (NASDAQ:AAPL), Microsoft (NASDAQ:MSFT), Amazon.com (NASDAQ:AMZN), Facebook (NASDAQ:FB) and Alphabet (NASDAQ:GOOGL) traded higher.
Chipmaker Micron Technology (NASDAQ:MU) rose more than 4% ahead of its quarterly report due after the market close.
Financials climbed nearly 2% as bank stocks surged on rising Treasury yields as investors bet the Democrats' expansionary agenda – following their victory in the Georgia runoff elections – will spark a stronger economic recovery.
Wells Fargo (NYSE:WFC) and Bank of America (NYSE:BAC) climbed 2%, while JPMorgan (NYSE:JPM) added 3%.
The rise in yields sparked weakness in utilities, which is often used as a bond proxy given the sector's stable dividends, paced by a more than 4% decline in Centerpoint Energy (NYSE:CNP).
On the economic front, there are signs that the stimulus – agreed last month – is already having the desired impact, particularly in the labor market as the stimulus checks supported laid-off workers.
The level of initial jobless claims fell by 3,000 to 787,000 in the week ended Jan. 2, confounding economists' estimates for a rise to 803,000.
The positive labor market data comes a day ahead of the nonfarm payrolls report for December, with Wall Street estimating that 71,000 new jobs were created during the month.
In services, activity continued to improve in December, as the ISM non-manufacturing PMI increased to 57.2 from 55.9 in November.
Leave a comment