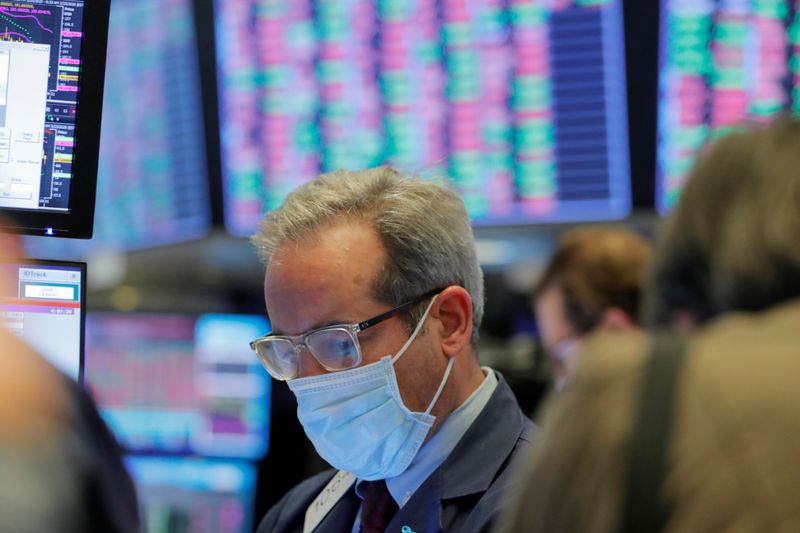 © Reuters
By Peter Nurse
Investing.com – U.S. stocks are seen opening lower Monday, consolidating after record gains and amid concerns about further lockdowns as Covid-19 cases grow.
At 7:05 AM ET (1205 GMT), the Dow Futures contract fell 101 points, or 0.3%, S&P 500 Futures traded 11 points, or 0.3%, lower, and Nasdaq 100 Futures climbed 7 points, or 0.1%.
All the major indices posted healthy gains at the close Friday. The Dow Jones Industrial Average closed 0.8%, or 248 points, higher, its ninth record close of the year. The S&P 500 and the Nasdaq Composite also closed at record levels, the first all three indices had ended at all-time highs in three years.
Investors have been buoyed by the rapid progress towards the global rollout of Covid-19 vaccines, but it will take time for normalcy to resume and in the meantime the Covid-19 virus continues to claim victims.
California reported more than 30,000 new cases on Sunday, exceeding the state's previous high, prompting Governor Gavin Newsom to order large parts of the most populous U.S. state to close down.
New Jersey, North Carolina, Virginia and West Virginia also announced record one-day rises in new infections, while in a high-profile case President Donald Trump's personal lawyer, Rudy Giuliani, tested positive.
The Food and Drug Administration is to vote on emergency-use authorization for the Pfizer/BioNTech vaccine on Thursday and initial vaccinations could get underway as early as Friday with hopes to reach around 20 million people by year-end.
Adding to the uncertainty Monday were reports that the U.S. is planning to impose sanctions on at least a dozen Chinese officials over their roles in the disqualification of four Hong Kong opposition leaders in November.
However, on a more positive note, a bipartisan group of U.S. senators is expected to put forward legislation early this week for a stimulus package worth just over $900 billion. This proposal seems to be gathering support, with one of the senators involved suggesting on Sunday that President Donald Trump and Senate Majority Leader Mitch McConnell will come "on board".
This comes after Friday's data for November showed just 245,000 jobs were created last month, a sharp slowdown from the 610,000 jobs added in October.
Oil prices weakened Monday on concerns the surge in coronavirus cases, mainly in Europe and the U.S., will result in more lockdowns, hitting demand for the product.
U.S. crude futures traded 1.1% lower at $45.74 a barrel, while the international benchmark Brent contract fell 0.8% to $48.84. Both benchmarks gained for a fifth consecutive week last week.
Elsewhere, gold futures fell 0.3% to $1,834.30/oz, while EUR/USD traded 0.1% lower at 1.2109.
Leave a comment