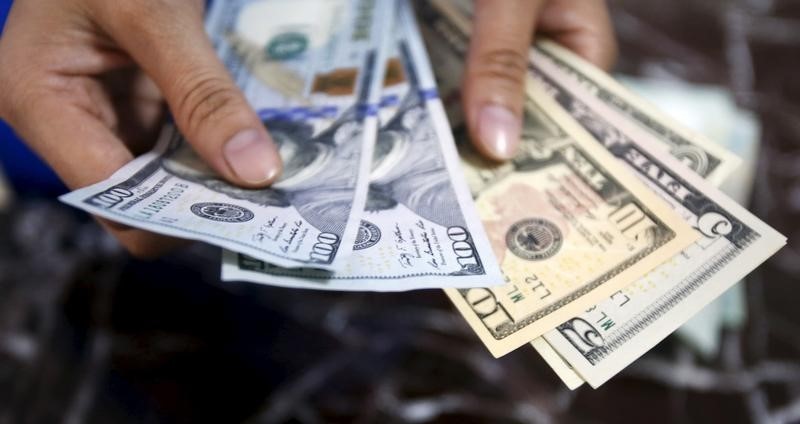 © Reuters.
By Peter Nurse
Investing.com – The dollar edged lower in early European trading Friday, after disappointing labor market data diluted optimism over a quick U.S. economic recovery. Sterling remained strong despite weak retail sales numbers for January.
At 3:55 AM ET (0755 GMT), the Dollar Index, which tracks the greenback against a basket of six other currencies, was down 0.1% at 90.483, after a 0.4% decline overnight cut short a two-day winning streak.
rose 0.2% to 1.2107, was down 0.1% at 105.62, while the risk-sensitive rose 0.4% to 0.7793.
The dollar had posted gains over the last couple of days as U.S. Treasury yields had risen with the release of strong data, but the unexpected rise in the number of came as a reminder of how much slack the pandemic has left in the labor market.
A total of 861,000 claims were filed during the previous week, hitting a four-week high, compared with the 765,000 claims expected and the 848,000 claims filed during the previous week.
The Federal Reserve had already warned, in the minutes from its January policy meeting, that the labor market would take time to return to trend and thus its easy monetary policy would stay in place for a considerable period.
And Treasury Secretary Janet Yellen made it clear that $1.9 trillion in pandemic-relief spending is still needed, defending the need for President Joe Biden's plan despite the recent strength in retail sales.
"It's very important to have a big package that addresses the pain this has caused," Yellen said on CNBC Thursday. "The price of doing too little is much larger than the price of doing something big."
Elsewhere, traded up 0.1% at 1.3979, with sterling retaining its recent strength despite the release of very weak economic data Friday. British fell 8.2% in January on the month, a much sharper fall than expected as non-essential shops went back into coronavirus lockdowns.
The pound traded near an almost three-year high overnight, helped by perceptions that Britain's aggressive vaccination program will result in the country coming out of lockdown more quickly than its neighbors. U.K. Prime Minister Boris Johnson is due to lay out the country's roadmap for exiting lockdowns on Monday.
Additionally, U.K. government borrowing climbed to 270.6 billion pounds ($378 billion) in the first 10 months of the fiscal year, as the pandemic played havoc with public finances. Britain is facing its largest deficit in peacetime, while its public debt is now over 100% of GDP
"All of this suggests that the path of least resistance for GBP/USD in the near term should be lower," said Kathy Lien, analyst at BK Asset Management, as cable nears the 1.40 level.
Leave a comment