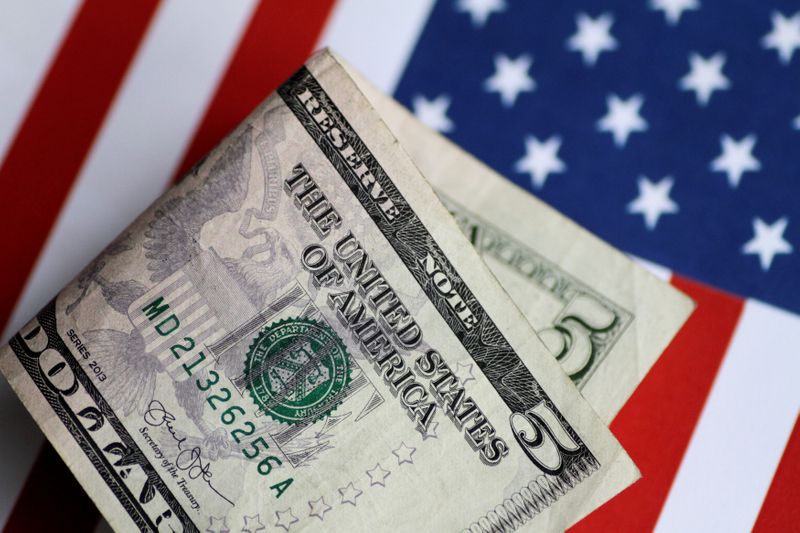 © Reuters
By Peter Nurse
Investing.com – The dollar weakened in early European trading Monday, as traders walked away from this safe haven amid optimism about a vaccination-led global recovery and the prospect of more U.S. stimulus.
At 2:50 AM ET (0750 GMT), the Dollar Index, which tracks the greenback against a basket of six other currencies, was down 0.2% at 90.335, not far removed from last week's low of 90.249, a level not seen since Jan. 27.
EUR/USD climbed 0.2% to 1.2137, the risk-sensitive AUD/USD rose 0.3% to 0.7779, while the Chinese yuan reached its strongest level since June 2018 at 6.4009 per dollar in the offshore market.
Volumes have been light so far Monday, with many financial markets in Asia still closed for Lunar New Year and the United States also out for Presidents Day.
Additionally, USD/JPY was up 0.2% at 105.12, with the safe haven yen also suffering despite Japan reporting its gross domestic product grew an annualized 12.7% from the prior quarter in the three months through December, ahead of the 10.1% expansion expected.
Japan is expected to start its vaccination program this week, and while the virus is seen pushing the economy back into contraction this quarter, the strong performance at the end of 2020 suggests the recovery could return to a relatively solid footing reasonably promptly.
"Global growth should be very strong over the next six months as the vaccination campaigns play out," said analysts at Goldman Sachs (NYSE:), in a research note. "We expect global cyclical forces to dominate some degree of 'U.S. outperformance', resulting in dollar downside for most crosses."
Elsewhere, GBP/USD rose 0.3% to 1.3889, just off a near three-year high of 1.3901, as data showed the U.K. had delivered 15 million first doses of Covid-19 vaccinations.
The speedy roll out of vaccines coupled with a fall in infections have prompted investor bets the country's economy will likely rebound stronger than expected when it eventually reopens.
U.K. Health Secretary Matt Hancock said Monday that British Prime Minister Boris Johnson will this week judge how quickly England can exit lockdown, but he warned that the death toll and hospital admission numbers are still too high.
This week will see a number of key U.K. economic data releases, including inflation and retail sales, but the impact of the pandemic will still be reflected in these numbers.
Last week, data showed Britain's economy shrank 9.9% in 2020, the biggest annual fall in output since modern records began, but GDP actually grew 1.0% in the final quarter of last year, double the 0.5% growth widely expected.
Leave a comment