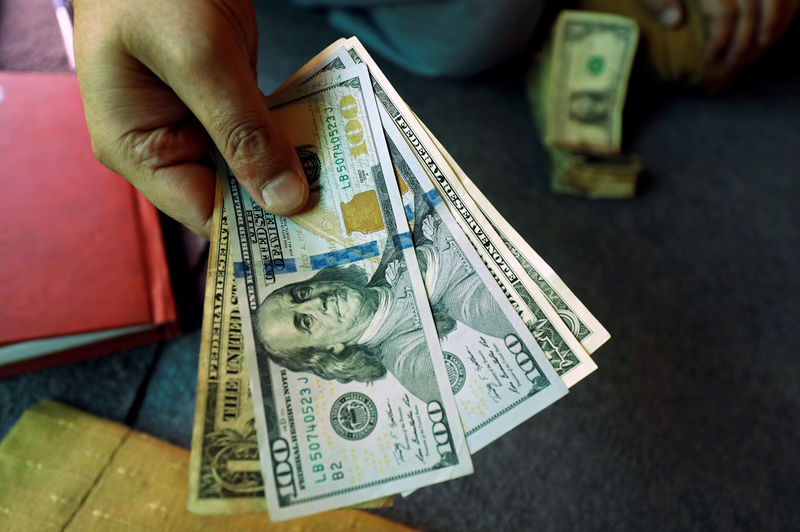 © Reuters.
By Gina Lee
Investing.com – The dollar was up on Monday morning in Asia, even as investors digested disappointing U.S. jobs data that caused some investors to ease bets on a strong dollar.
The U.S. Dollar Index that tracks the greenback against a basket of other currencies edged up 0.13% to 91.088 by 8:53 PM ET (1:53 AM GMT), but recorded a 0.6% loss from Friday.
The USD/JPY pair edged up 0.14% to 105.50, with the JPY pulling back from a three-month high reached against the dollar on Friday.
The AUD/USD pair inched down 0.07% to 0.7672, while the NZD/USD pair inched up 0.04% to 0.7200.
The USD/CNY pair edged down 0.12% to 6.4588 and the GBP/USD pair inched down 0.03% to 1.3729, near an almost three-year high.
Friday's U.S. jobs report for January showed that fewer jobs were created in the economy than expected. Non-farm payrolls were at 49,000, better than the previous month's contraction of 227,000, but was below the 50,000 reading in forecasts prepared by Investing.com. The unemployment rate was at 6.3%, lower than the forecast 6.7% and December's 6.7% growth.
"Soft non-farm payrolls have really pulled the ladder out from under the dollar …. now the markets are questioning whether the dollar can rise any further. A lot depends on COVID-19, but we also need to know when U.S. fiscal stimulus will pass," Daiwa Securities foreign exchange strategist Yukio Ishizuki told Reuters.
Investors continue to reduce their short positions in the greenback, with some saying that better U.S. economic data and continuing signs of progress in the battle against COVID-19 are needed ahead of further dollar gains.
Net bearish bets on the U.S. currency declined to $29.95 billion for the week ended Feb. 2, compared with a net short position of $33.81 billion for the previous week, according to Reuters calculations using U.S. Commodity Futures Trading Commission data.
The U.S. will also hand down its federal budget later in the week. More U.S. data, including the consumer price index, will also be released as the week goes on.
Investors also await data from across the Atlantic, with December's German industrial production figures due to be released later in the day.
Leave a comment