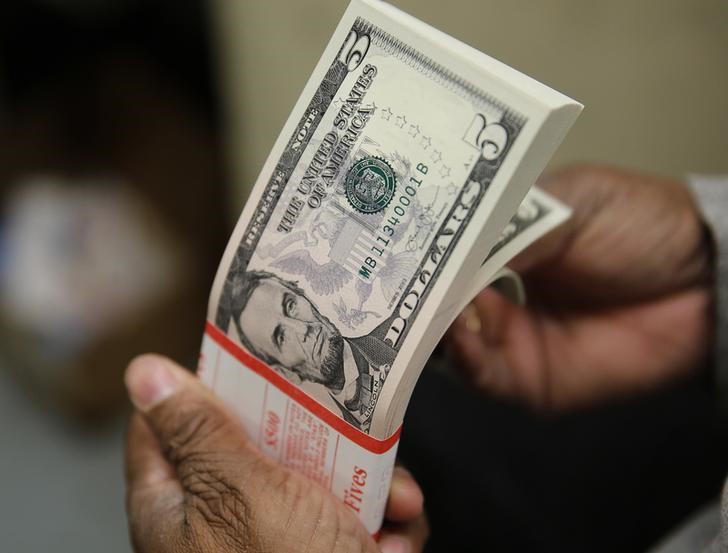 © Reuters.
By Yasin Ebrahim
Investing.com – The dollar doesn't have many supporters on the Street, but Bank of America (NYSE:BAC) believes the return to focus on fundamentals including rising U.S. Treasury yields will boost the world's reserve currency.
The U.S. dollar index, which measures the greenback against a trade-weighted basket of six major currencies, rose by 0.17% to 91.18.
The landscape for FX has "finally broaden to include traditional factors including relative rates," marking a shift from risk-appetite fueled moves seen in FX since last March amid accommodative monetary policy measures, BofA said in a note.
This factor shift will likely see fundamentals back in vogue across FX markets, and in the midst of an improving economic recovery, supporting the current uptick in U.S. government bond rates, the dollar could continue its recent grind higher.
Earlier this week the nonpartisan Congressional Budget Office forecast the U.S. economic growth to recover "rapidly," with GDP expected to return to its pre-pandemic size by mid-20.
The bond market has reflected the sanguine outlook, with the U.S. 10-year yield rising above 1% while the 30-year Treasury bond topped 1.8%.
"Factor shifts lend support to our thesis that improving US fundamentals will provide a tailwind to the US dollar, increasing the risk of a rally as the year unfolds," BofA added.
But the greenback continues to have its detractors.
Commerzbank (DE:CBKG) said this week represented a deciding week for the trend of dollar, though touted that it favored the downward trend to resume.
"Its make or break for the Dollar this week – as the question over whether this is a base or not is likely to be resolved. Note the 2020-2021 downtrend lies at 91.01, and we are slightly biased to this holding and the market resuming its longer term down move," Commerzbank said.
Leave a comment