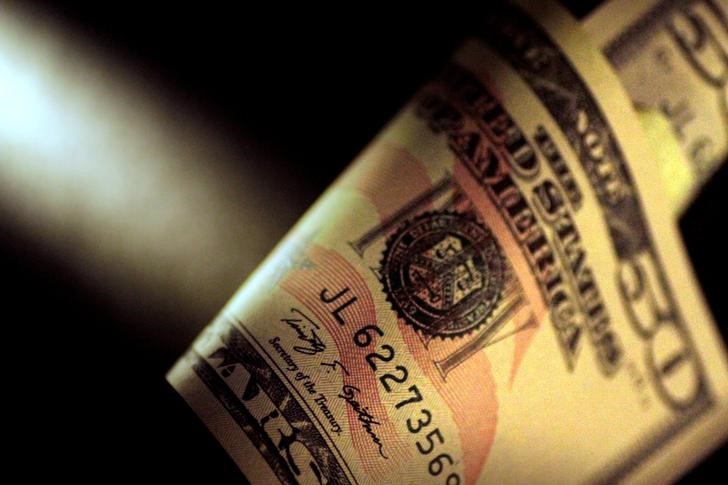 © Reuters.
By Peter Nurse
Investing.com – The dollar edged higher in early European trading Friday, but still heading for its first weekly loss in three as doubts emerge about the strength of the U.S. economic recovery.
At 3:55 AM ET (0755 GMT), the Dollar Index, which tracks the greenback against a basket of six other currencies, was up 0.1% at 90.487, but still on track to fall 0.6% this week.
USD/JPY was up 0.2% at 104.88, EUR/USD dropped 0.1% to 1.2125, while the risk-sensitive AUD/USD rose 0.1% to 0.7746.
The weekly initial jobless claims data came in weaker-than-expected on Thursday, adding to last week's nonfarm payrolls number that suggested that the recovery in the jobs market in the U.S. would be a prolonged affair.
Federal Reserve Chairman Jerome Powell admitted as much on Wednesday, when he stated that the central bank would have to remain patient with its accommodative monetary policy stance.
This has all created concerns that the dollar's previous rally had priced in too fast a pace of rebound for the U.S. economy.
"Any shift in the policy stance (to a hawkish, less accommodative side) is not imminent, U.S. front-end rates are to remain anchored, the U.S. curve is set to steepen further and real rates are to remain deeply negative," said analysts at ING, in a research note.
Elsewhere, GBP/USD dropped 0.2% to 1.3786, after the release of data showing Britain's economy shrank 9.9% in 2020. This was the biggest annual fall in output since modern records began as the coronavirus ravaged its services-dominated economy.
That said, Britain's gross domestic product grew 1.0% in the final quarter of last year, double the 0.5% growth widely expected.
This release makes it unlikely that Britain will fall into recession, as although the economy is set to shrink sharply in early 2021 due to the effects of the current lockdown, it is expected to rebound in the second quarter as the ongoing vaccination program prompts a return to something like normalcy.
Additionally, USD/RUB rose 0.4% to 73.9209, with the Bank of Russia widely expected to hold its key rate unchanged at 4.25% later Friday.
That said, the International Monetary Fund said in a report this week that Russia should cut interest rates by as much as 50 basis points in the coming months to prevent inflation falling below the central bank's 4% target later in the year.
Leave a comment