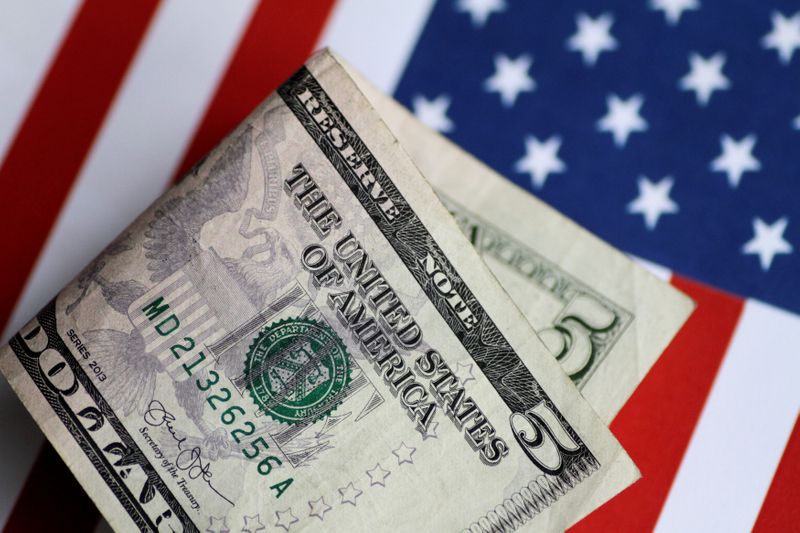 © Reuters
By Geoffrey Smith
Investing.com — The dollar edged lower on Monday after President Donald Trump finally signed the government spending and coronavirus relief packages, after a bizarre intervention before the Christmas holiday in which he took issue with a number of spending proposals previously approved by his administration.
By 4 AM ET (0900 GMT), the dollar index, which measures the greenback against a basket of advanced economy currencies, was down 0.3% at 89.953, only 0.3% above the two-year low that it posted earlier in December.
In a holiday-thinned market, the signing of the bill removes a lingering source of uncertainty, encouraging the embrace of riskier assets, as people position for a global recovery in 2021.
"Easy financial conditions, positive vaccine news and prospects of a big rebound in global trade growth has led to a benign environment for EM FX," analysts at Nordea said in a weekly research note, highlighting the , Mexican peso and South African rand as particularly well placed to benefit from the rollout of anti-Covid-19 vaccines next year.
Also supporting risk sentiment is the agreement between the EU and U.K. over their trading arrangements in the new year, which appears to have averted the threat of chaos at the border from January 1st (even though the closure of the Channel Tunnel before Christmas due to the latest Covid-19 scare was just as effective in disrupting trade).
However, Sterling is showing signs of flagging after an initial boost. By 5 AM ET, it was flat against the dollar at $1.3551, while it was down 0.3% against the euro at 1.1071. Over the weekend, it became apparent that many key questions on the details of the new arrangements remain unanswered, including – crucially for the U.K. economy – the level of access to the single market allowed to Britain's financial services sector.
""We do not see this as any game-changer for markets," analysts at Toronto Dominion Securities said in a note to clients. "A deal was in the price and the specifics are unlikely to have any bearing on the direction of markets from here. While GBP is very cheap across many of our valuation models and much of the negotiation-linked uncertainty can fade, there is still significant economic underperformance and disruptions to follow early in 2021."
The EUR/USD benefited more, rising 0.3% to $1.2237, within touching distance of its highest level since April 2018. It also rose 0.5% against the Swiss franc to a six-month high of 1.0885, another cross that pointed to a general drop in fear. The only currency in Europe stronger than the euro was the Polish zloty, which resumed its upward trend after a week in which the central bank intervened on the currency markets to stop it appreciating.
Leave a comment