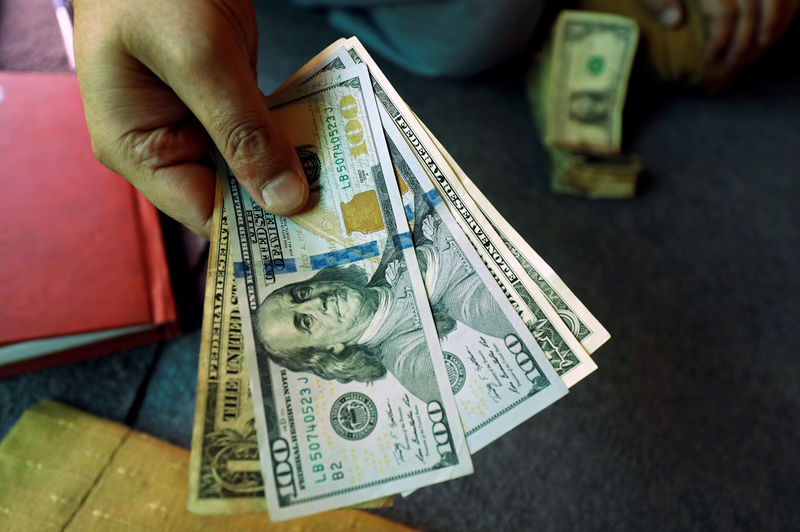 © Reuters.
By Gina Lee
Investing.com – The dollar was up on Thursday morning in Asia, reversing its earlier downward trend even as the possibility of U.S. economic stimulus measures and the first approval of a COVID-19 vaccine increased investors' risk appetites.
The U.S. Dollar Index that tracks the greenback against a basket of other currencies inched up 0.04% to 91.037 by 9:58 PM ET (1:58 AM GMT).
Although Republicans and Democrats in Congress have yet to reach agreement over the latest stimulus measures' price tag, investors remained optimistic that a $908 billion bipartisan proposal is slowly gaining traction.
Congress has until Dec. 11 to pass the $1.4 trillion budget or risk a government shutdown, adding a big incentive to reach a deal before the deadline.
Across the Atlantic, the U.K. became the first country to approve a COVID-19 vaccine, the BNT162b2 candidate jointly developed by Pfizer Inc (NYSE:PFE) and BioNTech SE (F:22UAy), on Wednesday. Inoculation of those most as risk in expected to begin early in the following week.
The news helped to give the euro a boost, despite expectations that the European Central Bank (ECB) will enhance its quantitative easing when it convenes for its monetary policy meeting on Dec. 10.
"On the whole, the new U.S. economic team under President Biden will be dovish, if not directly pursing a weaker dollar per se … the next target for the euro should be its February 2018 peak of $1.2555. When the ECB eases its policy next week as expected, I bet the euro will gain rather than fall," Sumitomo Mitsui (NYSE:SMFG) Bank chief strategist Daisuke Uno told Reuters.
The USD/JPY pair inched up 0.10% to 104.50. Japan's services Purchasing Managers' Index (PMI) came in at 47.8 in November, little changed from October's figure of 47.7.
TheAUD/USD pair edged down 0.17% to 0.7402. The AUD saw a 26-month high overnight as investors digested Wednesday's positive data, including GDP, that showed that the Australian economy saw a stronger-than-expected bounce back in the third quarter. Across the Tasman Sea, the NZD/USD pair edged down 0.11% to 0.7061.
The USD/CNY pair edged down 0.12% to 6.5547. China released November's Caixin services PMI which beat expectations by coming in at 57.8.
Investors are also looking at the offshore yuan, which saw a two and a half year high in November and continues to maintain its strength over expectations that U.S. President-elect Joe Biden's administration will be more conducive to Chinese economic growth.
The GBP/USD pair inched up 0.03% to 1.3367. The pound was hovering near a three-month high, after trading unevenly during the previous session as Brexit talks between the U.K. and the European Union (EU) reach "a make-or-break moment", according to chief EU chief Brexit negotiator Michel Barnier.
Envoys from EU member states also urged Barnier not to be rushed into an unsatisfactory agreement, even as the year-end deadline to reach a consensus looms closer.
The talks reportedly remain stalled, as they have been for the past few months, over issues such as fishing rights in U.K. waters, ensuring fair competition guarantees and ways to solve future disputes.
Leave a comment