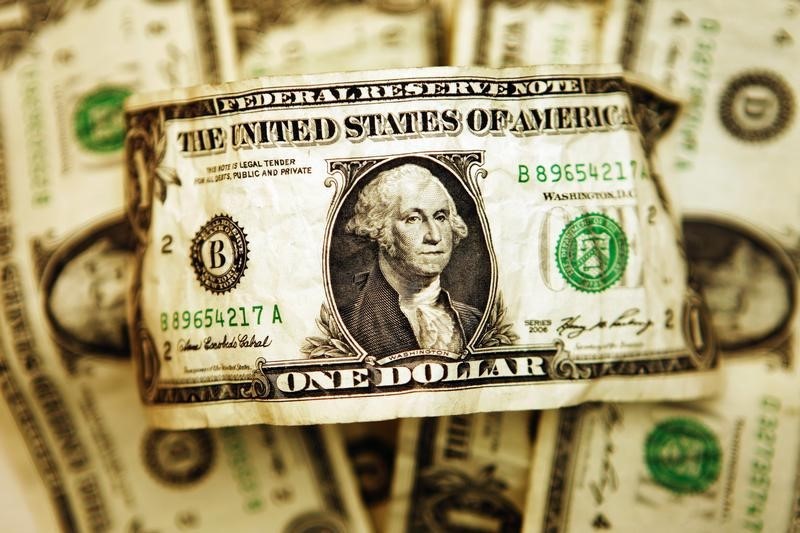 © Reuters.
By Gina Lee
Investing.com – The dollar was down on Friday morning in Asia but was still heading towards its best weekly gain in three months over growing confidence in the U.S. economic recovery from COVID-19.
The U.S. Dollar Index that tracks the greenback against a basket of other currencies inched down 0.05% to 91.507 by 8:39 PM ET (1:39 AM GMT).
The USD/JPY pair inched down 0.03% to 105.50.
The AUD/USD pair inched down 0.05% to 0.7595, while the NZD/USD pair inched up 0.03% to 0.7155.
The USD/CNY pair inched down 0.04% to 6.4691.
The GBP/USD pair edged up 0.11% to 1.3685. The Bank of England kept its February interest rate at 0.10% as it handed down its policy decision on Thursday.
The index remained close to a two-month high reached during the previous session, boosted by positive employment figures. Thursday's data revealed that 779,000 initial jobless claims were filed over the past week, fewer than the 830,000 claims predicted in forecasts prepared by Investing.com and the 812,000 claims reported during the previous week. Further jobs data, including non-farm payrolls, is due later in the day.
"The U.S. economy is exceptionally strong relative to other countries, causing dollar short covering," J.P. Morgan head of Japan market research Tohru Sasaki told Reuters, pointing to employment and manufacturing indicators as well as the pace of COVID-19 inoculations.
Although Sasaki expects the current bout of dollar strength to continue for "several weeks," questions remain on whether the strength will be maintained as other regions such as Europe and Asia inoculate their populations against COVID-19. The U.S. Federal Reserve also continues to maintain its ultra-easy monetary policy, capping a rise in long-term U.S. yields.
Rises in longer-term U.S. Treasury yields, as expectations of massive stimulus packages from the U.S. grows, have also given the greenback a boost. Democrat lawmakers in the Senate prep for a marathon "vote-a-rama" session aimed at passing the $1.9 trillion stimulus package proposed by President Joe Biden.
Although the dollar index is set for a 1.1% weekly advance, the most since Nov. 1, some investors are analyzing whether the dollar's strength so far in 2021 is a temporary position adjustment after the index dropped 7% in 2020, or a more long-term move away from dollar pessimism.
Also on investors' minds is the potential multiple dollar shorts to cover. The yen particularly has seen hedge funds rack up their biggest bearish bets since 2016.
Westpac analysts forecast that Europe's vaccine rollout will accelerate by the end of the first quarter, which, in addition to the Fed's commitment to ultra-loose monetary policy, could put pressure back on the dollar.
"The dollar index upside potential is living on borrowed time," they said in a note. Their advice? "Sell the dollar index into 92."
Leave a comment