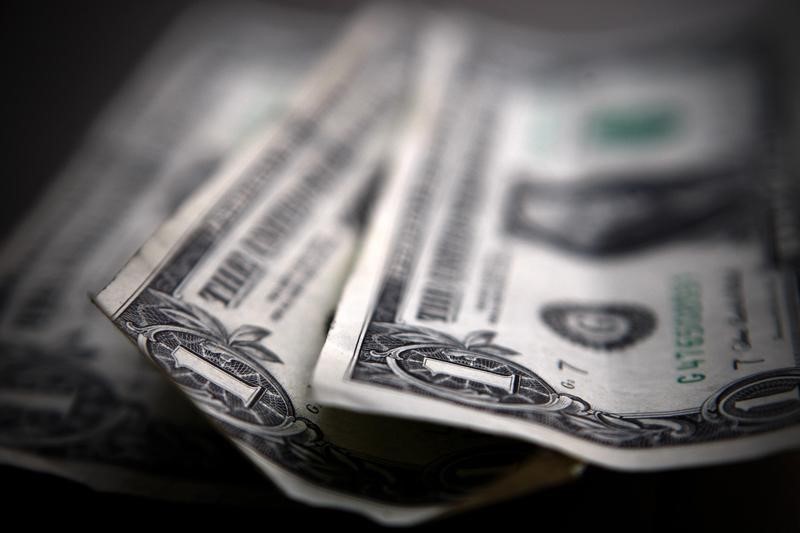 © Reuters.
By Gina Lee
Investing.com – The dollar was down on Tuesday morning in Asia, hovering near its lowest level in a week as doubts began to creep in about a recent rally fueled by hopes of a faster U.S. economic recovery from COVID-19 than elsewhere.
The U.S. Dollar Index that tracks the greenback against a basket of other currencies inched down 0.08% to 90.868 by 8:32 PM ET (1:32 AM GMT).
The USD/JPY pair inched down 0.08% to 105.14. The dollar remained mostly flat against the yen, after climbing to 105.765 at the end of the previous week for the first time since October 2020.
The AUD/USD pair was up 0.21% to 0.7716 and the NZD/USD pair edged up 0.18% to 0.7231.
The USD/CNY pair edged up 0.14% to 6.4536 and the GBP/USD pair edged up 0.11% to 1.3754.
The dollar index has hovered near the 91 mark after Friday's disappointing U.S. jobs report, knocked the wind out of a two-week rally that saw the index climb up to 91.6. A faster vaccine rollout in the U.S. comparative to other areas, as well as moves to fast-track the $1.9 trillion stimulus package proposed by President Joe Biden, also saw investors turn to the greenback.
However, there are worries that huge fiscal spending, alongside the continuous ultra-easy Federal Reserve monetary policy, could see the dollar decline in the long term.
"The bottom line is a large stimulus is highly likely to pass soon, exacerbating the widening in the U.S. current account deficit, and weighing on the USD," Commonwealth Bank of Australia (OTC:CMWAY) currency analyst Joseph Capurso said in a note.
Europe's "lagging" vaccination program will cap the euro in the short term, but the continent should catch up by the summer, after which the single currency could rally to $1.28 for the first time since 2014, the note added.
The euro was little changed in early Asian trading on Tuesday but was up from the two-month low touched on Friday.
Meanwhile, Tesla Inc. (NASDAQ:TSLA) said that it had bought $1.5 billion worth of bitcoins as part of a broad investment policy, and that it expected to begin accepting the digital asset as payment for its products "in the near future." The statement sent the cryptocurrency soaring to a new record level of $47,565.86 on Tuesday, with rival cryptocurrency ethereum also reaching its own record level of $1,784.85 the day before.
"This is a turning point for how we view digital currencies … from here on, bitcoin will be genuinely considered as an asset available for selection by asset managers in their portfolios," IG Securities foreign-exchange strategist Junichi Ishikawa told Reuters.
Leave a comment