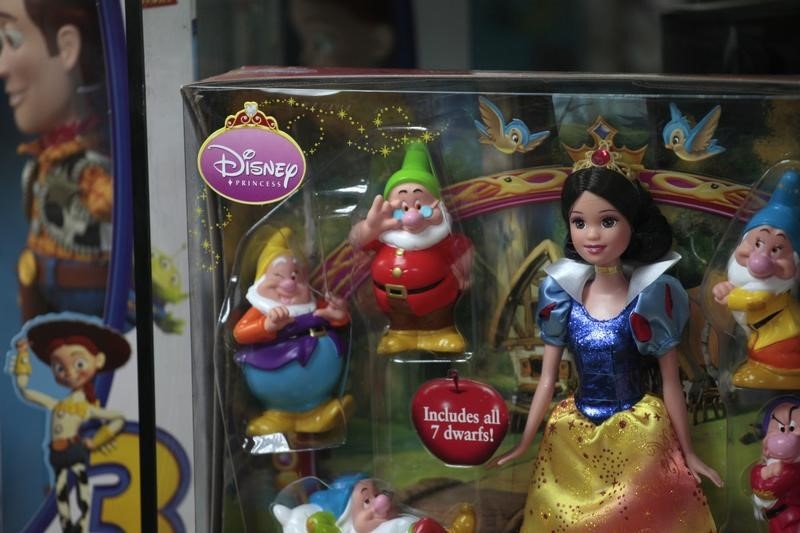 © Reuters.
By Christiana Sciaudone
Investing.com — Walt Disney Company (NYSE:DIS) popped nearly 12%, to its highest price ever, after announcing a slew of new series and movies, including favorites Star Wars and Marvel.
Disney+, the company's streaming service, is outdoing itself, with almost 87 million subscribers. Disney said last year it expected the platform to reach between 60 million and 90 million subscriptions by that time, according to CNBC. Disney forecast that its streaming service will have between 230 million and 260 million subscribers by 2024. For comparison, Netflix (NASDAQ:NFLX) had 195 million subscribers in the third quarter and HBO Max has 12.6 million.
Disney will increase the cost of Disney+ by $1 to $7.99 in the U.S. and by 2 euros in the EU, to 8.99 euros. Even with millions of new subscribers and a hike in the pricing, Disney is unlikely to compensate for the losses of closing its theme parks during the pandemic. The company reported that its parks, experiences and products segment sank 61% in the most recent quarter. It was previously the biggest contributor to revenue. Media networks, in contrast, rose 11%, not nearly enough to make a dent in the damage done.
Analysts from Guggenheim to Bank of America (NYSE:BAC) were also pleased by the announcements, and awarded the Mouse House with price target increases.
Goldman Sachs (NYSE:GS) gave Disney a Street-high price target of $200 on the material increase in long-term forecasts for the company's direct-to-consumer (DTC) subscribers and revenue from higher price points for Disney+ going into effect in 2021, according to StreetInsider. The shares are currently trading around $173.74.
Goldman analyst Brett Feldman also cited plans to continue initially releasing key tent pole franchise films (Star Wars, Marvel, etc.) in theaters.
Earlier this month, Disney announced it would lay off 4,000 employees by the end of March 2021, in addition to the 28,000 employees who began receiving notices in October, The Guardian reported. Most of the job cuts come from limited attendance and continued closure of Disneyland.
Leave a comment