Reports Q1 2021 earnings on Thursday, Feb. 11, after the close
Revenue Expectation: $15.91B
EPS Expectation: -$0.327
The Walt Disney Co. (NYSE:DIS) is forecast to report its third consecutive quarterly loss later today as its cruise ships remain docked and theme parks deserted, thanks to the still raging pandemic. Yet, its stock is hovering near a record high, showing investors' complete faith in its business turnaround in the post-pandemic world.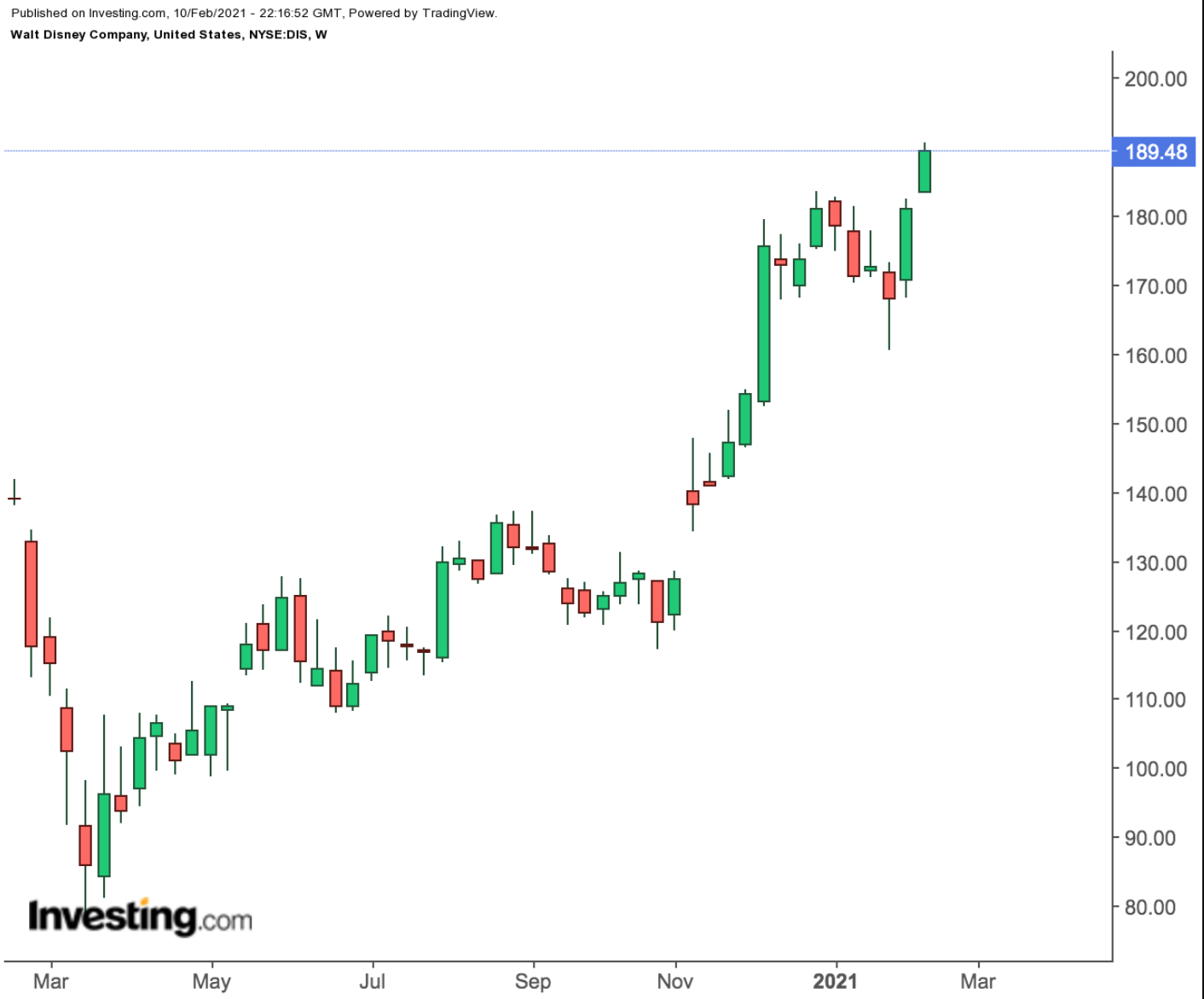 Disney Weekly Chart.
Disney's first-quarter earnings are expected to fall 24% to $15.91 billion, translating to a loss of more than $0.32 a share when compared with the same period a year ago, according to analysts' consensus forecast.
But that bleak financial picture is not what investors are focusing on these days. Rather, they want to see another blowout quarter for the California-based company's video-streaming business, Disney+. On that front, the House of Mouse has a lot of good news to share.
More than a year after its launch, Disney+ had signed up 86.8 million subscribers, benefiting from the stay-at-home environment that is forcing people to seek entertainment options from their bedrooms or living rooms.
During an investors day presentation in December, Disney CEO Bob Chapek told investors that Disney+ will have 230 million to 260 million subscribers by 2024. By comparison, when Disney+ launched 13 months ago, Disney expected the platform to reach 60 million to 90 million subscriptions by that year.
A Winner In Streaming Wars
These projections clearly show that the company is well ahead in the streaming war where many deep-pocketed players are trying their luck. Netflix (NASDAQ:NFLX), the leader in streaming business, told investors last month that it had more than 200 million subscribers by the end of the fourth-quarter. It took Netflix more than 13 years to reach that milestone. Last month, AT&T (NYSE:T) said it had 41 million subscribers for its HBO Max, the Netflix-like service that it launched last year.
Disney's heavy investment in its direct-to-consumer business fuelled subscriber growth with its strong push to create new shows and movies. Chapek told investors in December that from the 100 projects the company is undertaking, about 80% will go directly to Disney+.
The Burbank, California-based entertainment giant also plans to release more mature content on its platform, to attract older audiences through its popular titles, such as "Atlanta" and "Modern Family."
These growth-oriented initiatives, however, are already reflected in the company's share price, which closed at $189.61 on Wednesday, after surging 44% in the past six months. For some, Disney's valuation makes it too expensive to buy at the current level. The company's losses, soaring long-term debt and the suspension of its dividend are a few of the factors keeping some investors on the sidelines.
Bottom Line
Disney, with its core revenue generating units still under pressure, is a bet on the reopening of the economy and a success of its streaming business. These two catalysts are very much reflected in the share price, making it tougher for the stock to continue to perform strongly from here. Investors should wait on the sidelines for a better entry point in our view.
Leave a comment