Buying shares of the companies that are developing vaccines against COVID-19 has been a great bet this year. Some of the leading candidates in the race to beat the deadly virus have seen their stocks more than doubled in value in just a few weeks.
Moderna (NASDAQ:MRNA), for example, is up 631% this year as it reported more than 90% success rate for its test trial. Similarly, a German company BioNTech (NASDAQ:BNTX), which has partnered with Pfizer (NYSE:PFE) to develop a shot, has soared more than 250% this year. Their vaccine has got an emergency use authorization from the UK on Thursday ahead of decisions in the US and European Union.
Despite these massive rallies, it's important to understand whether buying a vaccine developer is a successful strategy over the long run. Right now, these biotech companies are attracting great interest from day traders who are triggering the volatility in their shares.
Stock prices for Massachusetts-based Moderna, for example, jumped as much as 17% on Tuesday morning before nose-diving 10% in the afternoon session. The stock had surged 55% and added more than $21 billion in market value in the previous three trading days after the company revealed positive data and plans to file for approval of its vaccine.
Moderna shares closed Thursday at $157.26 a share, down from their record high of $178.50 reached on Dec. 1.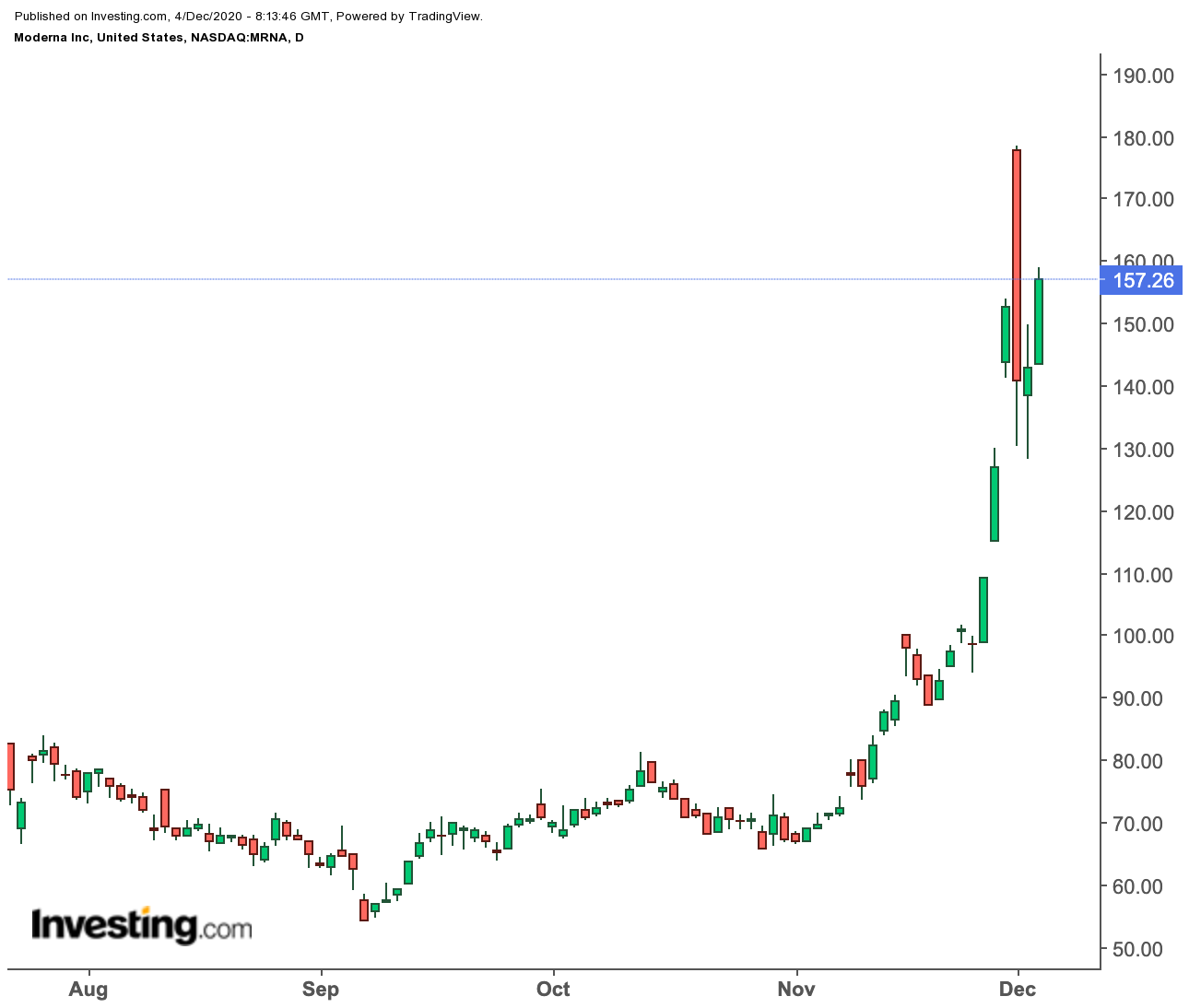 Moderna Daily
"The danger for investors lies in conflating the importance of these drugs in fighting the pandemic with the attractiveness of the long-term business opportunity," Charley Grant wrote in a recent analysis in the Wall Street Journal. "Drugs that patients take less often tend to be less valuable to investors, no matter how badly they are needed or how well they sell in the short term."
A Risky Bet
That's perhaps the reason shares of Pfizer, which was the first of the big pharmaceutical companies to announce its vaccine's effectiveness, didn't move much on its achievement. Its stock is up 8% this year compared with the S&P 500, which has gained more than 13%.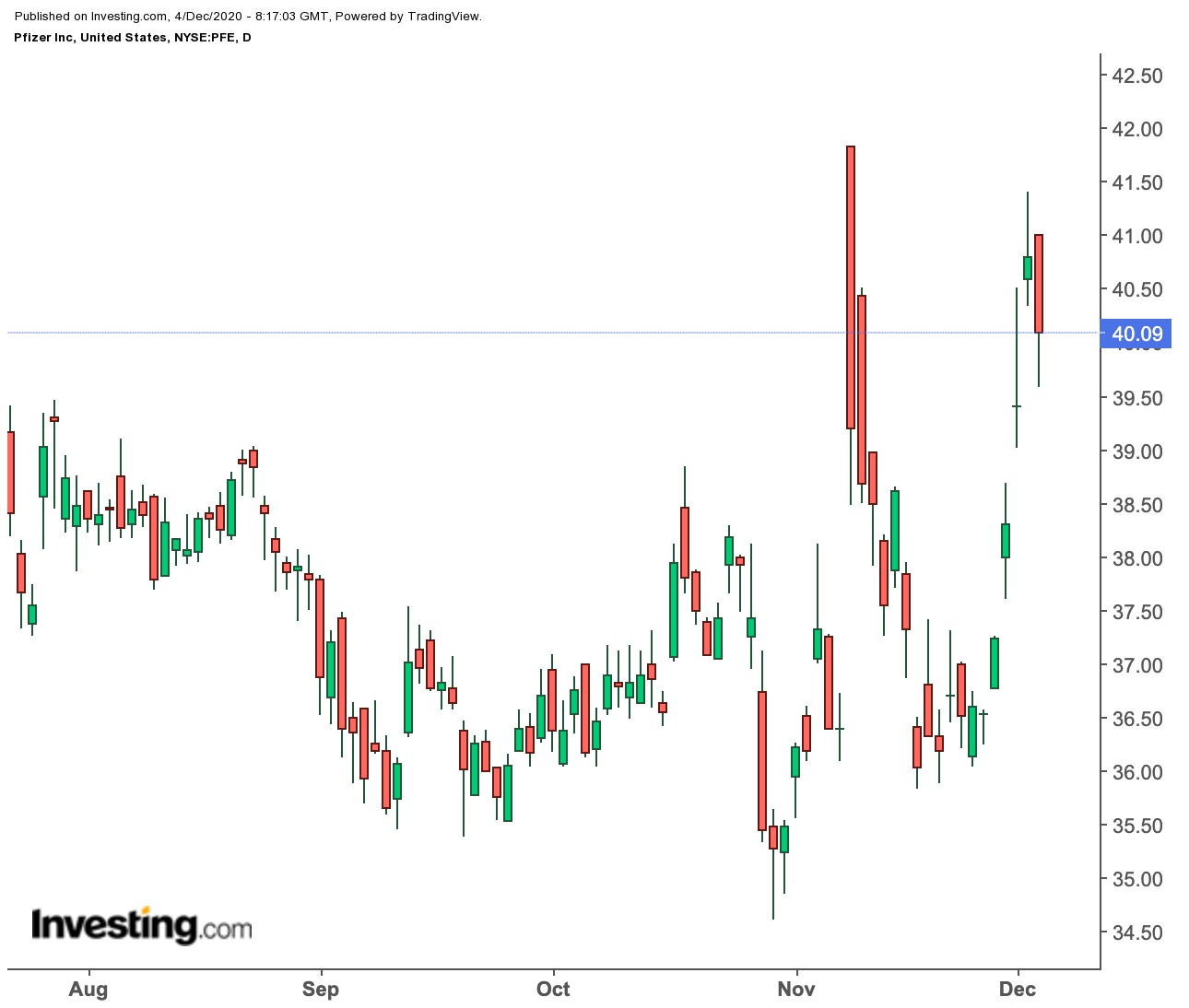 Pfizer Daily
One danger that could hurt these front-runners in the race for a vaccine is that there are many vaccines that are close to the final stage of development, and if they're successful, they could depress vaccine pricing. That possibility makes buying a pure vaccine stock a risky preposition.
The leading shots, including Moderna's and one from Pfizer-BioNTech, use a technology known as messenger RNA, while AstraZeneca's (NASDAQ:AZN) experimental vaccine uses a harmless virus to generate an immune response.
"Investors now believe mRNA vaccines will take the vast majority of the US market given growing investor concerns around adenovirus vaccines and, in particular, the recent AstraZeneca data," Morgan Stanley analyst Matthew Harrison wrote in a research note, cited by Bloomberg.
Investors may be expecting as much as $15 billion in sales from Moderna's COVID-19 inoculations over the next two years.
Bottom Line
In the COVID vaccine trade, the real money-making opportunity was to correctly predict the timing of the positive trial results and then buying shares of front-runners, such as Moderna and BioNTech. Now that movement is already gone, betting on pure vaccine players may not prove as profitable as many in the market believe.
Leave a comment