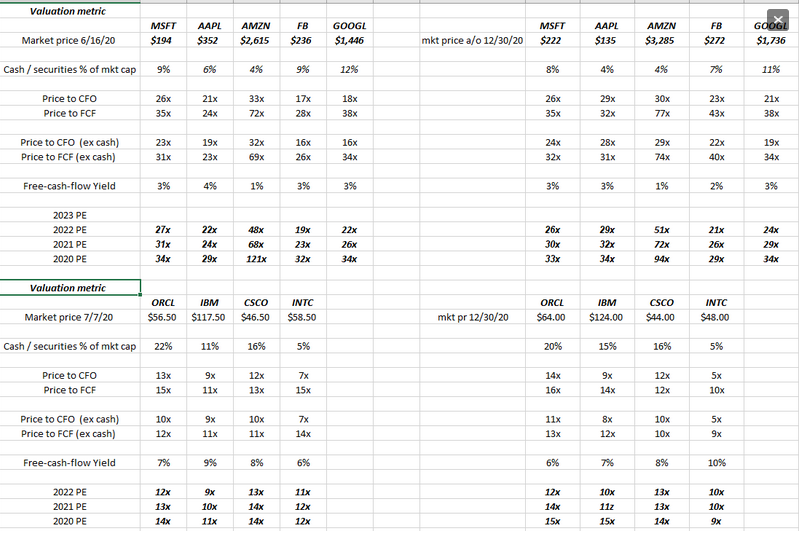 Big-5 Tech Valuations
The spreadsheet is internal and draws a comparison of the Top 5 Tech names in the S&P 500 versus the 1990's growth giants or what is called today, "value" Technology.
The big 5 are still within their trading ranges that peaked in early September '20 (Sept. 2nd to be exact) but I wanted to make the comparison with this article written in mid-June '20 and see if there were any material changes.
The first major observation is that Apple's (NASDAQ:AAPL) valuation expansion continued, as EPS estimates haven't changed much since the October '20 earnings release. This article, written in mid-August, demonstrates how Apple's valuation has expanded while EPS has remained relatively constant since October earnings.
The other Big 4 maintain the same approximate valuation as they did when they were ramping this summer.
Value Tech remains value tech as Intel (NASDAQ:INTC) has really cheapened up, understandably so. Most readers probably know of Intel's issues with 9 and 7 nanometer and how Intel has fallen behind Advanced Micro Devices (NASDAQ:AMD) in processing and manufacturing.
Intel spends 50% of their roughly $35 billion in cash-flow on "capex" i.e. building fabs.
Intel's expected revenue estimates in 2021 and 2022 are actually lower than what's expected in 2020. Here's how the current estimates look:
2022: $71.5 bl expected
2021: $70.0 bl expected
2020: $75.3 bl in revenue expected
Estimate source: IBES data by Refinitiv
Summary / conclusion: Growth Tech always looks expensive, and that's still the case today but the valuations haven't changed much since this summer for the "Big 5." Writing bottom-up fundamental analysis, I am more bullish on Oracle (NYSE:ORCL) after the December '20 earnings report, but have no change in opinion on IBM (NYSE:IBM) or Cisco (NASDAQ:CSCO).
The thing about Intel is—if Bob Swan reduces Intel's capex by half—the processor giant could repurchase roughly 5% more of its stock every year with the $8.5 – $9 billion saved from reducing capex. Of course reducing capex means reducing its competitive advantage since manufacturing is (or was) Intel's competitive edge in it's business model.
Intel's in a tough spot.
Microsoft (NASDAQ:MSFT) is still clients' largest holding across all accounts, with all of the stocks above above owned in varying degrees. IBM and Intel are the smallest tech positions.
Leave a comment