As devastating as 2020 was for the world's largest oil producers, the worst might not yet be over. In a regulatory filing last week, ExxonMobil (NYSE:XOM) said it might incur a fourth straight quarterly loss when it reports earnings early next month.
The largest U.S. oil and gas explorer struggled to generate positive cash flows last year amid a collapse in energy prices, forcing the giant to initiate drastic spending cuts. In a latest communication, the Texas-based company said it plans to cap capital expenditures at $25 billion annually through 2025, and will take a writedown of as much as $20 billion on North and South American natural gas assets.
What is unique about Exxon is that the company is among the few energy giants that has continued to pay dividends even as its financial situation significantly deteriorated during the global health crisis. But as the pandemic lingers, there are growing concerns among Exxon investors about the sustainability of its once rock-solid payout policy.
Exxon has been borrowing heavily to sustain its dividend and cover its capital expenditures. The last time Exxon generated enough free cash to cover its payout was the third quarter of 2018. These difficulties and uncertainty about its dividend have kept its shares under extreme pressure in 2020.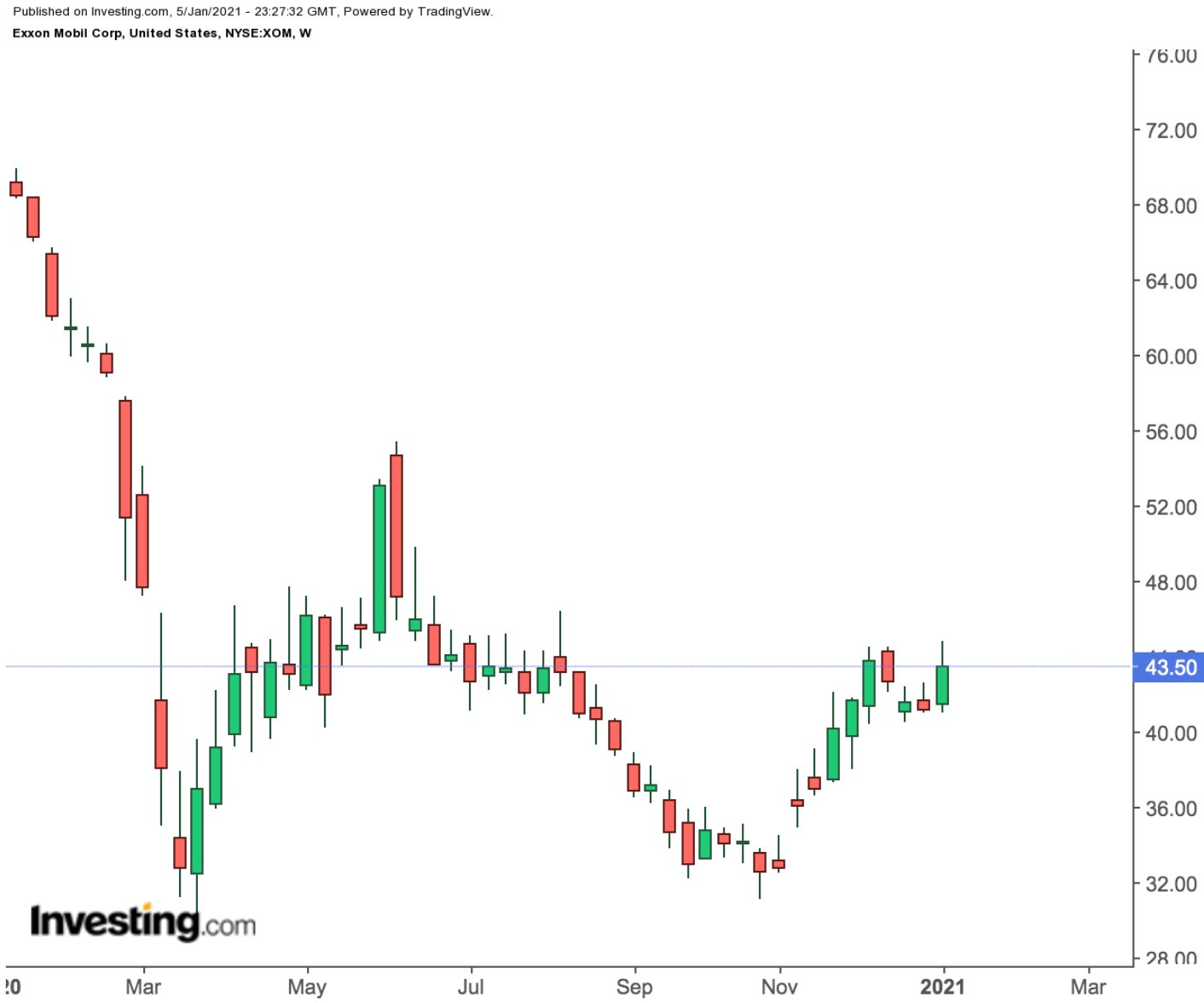 Exxon Mobil Weekly Chart.
Its stock plunged about 42% during the past 12 months, pushing its dividend yield to more than 8%. During that period, Exxon reported its first quarterly loss in decades, it was kicked out of the Dow Jones Industrial Average and has been assailed by activist investors seeking better returns and more climate accountability.
Consistent Underperformance
According to a recent Bloomberg report, D.E. Shaw & Co., which has built a sizable position in Exxon, is calling on the company to cut spending to improve performance and maintain its dividend.
In a letter sent to Exxon, D.E. Shaw argued that the oil major has consistently underperformed rival Chevron (NYSE:CVX) and its current unsustainable path puts its dividend at risk, the report said, citing sources.
D.E. Shaw believes Exxon's failure to adapt has wiped out more than $100 billion in shareholder value over the past five years. It has urged Exxon to cut capital expenditures to a maintenance level of about $13 billion from a planned $23 billion this year, and slash its operating expenses by as much as $5 billion.
Exxon pays $0.87 a share quarterly dividend, which has grown about 5% over the past five years. The company spends about $15 billion a year to pay these dividends, making Exxon one of the most widely-held stocks in income-generating portfolios.
The key risk for long-term Exxon investors is whether the company will be able to continue spending this huge amount of cash on payouts while borrowing to do so. The latest signal from management suggests that it might be a tough preposition unless oil markets stage a strong rebound.
Oil prices have stabilized above $50 barrel in recent weeks, helped by vaccine rollouts to fight the COVID-19 and robust fuel usage in Asia. Supply and demand should remain broadly balanced in the first half of the year, according to the Paris-based International Energy Agency.
This nascent recovery in oil markets, however, may not be enough for Exxon to save its "reliable and growing dividend." In a Nov. 30 statement while announcing writedowns and spending cuts, the company only mentioned its commitment to a "reliable" payout, suggesting that there could be no hike in payouts this year.
Said Darren Woods, chairman and chief executive officer, in the statement:
"Recent exploration success and reductions in development costs of strategic investments have further enhanced the value of our industry-leading investment portfolio."

"Continued emphasis on high-grading the asset base ­– through exploration, divestment and prioritization of advantaged development opportunities – will improve earnings power and cash generation, and rebuild balance-sheet capacity to manage future commodity price cycles while working to maintain a reliable dividend."
Bottom Line
Exxon, in our view, is a risky bet among the major oil producers, mainly due to its unsustainable dividend. The stock's current high dividend yield reflects that risk. Investors should avoid buying this stock, especially when the economic recovery remains fragile and the oil supply glut continues.
Leave a comment