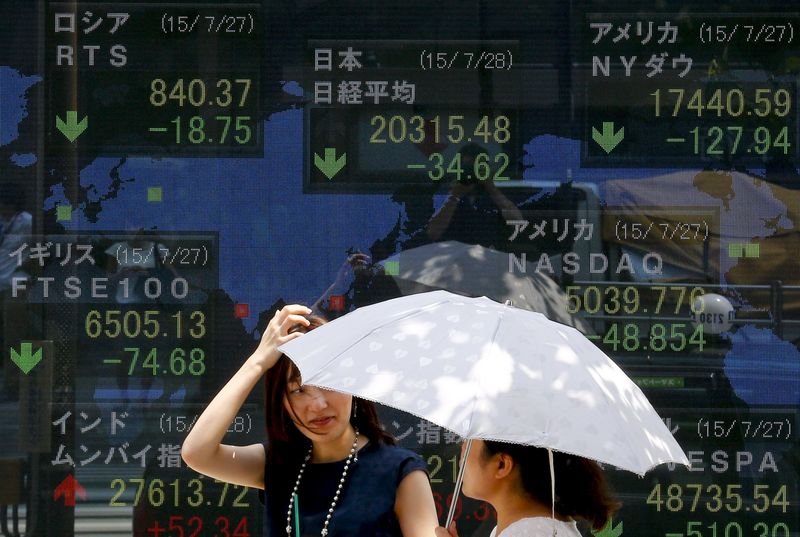 © Reuters.
By Gina Lee
Investing.com – Asia Pacific stocks were mostly down on Monday morning, with investors digesting disappoint U.S. jobs data and rising U.S.-China tensions.
Japan's Nikkei 225 fell 0.50% by 10:31 PM ET (2:31 AM GMT) and South Korea's KOSPI was down by 0.42%.
In Australia, the ASX 200 was up 0.31%. However, Australia warned that the uncertainty from souring ties with China and the lingering effects of an earlier drought could push the value of its agricultural exports down. A report from Abares said that the value of shipments is expected to decline 7%, the lowest level in five years.
Hong Kong's Hang Seng Index slid 1.81%.
China's Shanghai Composite was down 0.43% while the Shenzhen Component inched up 0.07%. Tensions between the U.S. and China rose over the news that the U.S. is reportedly planning to impose sanctions on at least a dozen Chinese officials over their roles in the disqualification of four Hong Kong opposition leaders in November, which triggered a mass resignation of opposition lawmakers soon after.
Meanwhile, Chinese trade data for November, including exports, imports and the trade balance, is due to be released later in the day.
Friday's U.S. jobs data disappointed expectations, with manufacturing payrolls increasing by 27,000 in November, lower than both the 43,000 reading in forecasts prepared by Investing.com and October's 33,000 increase.
Non-farm payrolls grew by a mere 245,000, against the forecasted 469,000 and October's rise of 610,000.
The disappointing data fueled hopes that Congress would pass a bipartisan $908 billion bill ahead of Dec. 11, after which the government will shut down.
On the vaccine front, the U.S. Food and Drug Administration (FDA) will meet on Thursday to discuss BNT162b2, the COVID-19 vaccine candidate co-developed by Pfizer Inc (NYSE:PFE) and BioNTech SE (F:22UAy). Should the FDA grant emergency use during Thursday's meeting, distribution of the vaccine could begin within 24 hours of the decision, Health & Human Services Secretary Alex Azar said. All Americans who wish to be inoculated should be able to get one by the second quarter of 2021, Azar added.
"The vaccine will break the link between mobility and infection rate, allowing for the strongest global GDP growth in more than two decades," JPMorgan (NYSE:JPM) analysts said in a note, forecasting global growth of 4.7% in 2021.
"Tracking second waves through October and November, economic activity has surprised to the upside. This is true in both Europe and the U.S. This may be why financial markets have largely ignored the spike in cases, hospitalizations, and deaths," the note said.
Some investors struck a cautiously optimistic note.
"Investors are yet to fully discount the potential for a very strong economic and profit recovery next year as stimulus combines with vaccines … the deployment of vaccines is getting closer and this is continuing to help share markets look through the current problems with the virus and its economic impact," AMP (OTC:AMLTF) Capital Investors Ltd. head of investment strategy Shane Oliver told Bloomberg.
The European Central Bank (ECB) and the U.S. Federal Reserve are both due to release policy decisions later in the week. The ECB is widely expected to increase its COVID-19 bond-buying program to aid member countries' economic recovery in the wake of a second wave of COVID-19 cases.
Leave a comment