Investors this week will have an opportunity to own the shares of one of the most successful disruptors of our time. The home-rental platform Airbnb (NASDAQ:ABNB) is seeking to raise as much as $2.6 billion through the share sales in the midst of the pandemic that has shaken the travel industry and tested the strength of the company's business model. The San Francisco-based company is scheduled to go public on Thursday, Dec. 10.
Despite the challenges posed by COVID-19, there are strong reasons to believe that the Airbnb IPO will be a huge success. The Wall Street Journal reported Monday morning that Airbnb plans to boost the proposed price range of its IPO to between $56 and $60 a share, from $44 to $50. The new range would give the company a valuation of about $42 billion on a fully diluted basis, including proceeds from the offering.
Investors will be gaining a stake in the operator of online home rentals when the coronavirus pandemic has taken a huge toll on the travel and hospitality industry. Airbnb's gross booking value (GBV) for the nine months ended Sept. 30 plunged to $18 billion, down almost 40% from the same period last year, according to its filings.
But that number doesn't show how quickly the company is getting back on its feet by taking advantage of people's changing travel preferences. After remaining afloat when liquidity dried up last spring, Chief Executive Brian Chesky has quickly shifted his strategy to focus on local stays as travelers avoided taking flights during the first wave of the pandemic.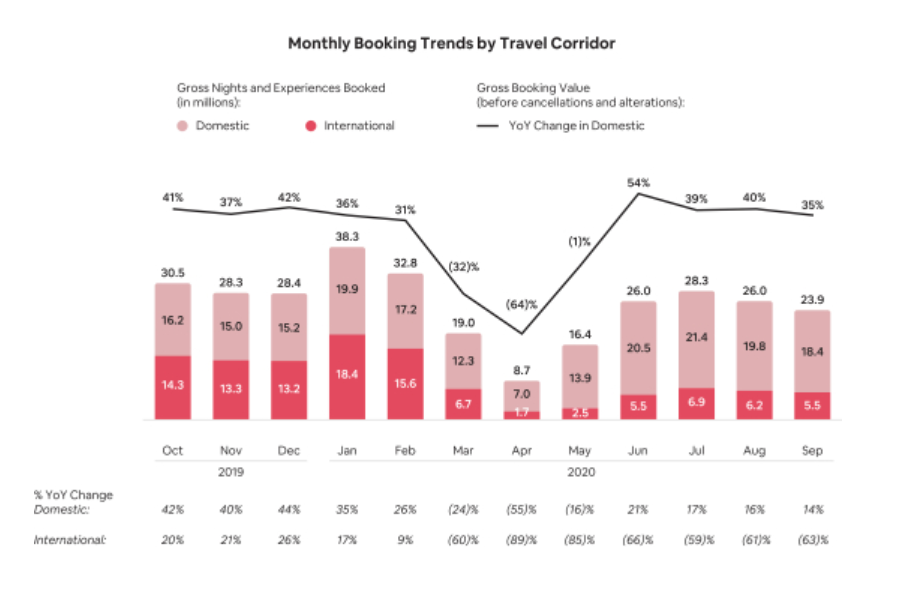 Airbnb Monthly Booking Trends 2020
Graph courtesy Airbnb
Bookings bottomed out in April, plummeting 72% from the previous year. This was the time when Airbnb reduced marketing expenditures and cut its full-time employee headcount by about 25%. By June, the company had redesigned its website and app so its algorithm would show prospective travelers everything from cabins to lavish beach houses near where they lived, he told the WSJ in an interview. In response, by June, bookings were down just 21% year-over-year.
A Remarkable Turnaround
A surge in people taking near-home vacations boosted Airbnb's third quarter's earnings, making it the most profitable period ever on the basis of earnings before interest, taxes, depreciation and amortization. It reported $501 million in income on an adjusted EBITDA basis, a big swing from the $400-million loss in the second quarter. Pre-pandemic, domestic travel made up only 52% of Airbnb's business. It's now almost 80%.
As this remarkable turnaround continues, a key question for long-term investors is how long can that last and whether they will be buying Airbnb shares at too high a price once it starts trading this week?
In the short run, it's going to be a tough ride as COVID-19 cases surge globally, resulting in more lockdowns.
"We are seeing a decrease in bookings in the most affected regions," the company said in its IPO filing.
"As a result, we expect a greater year-over-year decline in Nights and Experiences Booked and gross booking values in the fourth quarter of 2020 than in the third quarter of 2020 and greater year-over-year increases in cancellations and alterations in the fourth quarter of 2020 than in the third quarter of 2020."
But despite these challenges, there is good reason to believe that the travel industry will rebound strongly in the first half of next year as vaccines arrive, helping to reopen the economy and unlocking the pent-up demand for travel.
Bottom Line
Airbnb is a solid travel stock to hold in any long-term portfolio because the company has a great management team and a very resilient business model. The company's rebound in this most difficult time proves that Airbnb is here to stay. Investors should look for a better entry point and buy this stock to hold over the long term after this week's IPO.
Leave a comment