Cybersecurity software stocks have been flying high in recent months. Both the ETFMG Prime Cyber Security ETF (NYSE:HACK), which rose 38.6% in 2020, and the First Trust NASDAQ Cybersecurity ETF (NASDAQ:CIBR), which climbed 48.1% last year, are each trading just below their all-time highs.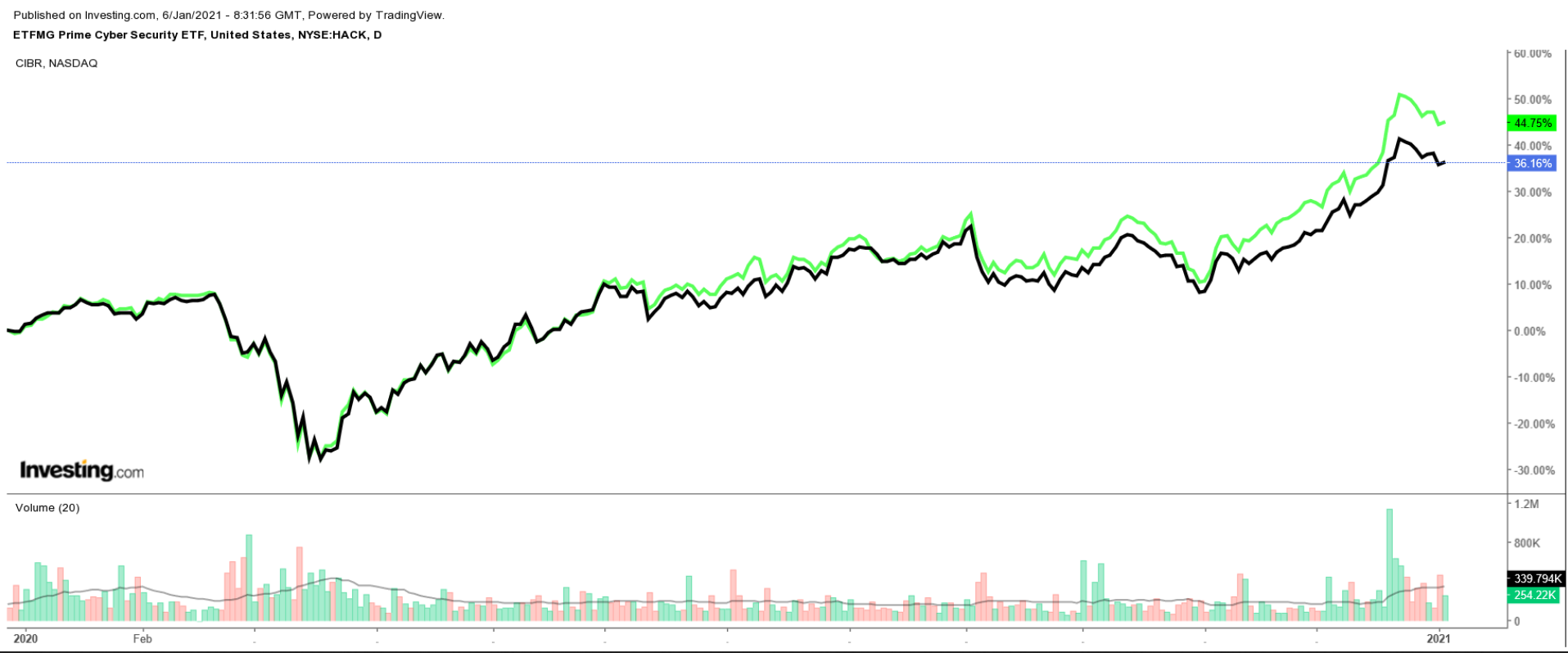 HACK Daily
The sector is set to enjoy another year of blockbuster gains as the rampant increase in cyber-attacks fuels demand for innovative cybersecurity solutions.
The three stocks below could provide some of the best growth potential in the year ahead and are well worth considering given their emerging dominance in the cybersecurity space.
1. CrowdStrike
Crowdstrike (NASDAQ:CRWD) set the market on fire last year, with shares of the cloud-based cybersecurity specialist surging an astonishing 325% in 2020.
The Sunnyvale, California-based company—whose technology is used to detect and prevent security breaches—has benefitted from the growing demand from businesses to make their IT networks more secure in the work-from-home environment during the coronavirus pandemic.
CRWD stock, which touched an all-time high of $227.36 on Dec. 23, closed at $211.24 last night, valuing the cybersecurity company at roughly $46.4 billion.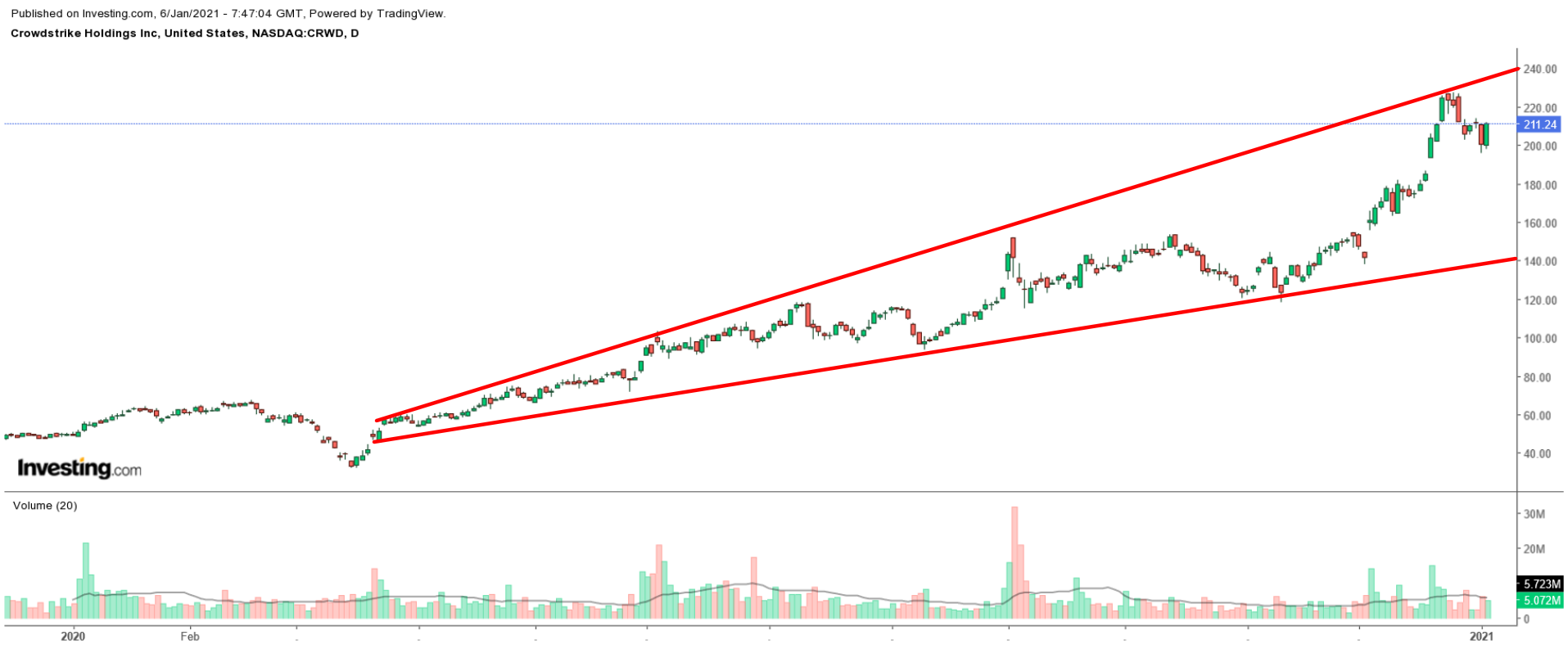 CRWD Daily
Despite stretched valuations—CrowdStrike trades at a sky-high price-to-sales (P/S) ratio of almost 61—the stock still looks attractive going forward, considering the strong demand it has seen for its cloud-based cyber security tools.
The fast-growing tech company, which counts nearly half of the Fortune 100 companies as customers, said it had a total of 8,416 customers as of the end of its most recent quarter, up 85% year-over-year.
The cybersecurity leader is expected to see even greater demand in the year ahead as it looks to be one of the main beneficiaries of the increased cybersecurity spending from corporations amid the fallout of the massive hack that originated at network management software provider SolarWinds late last year.
2. Okta
Okta (NASDAQ:OKTA), which helps businesses manage and secure user authentication, has been one of the fastest-growing companies in the booming cloud-based software-as-a-service (SaaS) sector.
The San Francisco, California-based company—widely considered the leader in the identity and access management space—saw its stock surge nearly 123% in 2020 thanks to robust demand for its cybersecurity platform amid the shift to remote work during the ongoing health crisis.
OKTA settled at $249.55 yesterday, within sight of its record high of $286.79 touched on Dec. 23, giving the cybersecurity firm a market cap of $33.1 billion.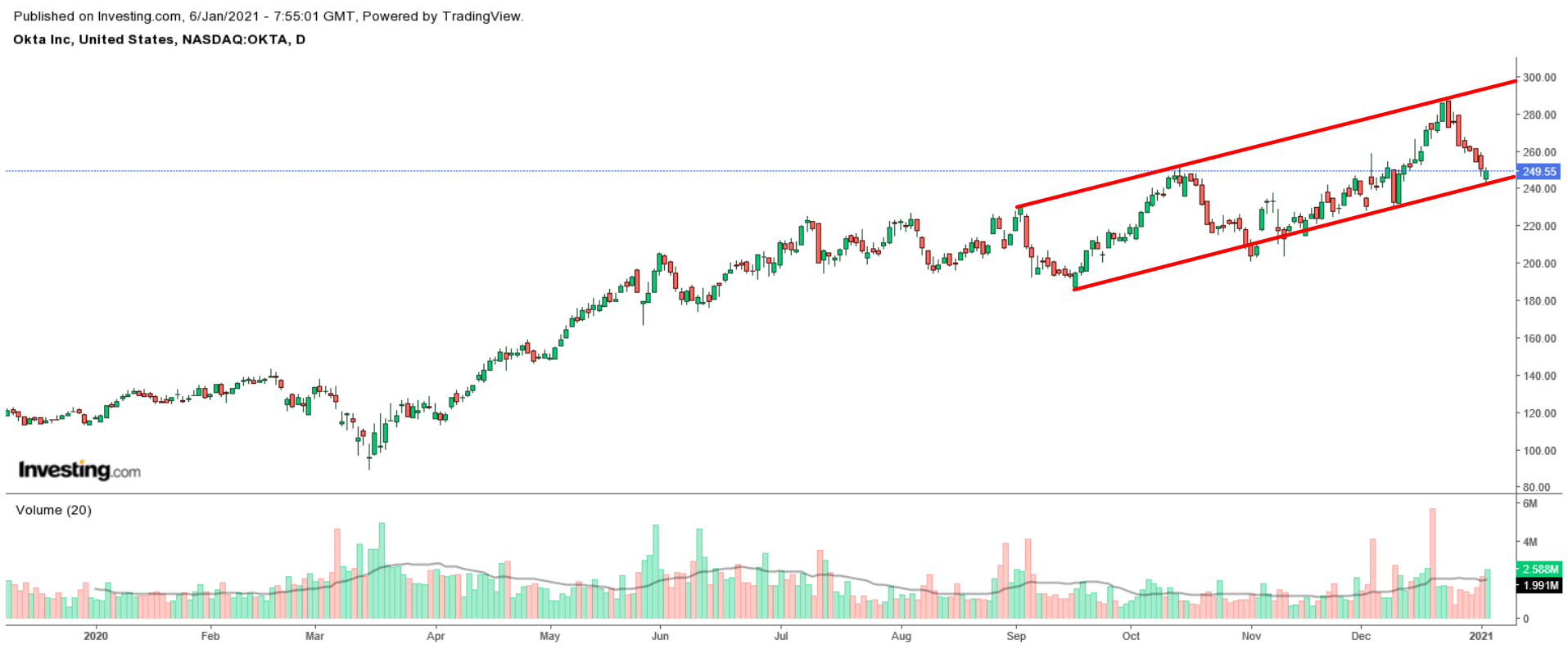 OKTA Daily
The identity-and-access management specialist is well-positioned to continue its march higher in 2021 as the anticipated jump in cybersecurity spending will likely lead to greater use and adoption of its Okta Identity Cloud platform.
As of its latest quarter, the company counted more than 9,400 organizations around the world as customers. Additionally, Okta now has more than 300 clients generating $500,000 in annual revenue, highlighting the growing demand from large enterprises for its cloud-based identity and access management software.
Okta should continue to enjoy a boost to its already-stellar financial performance in the year ahead, however its lofty price-to-sales ratio of 43 leaves it little room for error.
3. Cloudflare
Cloudflare (NYSE:NET), which provides web security and infrastructure services, ended 2020 as one of the big winners of the year, with shares of the cloud networking and security solution provider gaining 341%.
The San Francisco, California-based tech company benefitted from mounting demand for its cloud-based networking and cybersecurity services resulting from the surge in internet traffic during the COVID-19 outbreak.
NET stock, which rallied to a record high of $88.75 on Dec. 22, ended at $73.61 last night, earning the content delivery network and web security firm a valuation of $23.4 billion.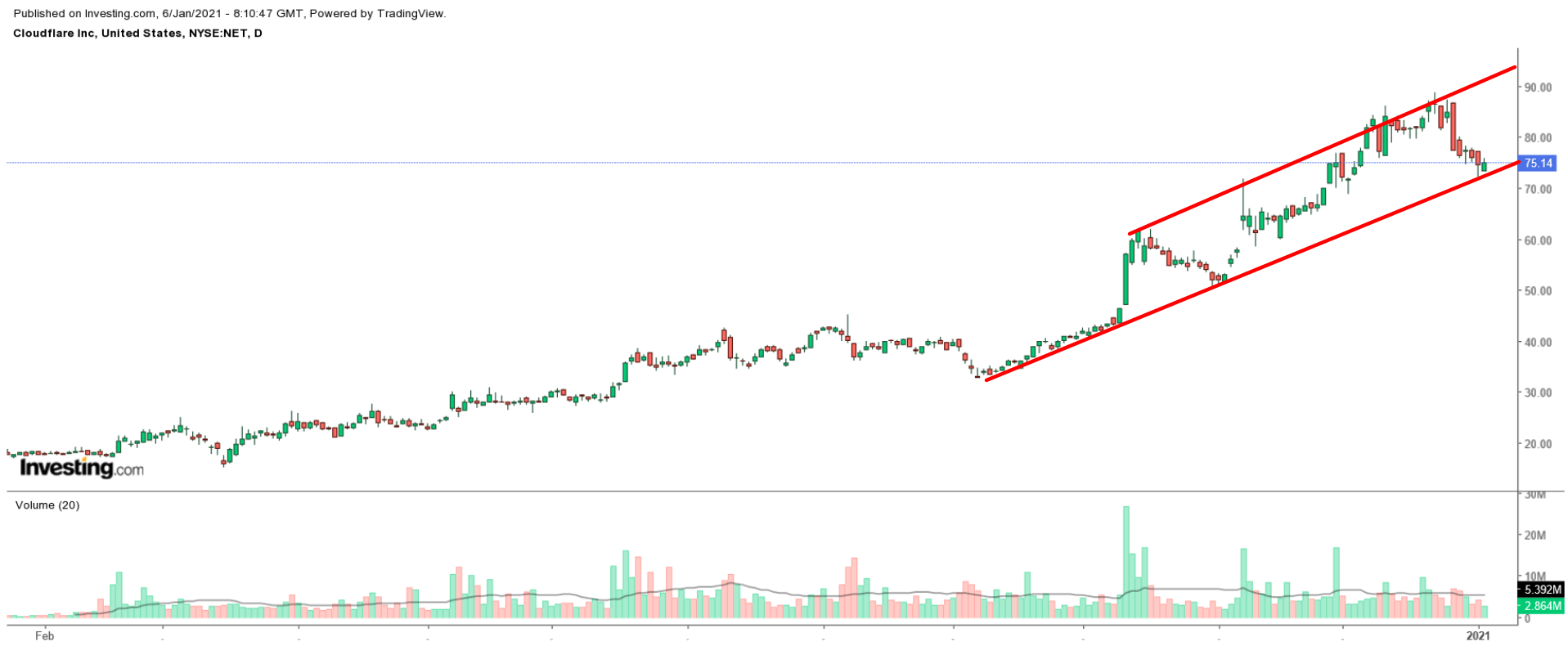 NET Daily
Cloudflare's stock is likely to continue its remarkable performance in 2021 thanks to surging demand for its web security, content delivery, and enterprise networking services and solutions amid the current environment.
The network security firm said it had over 3.2 million customers as of the end of the third quarter, of which more than 100,000 are paying customers. Even more impressive, large customers that spend at least $100,000 annually jumped to 736.
Despite its nosebleed valuation levels—Cloudflare trades at a whopping price-to-sales ratio of 60—we expect it to remain one of the best-performing names in the fast-growing cloud and edge computing sector.
Leave a comment