Investors returned to buying U.S. equities last week, on optimism that accelerating vaccine rollouts will increase profitability for those companies that were hardest hit by the pandemic.
President Joseph Biden announced, on Thursday, a new COVID vaccination goal: 200 million shots distributed within his first 100 days in office. As of Friday, 100 million coronavirus vaccinations have already been administered since Biden's Jan. 20 swearing-in.
As the reopening trade boosts demand for cyclical stocks, such as banks and energy companies, we've shortlisted three stocks which could experience some momentum after their latest earnings reports, scheduled for release this week, amid company-related developments:
1. Walgreens Boots Alliance
Walgreens Boots Alliance (NASDAQ:WBA), the second-largest pharmacy operator in the U.S., will report fiscal year 2021, second-quarter earnings on Wednesday, Mar. 31, before the market opens. Analysts expect an EPS of $1.13 a share in the quarter on revenues of $36.46 billion.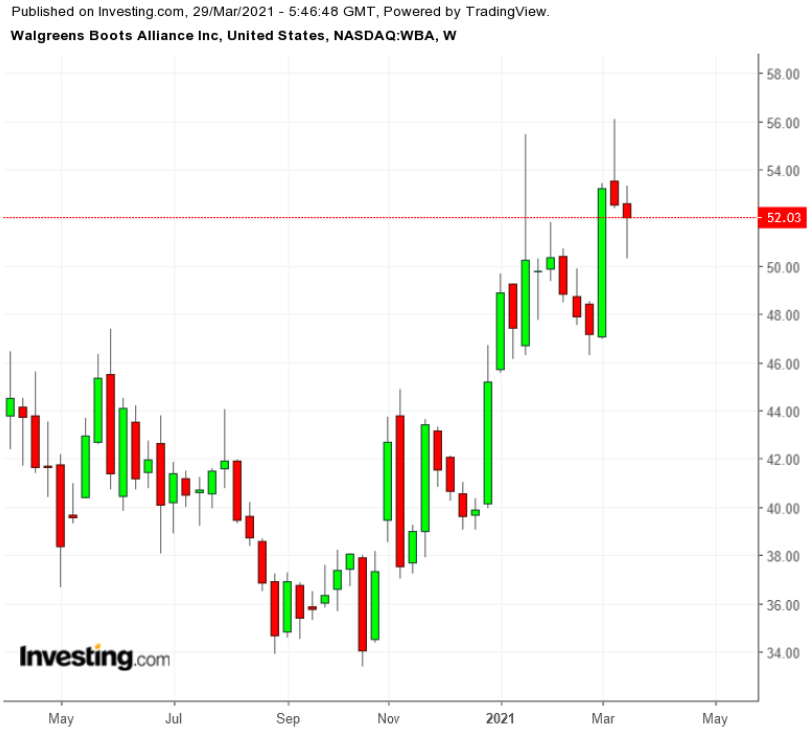 WBA Weekly TTM
The Deerfield, Illinois-based company benefited from COVID-19 related lockdown measures as U.S. consumers raced to stock up on drugs, cleaning supplies and toilet paper. But company executives have indicated that they doubt this trend will continue to benefit the drug chain as the economy reopens.
Before the pandemic, Walgreens was struggling to boost sales and had implemented a cost-cutting drive as its market share came under pressure with growing competition from Amazon (NASDAQ:AMZN) and other segment competitors.
Part of these efforts include bolstering its digital strategy and making deliveries free through its website while also expanding a partnership with delivery service Postmates. Walgreens shares have massively outperformed the broader market this year, gaining 30%. The stock closed on Friday at $52.03.
2. Micron Technology
Chipmaker Micron Technology (NASDAQ:MU) is another stock set to report earnings on Wednesday, Mar. 31, albeit after the close. The storage chip manufacturer is estimated to have made $0.93 in profit per share on $6.16 billion in revenue for its FY2021, second-quarter.
MU Weekly TTM
The biggest U.S. maker of computer memory chips, the Boise, Idaho-based company raised its forecast for revenue and earnings for the last quarter as sales got a boost from higher demand for memory chips used in phones and computers.
Micron's memory chips are used to help process and store data in everything from smartphones to supercomputers. Tightness in the supply of dynamic random access memory chips, or DRAM, coupled with strong demand means that the industry will likely fail to fill all orders for the rest of 2021, Chief Financial Officer Dave Zinsner said at a Morgan Stanley conference in March, according to Bloomberg.
Micron shares have gained 17% this year, closing at $87.99 on Friday, up about 5% for the day.
3. ViacomCBS
ViacomCBS (NASDAQ:VIAC) plunged 27% on Friday after reports that Archegos Capital Management, a family investment office based in New York but which specializes in investing in stocks traded in NY, China, Japan and South Korea, was forced by its banks to sell positions worth more than $20 billion in stocks that include a variety of companies, from Chinese technology giants to U.S. media conglomerates.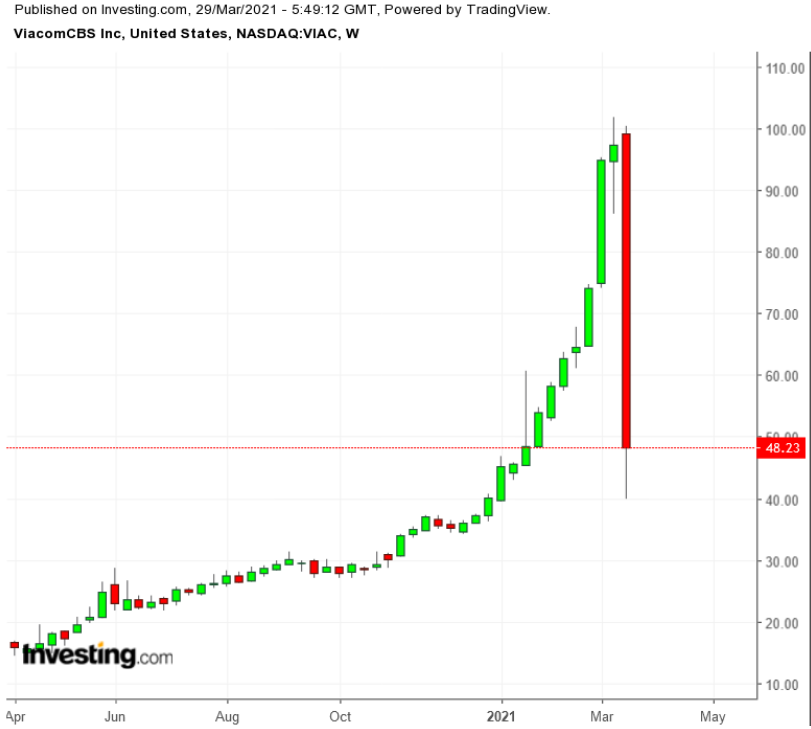 VIAC Weekly TTM
Viacom shares were additionally pressured after Wells Fargo downgraded the stock, along with Discovery Inc. (NASDAQ:DISCA), saying these media companies are crowding into the streaming market, where they face intense competition from established leaders.
"We do see gravity pulling the multiples closer to prior norms," Wells Fargo analyst Steven Cahall said in a note. Viacom shares fell 27% to $48.23 on Friday, slashing year-to-date gains to 29%.
Some investors could still see value in Viacom stock after such a massive sell-off, though last week's wild moves could raise levels of volatility as the trading week begins.
Leave a comment