With the majority of earning reports out of the way, investors are likely to now focus their attention on a possible Congressional deal on a new stimulus package.
Analysts expect a bigger spending package will fuel economic growth, as well as helping stocks continue with their upward journey. These expectations and better-than-expected earnings this month from some of the largest U.S. firms pushed stocks to another record high during the past week.
The moved 1% higher during the week to close at 3,458.40 and the increased 1.23% to 3,934.83. The tech-heavy also rose, climbing 1.7% higher to finish at 14,095.47.
Below, our short-list of three stocks which could see some trading action during this holiday shortened-week, on company specific developments:
1. Walmart
America's biggest retailer, Walmart (NYSE:) reports its fiscal 2021, fourth-quarter earnings on Thursday, Feb. 18 before the market opens. Consensus anticipates EPS of $1.51 on revenue of $148.26 billion.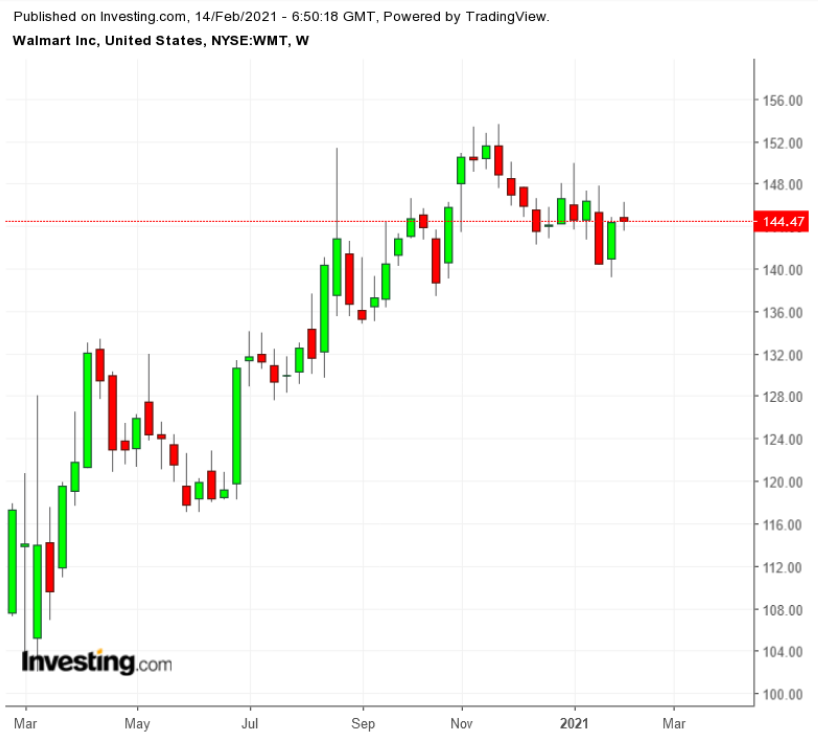 WMT Weekly TTM
Walmart has been a net beneficiary during the pandemic as people staying home stockpiled grocery items and consumed more daily staples. In Q3, the Bentonville, Arkansas-based retailer posted earnings that , with same-store sales climbing, online sales surging, and even the company's profit margin expanding despite pandemic-related costs.
With expectations that the giant retailer will report strong quarterly earnings and growing online sales again, investors have pushed WMT shares up 24% during the past one year. The stock closed on Friday at $144.47.
The government's stimulus package is important for the retailer as consumers having that money in their wallets could continue to buy Walmart's high-margin general-merchandise categories.
2. Shopify
Canadian e-commerce platform provider Shopify (NYSE:) will provide its fiscal 2021, third-quarter earnings on Wednesday, Feb. 17, before the markets open. Analysts are projecting EPS of $1.26 on sales of $913 million.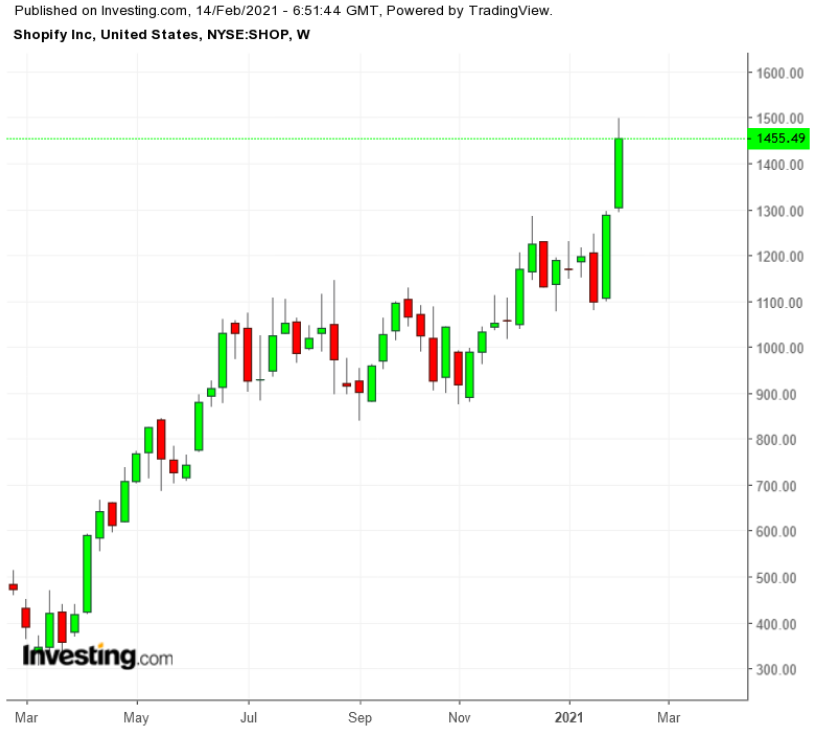 SHOP Weekly TTM
The Ottawa-based company, which makes tools that enable mainly small businesses to engage in commerce across multiple channels, has gained 175% in the past 12 months, becoming the most-valued company in Canada with a market cap of USD$117.21B. The stock closed on Friday at $1,455.49.
One of Shopify's main strengths is that it offers small- and medium-sized businesses a very effective and cost-efficient way of building a secure online store at a time when e-commerce is booming. The platform handles all the hardware security, data backup and payment processing aspects of the business, freeing merchants to focus purely on their core businesses.
Still, analysts are expecting both earnings and revenue growth to have from last year.
3. Tilray
The Reddit-fueled buying frenzy in speculative stocks seems not to have abated. This past week the 'Reddit Rebels' moved on to pot stocks, pushing Tilray (NASDAQ:), one of the biggest cannabis producers, precipitously up and then sharply down.
Shares finished the week off more than 3%, following a massive jump after Reddit-inspired retail traders turned their attention to marijuana producers.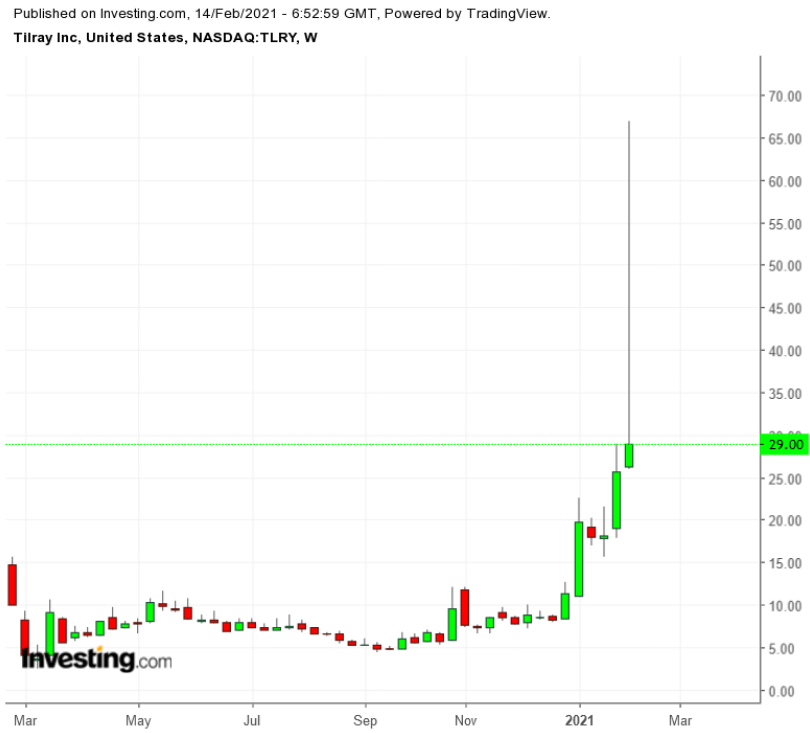 TLRY Weekly
About 23% of Tilray's tradable shares are sold short, according to data from S3 Partners. This made it a suitable short squeeze target by Reddit users after the GameStop (NYSE:) mania.
Tilray was up 51% Wednesday at its highest level since March 2019. But it fell 49.7% on Thursday, while Aphria (NASDAQ:), another major producer, lost nearly 36% over the course of the week.
Tilray trade gained popularity on the social media channel because it's one of few cannabis stocks easily available to Robinhood or day traders in the U.S. Next week might see more volatile moves in the sector where the speculative interest remains quite high.
Leave a comment