Equity market investors continued to show optimism on the post-pandemic economic recovery this past week, by primarily buying cyclical shares that they believe will benefit the most when the virus is behind us.
The Dow Jones Industrial Average and S&P 500 rose to record highs on Friday, helping the major averages to post their fourth weekly gain in five weeks. Energy was the best-performing S&P 500 sector, gaining 5.4% on Friday.
Amid this optimism, investors are also hoping that politicians will reach some sort of agreement in Washington on new stimulus measures, especially when COVID infections in the US are rising at a record pace, forcing states to initiate new lockdown measures. With this macro picture in mind, here are three stocks we're monitoring in the coming week.
1. Salesforce.com
Salesforce.com (NYSE:CRM) will host its Investor Day on Tuesday, Dec. 8. The event comes after the cloud-based, customer relationship management software company announced its acquisition of Slack Technologies (NYSE:WORK) last week, a transaction for which investors have expressed a lot of reservations.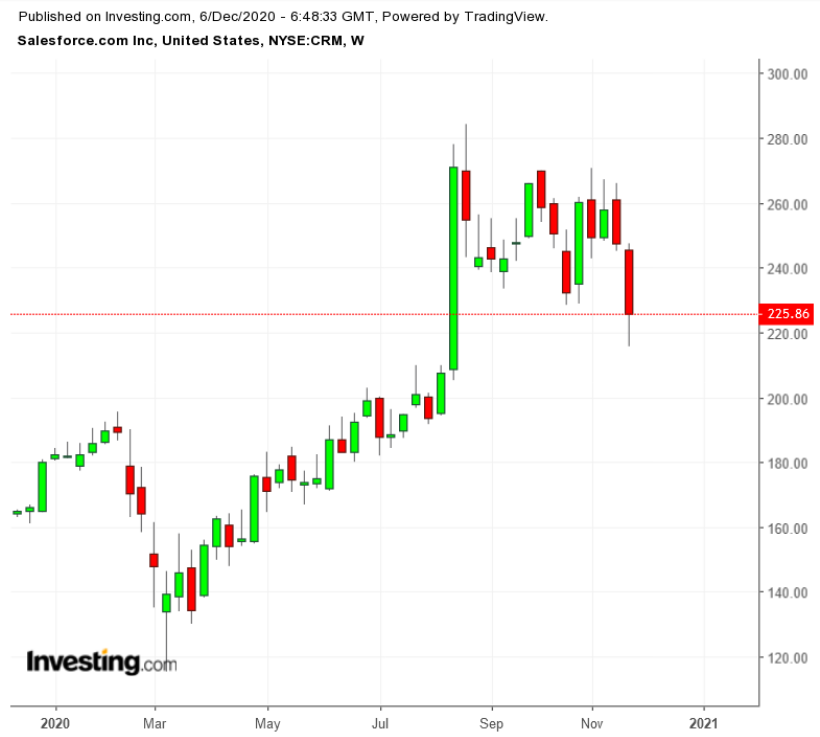 CRM Weekly TTM
Shares of Salesfore.com have lost more than 8% during the past week on concerns that the San Francisco-based company's most expensive deal to date won't bring the kind of synergies and competitive advantage that founder and CEO Marc Benioff is trying to achieve. The stock closed on Friday at $225.86, after gaining more than 2% on the day.
The cash-and-stock deal, which is expected to close by July, will bring a workplace-communications application that's grown more popular during the coronavirus pandemic to Salesforce's rapidly expanding platform.
But investors aren't convinced as to how the company will compete with Microsoft (NASDAQ:MSFT) which has a more popular competitive product, Teams. Next week's interaction between CRM management and investors might alleviate some of these concerns.
2. Adobe Systems
Another stock that will come under investor scrutiny this coming week is Adobe Systems (NASDAQ:ADBE). The software manufacturer, whose product lineup includes Photoshop, will release its fiscal 2020, fourth quarter earnings on Wednesday, Dec. 9, after the close. Wall Street expects $2.66 EPS and $3.36 billion of revenue.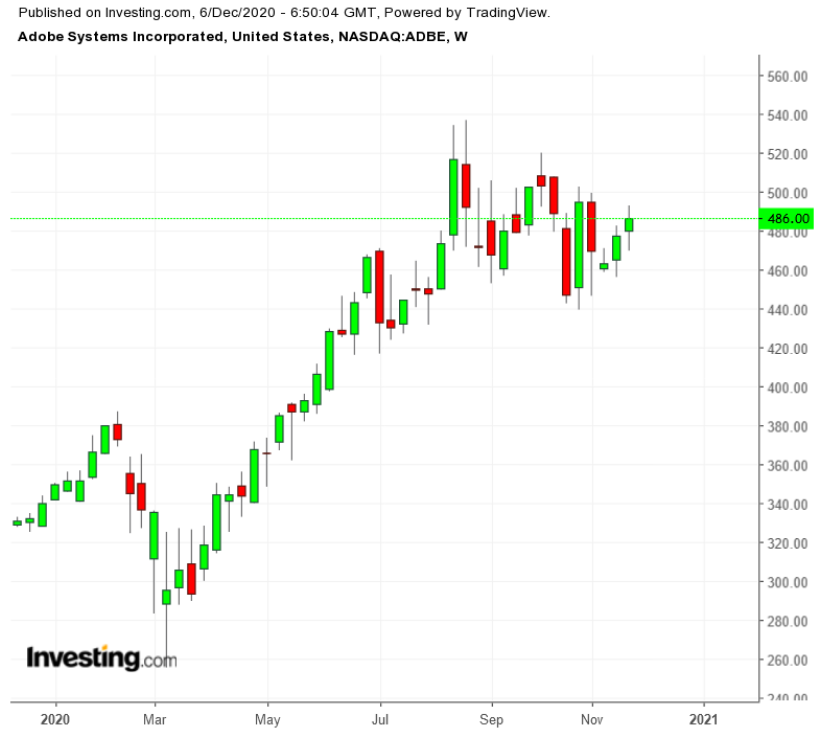 ADBE Weekly TTM
Adobe's earnings this year showed that the software maker's cloud-based creative tools are in great demand during the coronavirus pandemic. Sales jumped 14% in the quarter ended Aug. 28, as Chief Executive Officer Shantanu Narayen's efforts to invest heavily in designing new tools for creative professionals and hobbyists paid off. The company continues strengthening its marketing efforts in order to keep demand for its products high during the pandemic.
The San Jose, California-based Adobe's shares have gained 46% this year, closing at $486 on Friday.
3. Broadcom
Broadcom (NASDAQ:AVGO) will report its fiscal Q4 2020 earnings after the market closes on Thursday, Dec. 10. Analysts are expecting $6.24 a share profit on projected sales of $6.43 billion.
The chipmaker has branched out into enterprise software. It gave a strong forecast for the last quarter helped by spending on data centers and a predicted rebound in shipments of smartphone components. Revenue in the three months ending Nov. 1 will be $6.4 billion, plus or minus $150 million, the San Jose, California-based company said in September.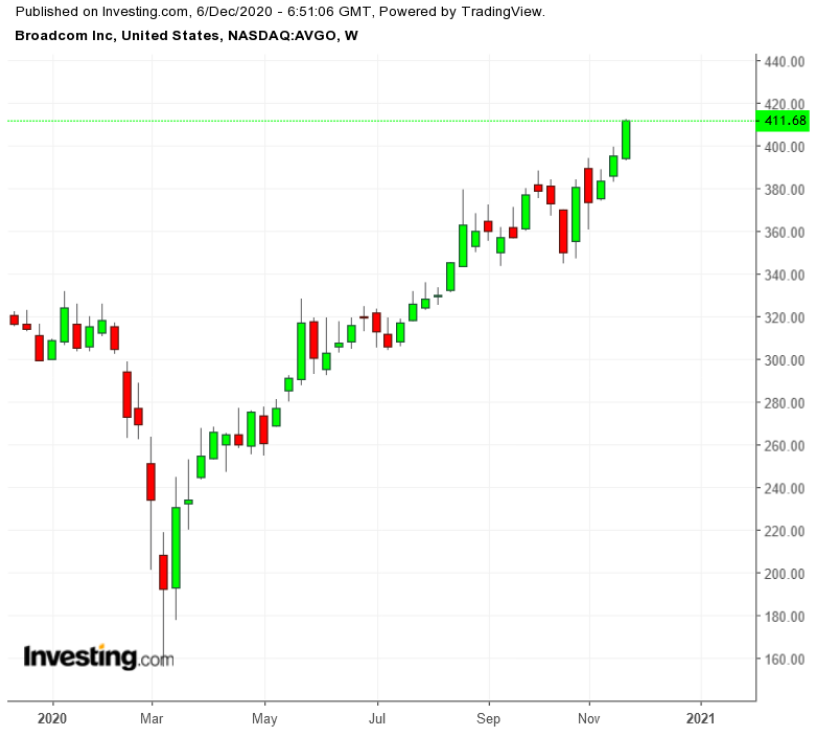 AVGO Weekly TTM
Broadcom shares have rebounded strongly after the March dip, surging more than 140%. The stock closed at $411.68 on Friday, after rising almost 3% for the day.
Broadcom has a wide variety of products, including components for servers, smartphones, cars and software that runs the biggest mainframe computers. Because of its product diversity, the San Jose, California-based company's earnings can provide a broader understanding of chip demand across numerous segments during the pandemic and related lockdowns.
Leave a comment