Wall Street's third quarter earnings season has largely wound down, but results this week are due from a variety of cloud-computing cybersecurity companies.
Cloud-related software ETFs are trading near their highest levels on record, with the First Trust Cloud Computing ETF (NASDAQ:SKYY), and the Global X Cloud Computing (NASDAQ:CLOU) up around 48% and 62.8% respectively this year. The high demand for cloud-based offerings during the COVID-19 pandemic continues to benefit these funds. Individual cybersecurity stocks, in particular, are benefiting from the stay-at-home environment as companies look to boost their protection.
SKYY Weekly Chart
Below are three cybersecurity names likely to see powerful earnings and revenue growth. Each is well worth considering ahead of their upcoming quarterly earnings reports.
1. CrowdStrike: Reports Dec. 2 After Markets Close
Q3 EPS Forecast: +114.2% YoY
Q3 Revenue Forecast: +70.6% YoY
Cloud-based cybersecurity specialist Crowdstrike (NASDAQ:CRWD)—whose technology is used to detect and prevent security breaches—has seen its shares more than double this year amid the coronavirus crisis.
The stock is up 196% year-to-date, blowing past the S&P 500's 13% gain over the same time frame, as it has benefited from the surging demand from corporations to make their IT networks more secure during the shift to the work-from-home environment. The cybersecurity leader currently counts nearly half of the Fortune 100 companies as customers.
CRWD—which went public at $34 per share last June—jumped to a fresh record high of $154.92 at the start of the week, before ending at $147.50 on Tuesday. At current levels, the Sunnyvale, California-based cybersecurity company has a market cap of around $21.9 billion.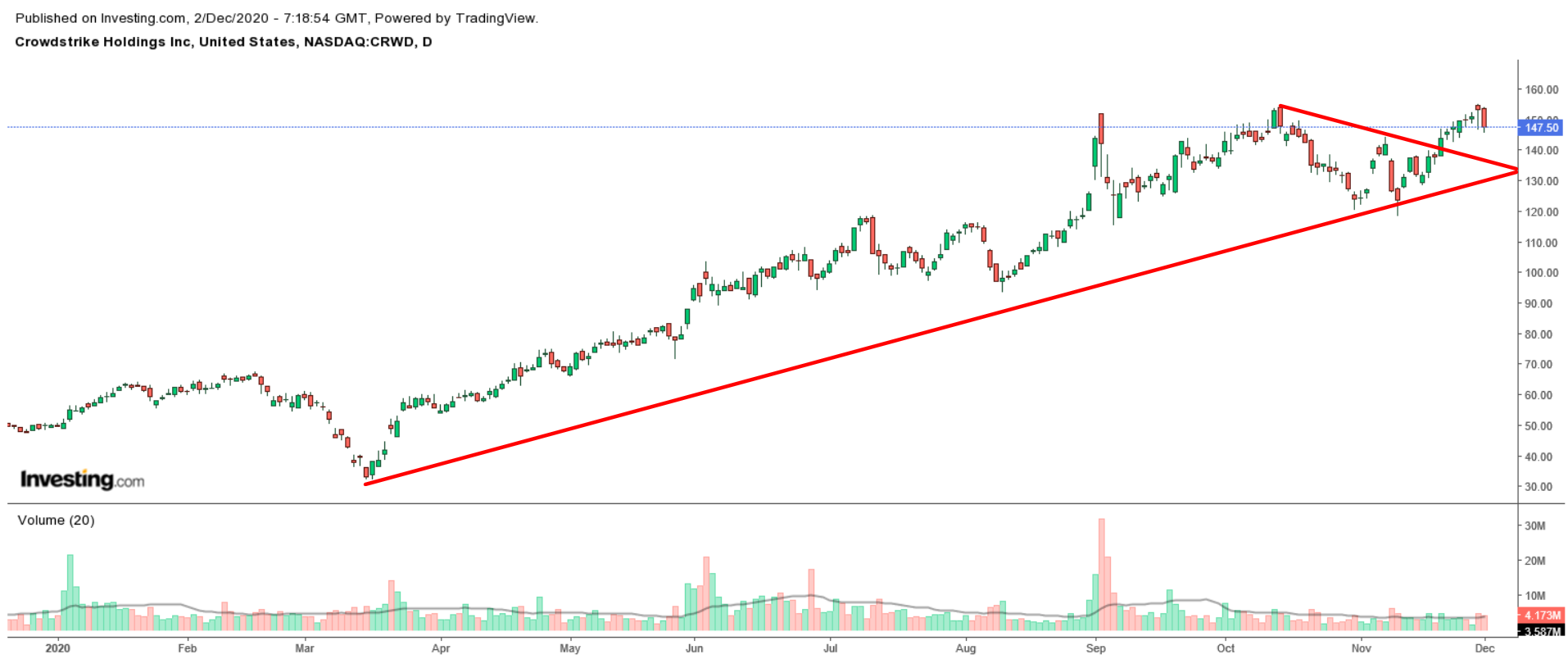 CrowdStrike Daily Chart
CrowdStrike, which easily topped earnings and revenue expectations in the second quarter, is scheduled to report its latest financial results after the close on Wednesday, Dec. 2.
Consensus estimates call for earnings of $0.01 per share in the third quarter, compared to a loss of $0.07 per share in the same period a year earlier. Revenue is expected to jump 70.6% from the year-ago period to a record $213.52 million, reflecting soaring demand for its cloud-based Falcon cybersecurity platform.
Beyond the top-and-bottom line numbers, investors will keep an eye on growth in CrowdStrike's total subscription customers, which spiked 91% to 7,230 in the last quarter.
CrowdStrike trades at nearly 40 times fiscal 2021 revenue. Despite lofty valuation levels, CRWD remains attractive going forward, considering how valuable its cybersecurity tools are in the current environment.
2. Okta: Reports Dec. 2 After Markets Close
Q3 EPS Forecast: +114.2% YoY
Q3 Revenue Forecast: +32.5% YoY
Okta—widely considered the leader in the identity and access management space—has seen its shares significantly outperform the broader market this year.
The fast-growing cybersecurity firm, which helps enterprises connect securely to their employees and customers, has gained 105.4% year-to-date.
OKTA settled at $236.99 yesterday, within sight of its record high of $251.18 touched on Oct. 14, giving the San Francisco, California-based software-as-a-service company a market cap of $29.5 billion.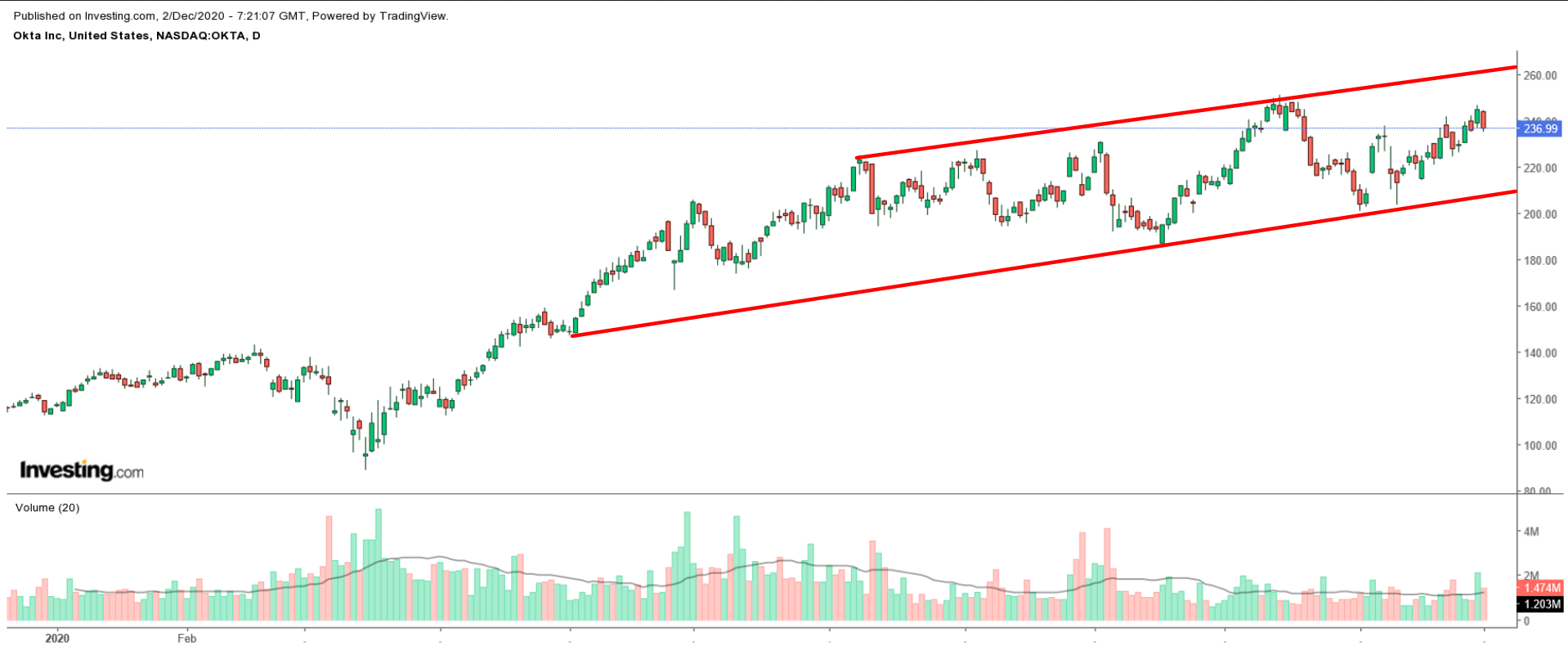 Okta Daily Chart
Okta—which beat expectations on results and its guidance for its last quarter in late August—slated to next report earnings after the closing bell on Wednesday, Dec. 2.
Consensus calls for earnings per share of $0.01 for the third quarter, improving from a loss of $0.07 per share in the year-ago period. Revenue is forecast to jump 32.5% from the same period a year earlier to $202.82 million, thanks to the ongoing expansion in the use of its Okta (NASDAQ:OKTA) Identity Cloud platform.
Investors will also focus on Okta's subscription software revenue, which jumped 44% in the last quarter to $190.7 million.
Beyond EPS and revenue, market participants will scrutinize the company's update regarding its outlook for the rest of the year and 2021. The cloud-based identity-and-access management specialist raised its full-year revenue guidance to a range of between $800 million to $803 million in its last quarter, representing growth of 37% year-over-year. Previously, management had expected full-year revenue to rise 32% YoY.
After seeing its stock surge in 2020, Okta should continue to perform well given the high demand for its cybersecurity services.
3. Zscaler: Reports Dec. 2 After Markets Close
Q1 EPS Forecast: +100% YoY
Q1 Revenue Forecast: +41.3% YoY
Zscaler (NASDAQ:ZS), which provides automated threat forensics and dynamic malware protection against advanced cyber threats, has enjoyed a remarkable run this year.
Shares of the San Jose, California-based cybersecurity specialist have more than doubled this year as the shift to work-from-home resulting from the COVID-19 pandemic fueled the need for its cloud-based security tools.
ZS, which is up 226% so far in 2020, closed at $151.68 last night, not far from the all-time high of $163.80 reached on Sept. 2. At current levels, the cloud-based information security specialist has a market cap of $20.3 billion.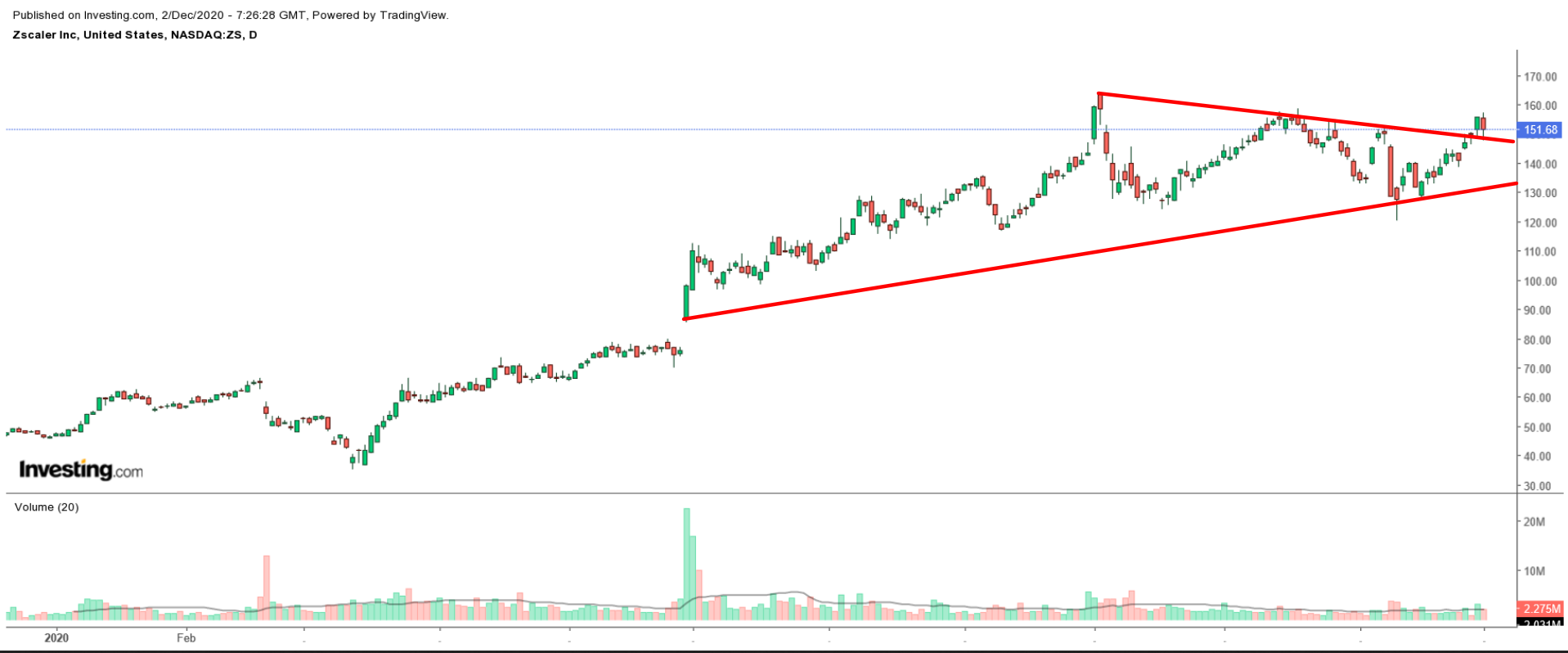 Zscaler Daily Chart
Zscaler, whose earnings and revenue topped views in the last quarter, is projected to report fiscal first quarter results on Wednesday, Dec. 3 after the market closes.
Consensus calls for earnings per share of $0.06, which would indicate a growth rate of 100% from EPS of $0.03 in the year-ago quarter. Revenue is forecast to rise 41.3% from the same period a year earlier to $132.24 million, thanks to strong growth for its Zero Trust Exchange platform, which lets organizations provide secure access to internal applications and services from remote locations.
As such, investors will keep an eye on Zscaler's update regarding its total new customer count and enterprise customer additions. The company announced on its fiscal Q4 earnings report that it had more than 4,500 customers, including more than 150 customers from Fortune 500 companies.
Taking these elements into account, Zscaler appears to be quickly transitioning into one of the leading go-to names in cloud-based cybersecurity.
Leave a comment